PHOTO CREDIT: TIMOTHÉE CHAMBOVET
As somebody who is really enthused by the art of the table, eating well and how this promotes sharing, Suzie Le Pennec founded the Tom and Folks studio in 2019 out of a desire to create utilitarian, unifying objects that are very much a part of everyday life. For the Floraison Créative exhibition at Sessùn Alma, she came up with an oversized salad bowl that was a literal translation of her concept of a sharing platter.
When was the Tom and Folks studio founded?
In 2019. After 10 years in fashion in London and Paris, I decided to train as a potter. I was already doing pottery as a hobby and I loved it. At Chanel, I'd been working with the embroiderers a lot and their crafting expertise really impressed me, so I wanted to turn to handmade work. I've always loved tableware, entertaining and going out to dinner, so I got into pottery to make something utilitarian.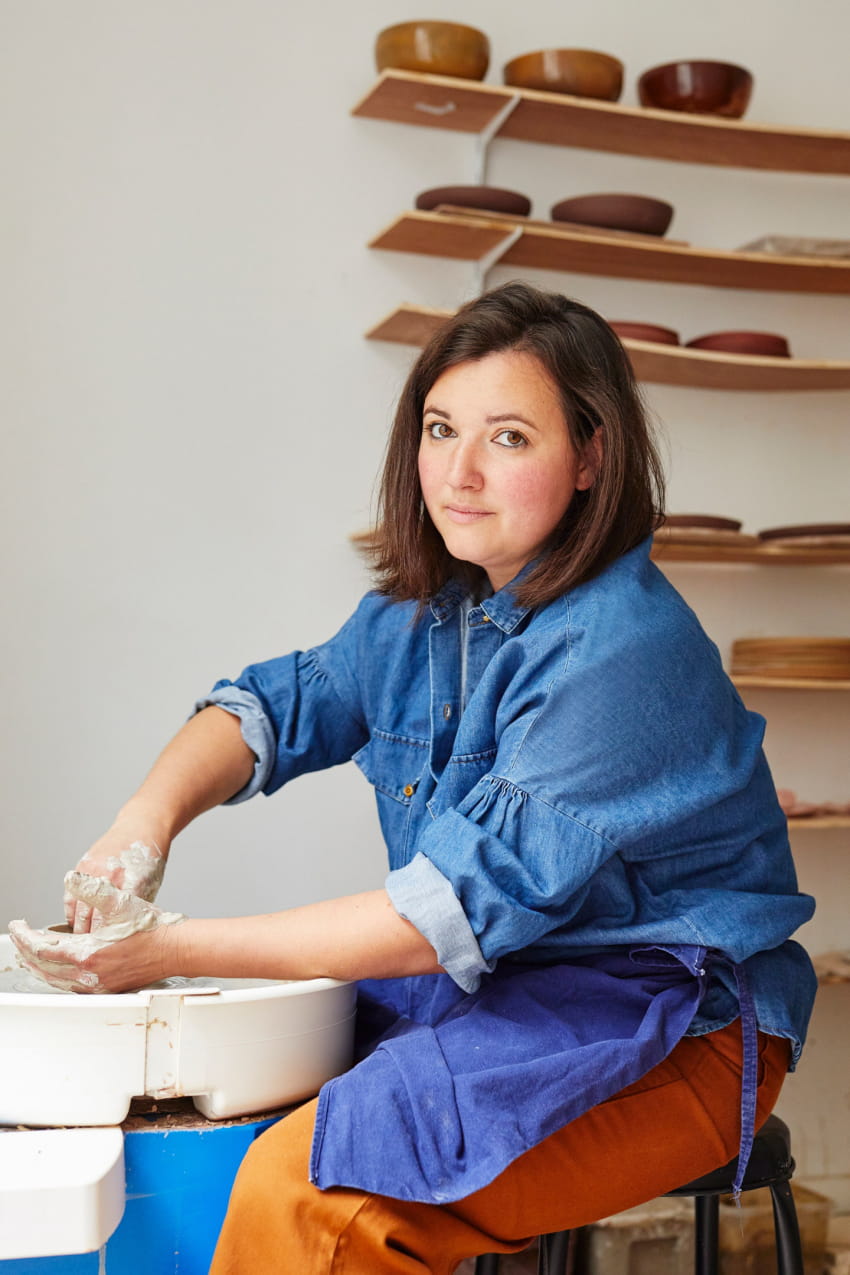 Can you tell us where your studio is and what it looks like?
My studio is located in the 10th arrondissement, in Paris, a district that I particularly like because I used to live there and it's where I learned to throw my first pots. It's a large Haussmann-style apartment that needs work, there are holes in the ceiling and a herringbone parquet floor covered with dirt that I really like.
Why did you choose to work exclusively with tableware?
I chose to work with the realm of tableware because I want to create practical objects, that will be used in everyday life. Objects that really set off the food, which are an integral part of a recipe. I love everything about the art of the table, about eating well and the value of sharing that follows on from it. In my house, we are very careful about the products we buy, where they come from, etc. and I think you should also care about the plates you have. They should be made locally, on a small scale, by an artisan. That's what I try to do.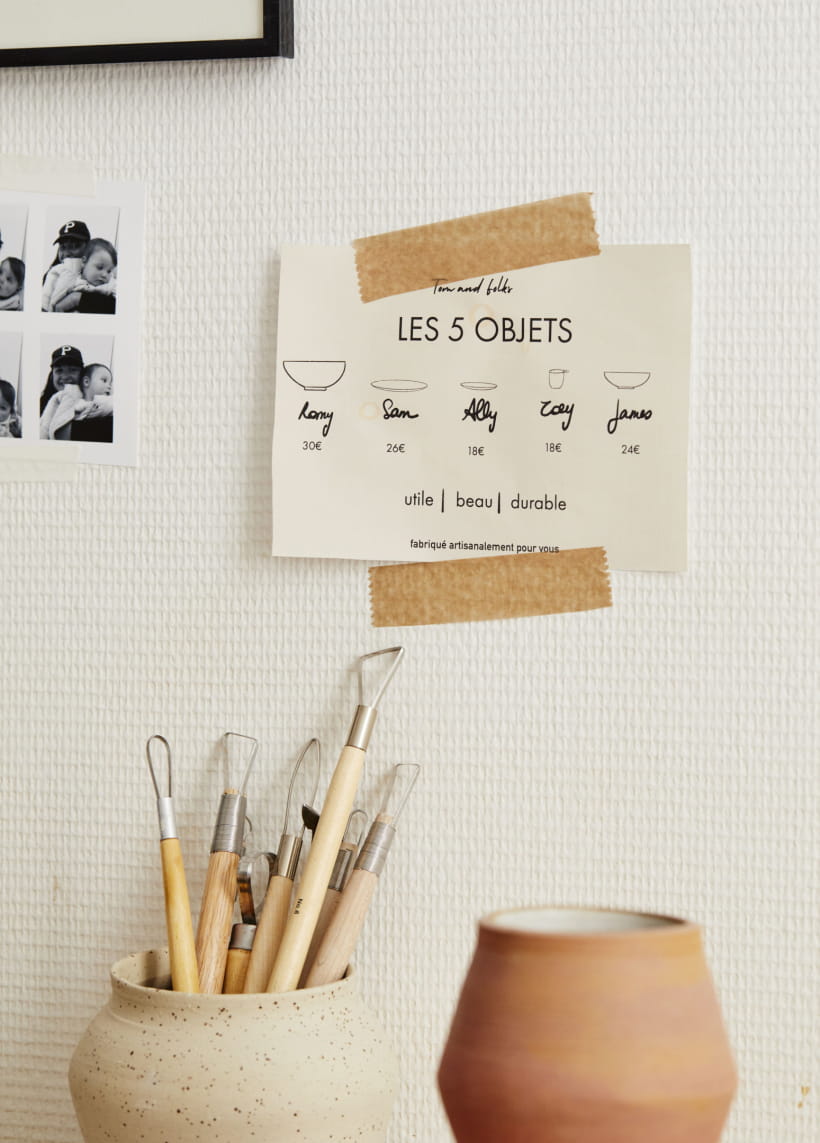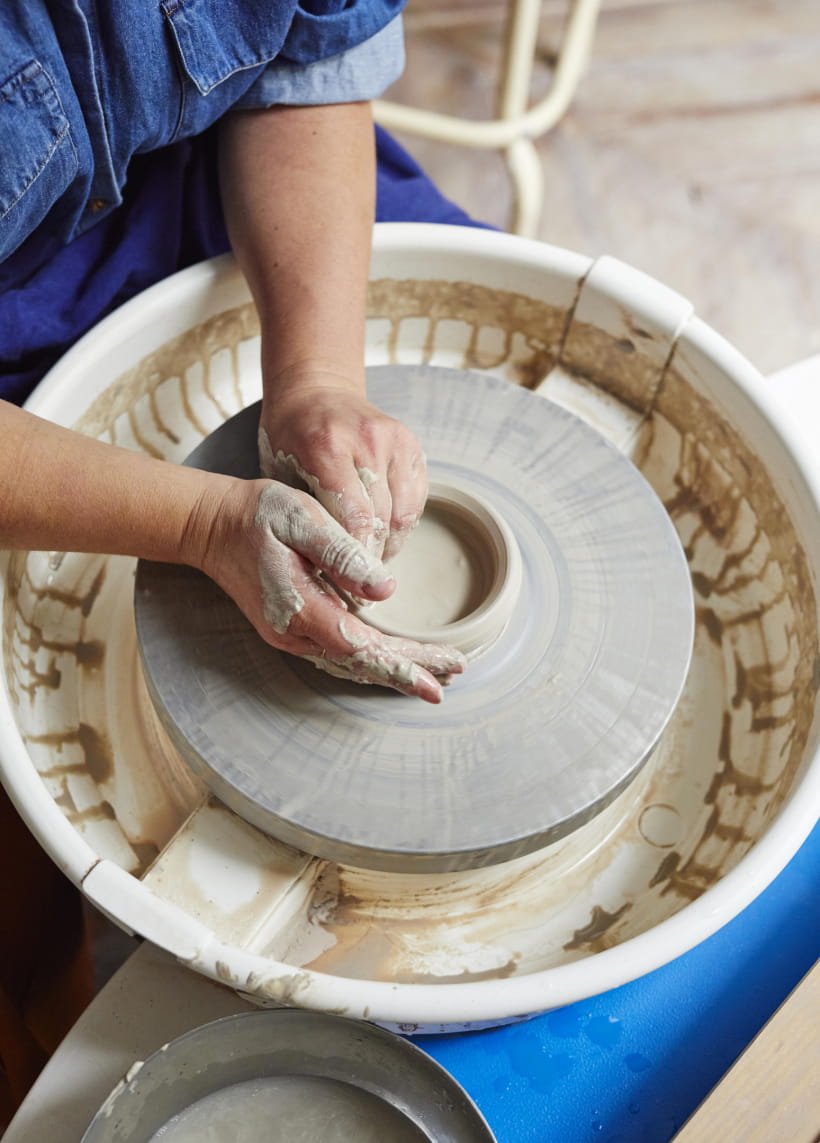 Your tableware is reminiscent of 1970s speckled stoneware, do you get your inspiration mainly from that era?
This is one of my inspirations, yes! I really like the vintage and folksy aspect of this period; the music, the clothes, the spirit and the freedom that was starting to emerge.
What does this rustic tableware evoke for you?
This is the style I really like, it's nothing to do with childhood memories since I am Breton and at home, we used Quimper plates instead. I love the aesthetic, the colours and the harmony that comes out of it.
You make your own enamels, so how do you design and develop your palette? 
I start with a base like white matte or clear enamel and add oxides. I then do a few tests on my coloured stoneware. When I have all the colours I want, I make a range in my favourite shades and based on my personal preferences at that time. I make sure that all the colours I choose for a collection are harmonious.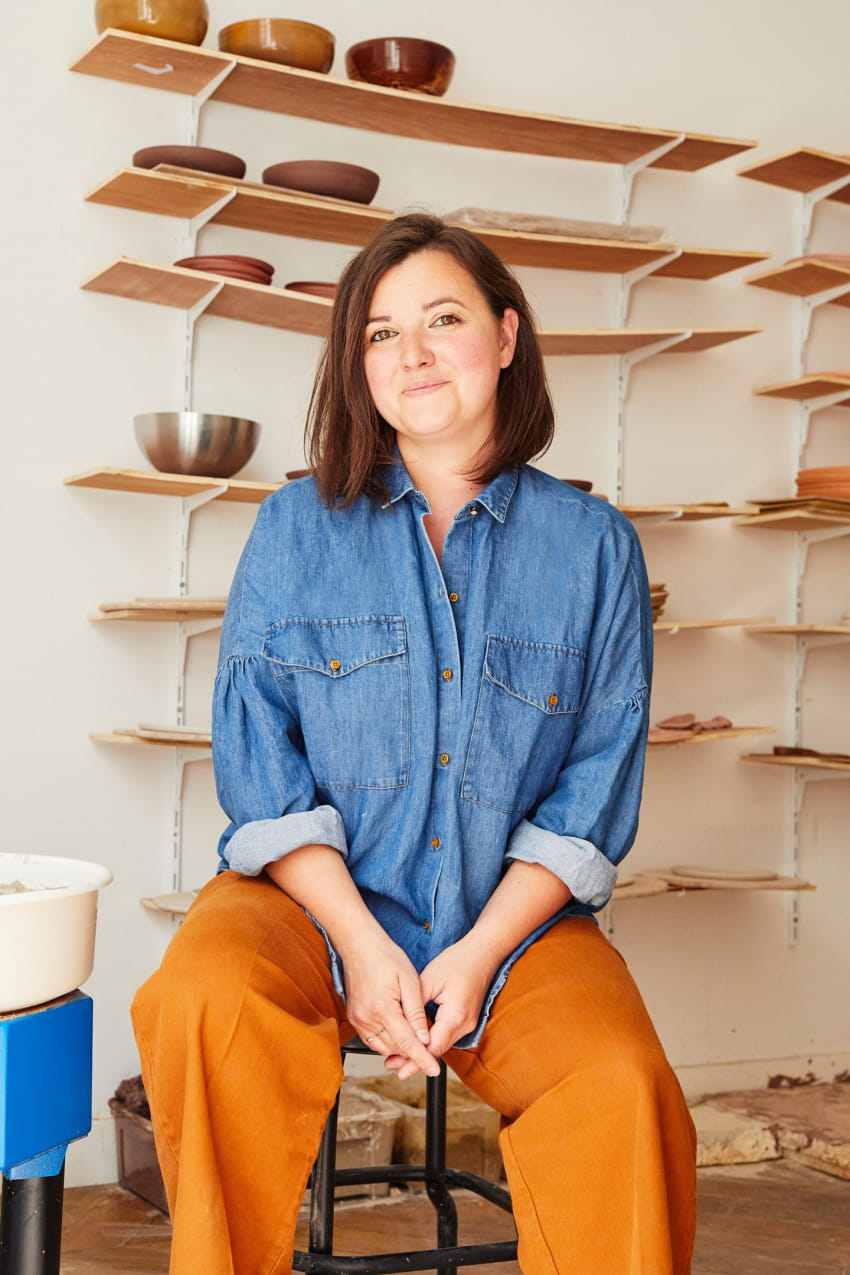 What role do creative research and experimentation play in your work? 
A small place for now but I wish I had more time to devote to it. When I have the opportunity, I make a few prototypes of objects that I think are useful and not yet in the collection. I also look for inspiration by reading and going to design shows. When I make an object, I mostly think about how the person will use it and on what occasion. I try to imagine colours, textures, and dishes that would go well with the object.
Do you have any everyday rituals or habits at your studio? 
A latte every morning. I can't start work without one! Then I look at my production schedule for the week to organise my day. I check the texture of all my pieces and empty my kiln, a stressful yet magical moment. These daily rituals are what I like so much about my job.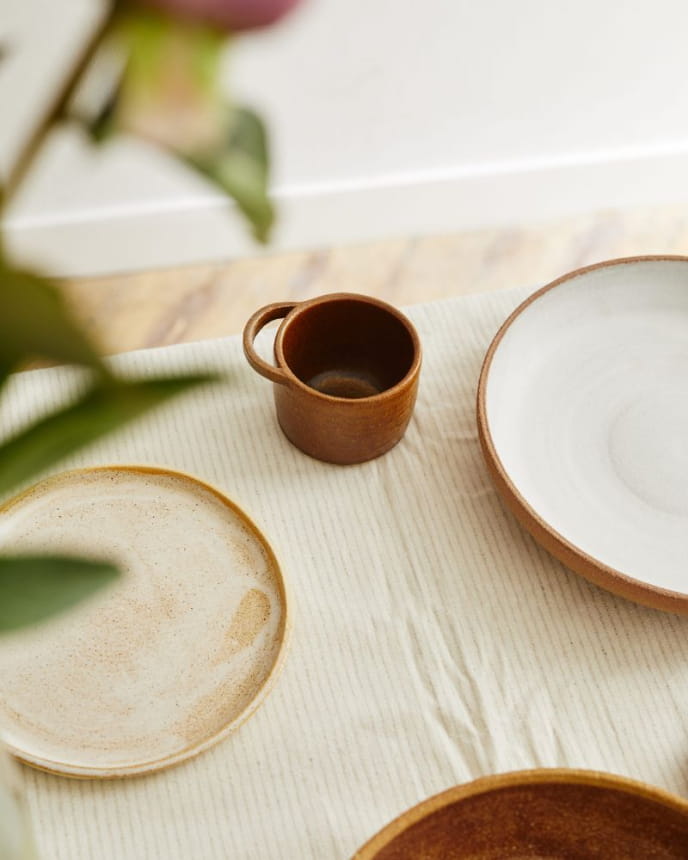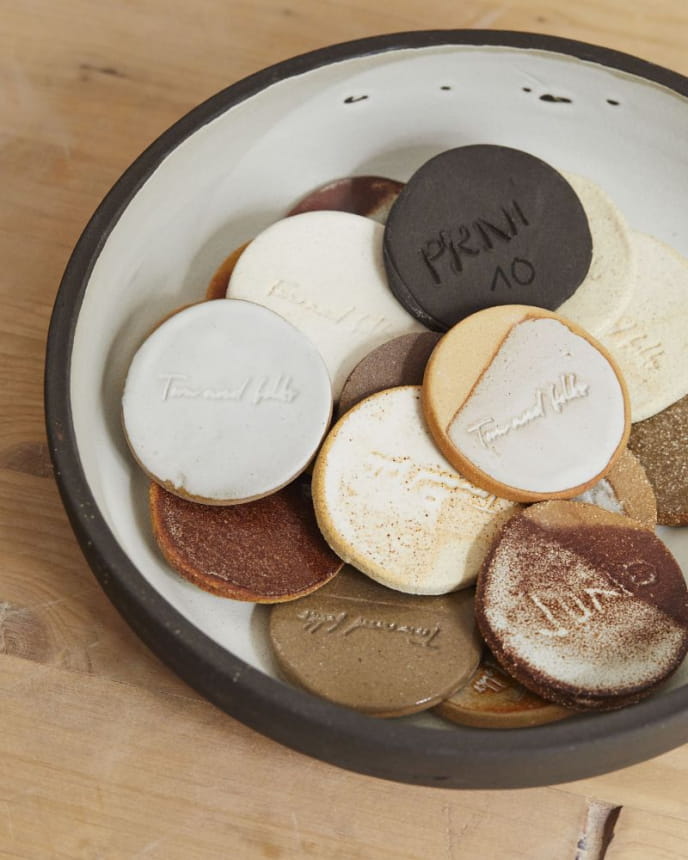 For Sessùn's Floraison Créative you had carte blanche, and came up with an oversized salad bowl with organically patterned place settings. What did you want to tell or explore through this piece?
I wanted to make a giant utility dish so that it could be used with family and friends. This is my life-size representation of a "sharing platter". I also wanted to get out of my comfort zone, which is throwing my pieces on the potter's wheel, and this time I wanted to use the coil technique. It takes longer; by using this technique, I also wanted to take my time, slow down the fast pace of modern life a bit. Like when you are with family or friends.  
I got the idea for the spoons later because I was looking for what would go with this dish. And this utensil was an obvious choice. For a new twist on their classic shape, I was inspired by ethnic wooden spoons.
Did you already have an idea in mind immediately for this project? 
Yes, I had a big dish in mind, I didn't know exactly what size but I really wanted to work on this whole idea of sharing a meal, of gathering people around the table. This is a fundamental concept for me.
What do you remember about this carte blanche experience?
It was a wonderful experience and an incredible opportunity to have all this time and freedom to create something. As a ceramicist, I don't necessarily get that kind of time, because I produce a lot to order. Taking the time to think it through, sketch it out, choose the materials and come up with a piece in complete freedom that will be exhibited at Sessùn Alma, an incredible location, is a really amazing experience.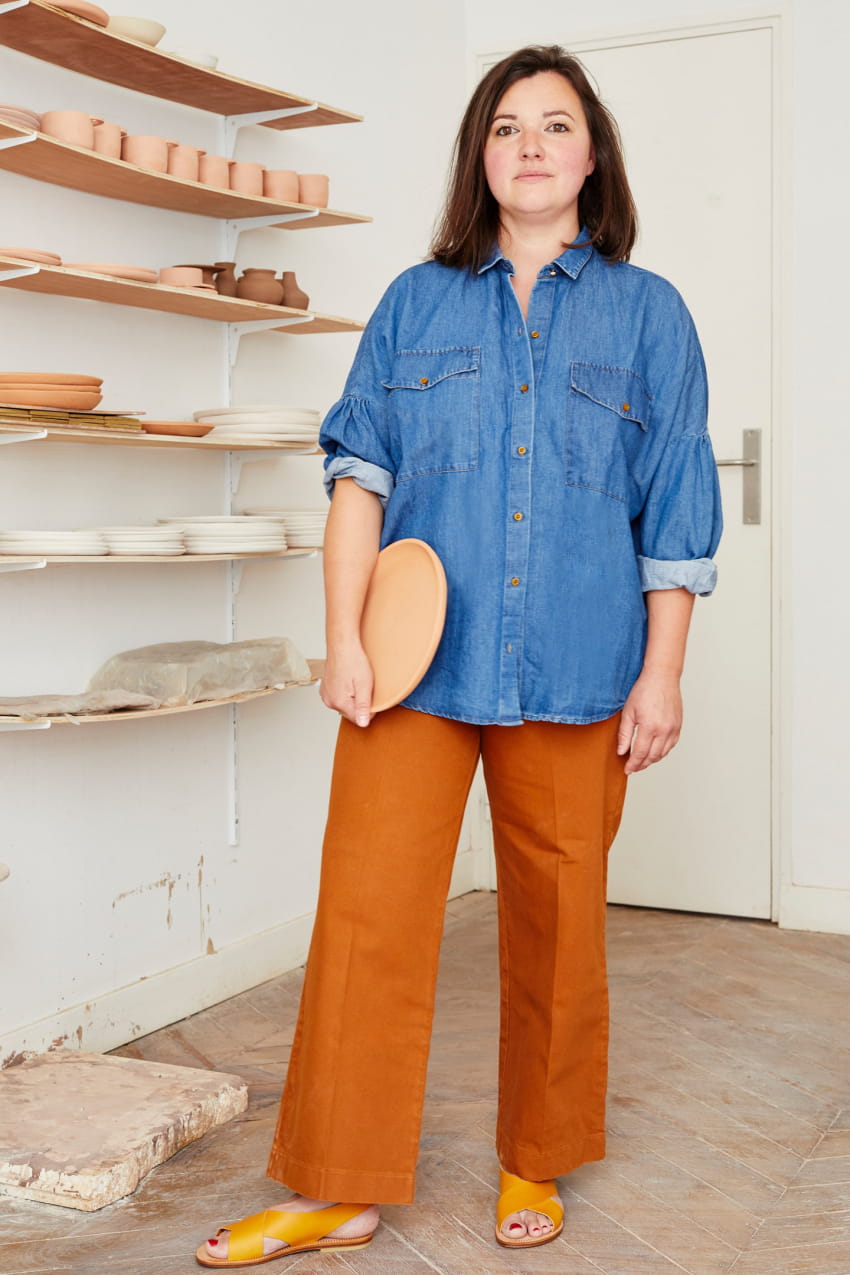 CHECK OUT SUZIE LE PENNEC LOOK