Sessùn and Franca Atelier have joined forces to co-sign three
pieces around " Creative Flowering " on which
blend craftsmanship and textile art.
Faithful to their practice, France and Caroline have crafted them entirely by hand in enamelled white earthenware from Provence and painted with enamelled cobalt oxide blue, in their workshop in Marseille.
The opportunity for us to present you this duo of ceramists: France Bocognani and Caroline Bartoli , who opened the doors of their workshop in Marseille to us.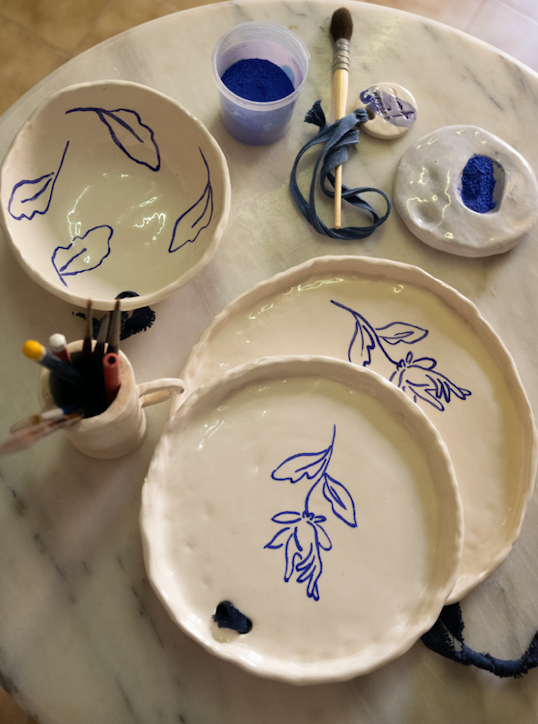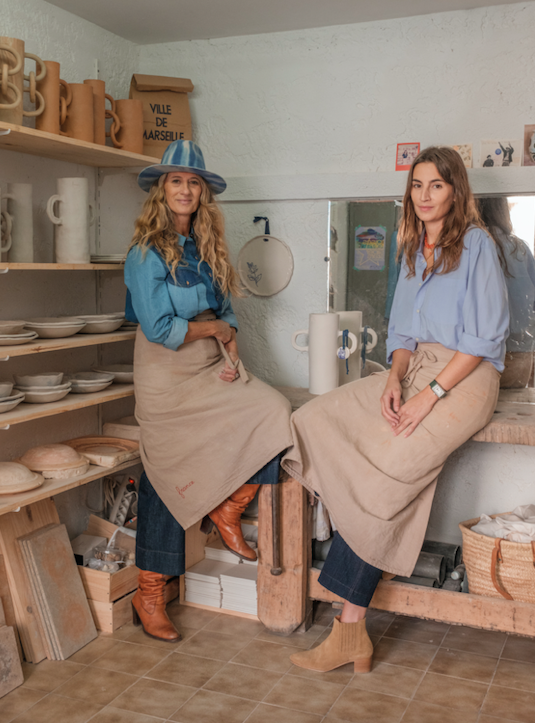 WHO ARE YOU AND WHAT IS YOUR BACKGROUND?
France: My name is France Bocognani. I was supposed to become an architect, I've always been a communicator and I'll probably be a ceramist for the rest of my life – unless I find a new passion by then!
Caroline: I'm Caroline Bartoli. When I was 17, I decided to leave my island to study in Marseille. The city opened its arms to me and I got my first job there in communication and marketing. Pottery is my creative time, this essential need to get out of my head. It's my daily meditation.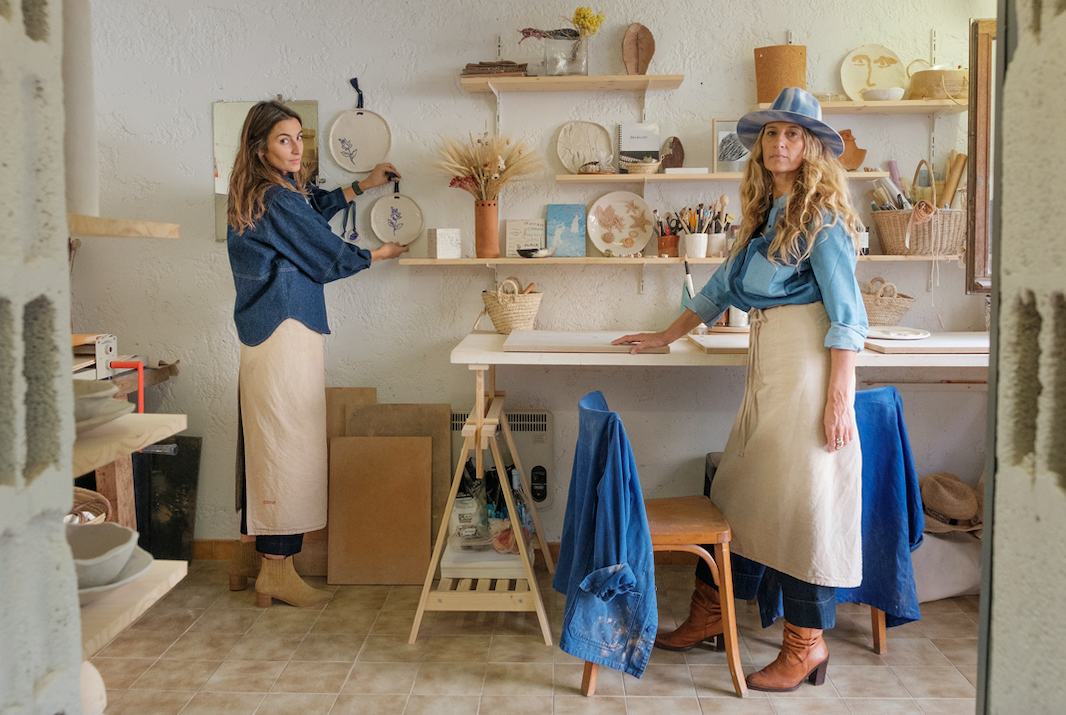 WHEN AND HOW DID YOU START WORKING AS A CERAMIST?
France: I did ceramics when I was a student. Then, about three years ago, François Champsaur offered each of us some lessons with his mother Maggy. At the same time, I got my decoration vocational diploma in ceramics at the Aubagne school.
Caroline: I took some pottery classes when I was a kid and the experience was really positive. The free lessons that we received from Maggy quickly turned into a daily routine. I would go to her workshop every evening after work. This woman is an endless source of knowledge. She taught me so much. The desire to grow and the motivation from our friends encouraged us to create Franca.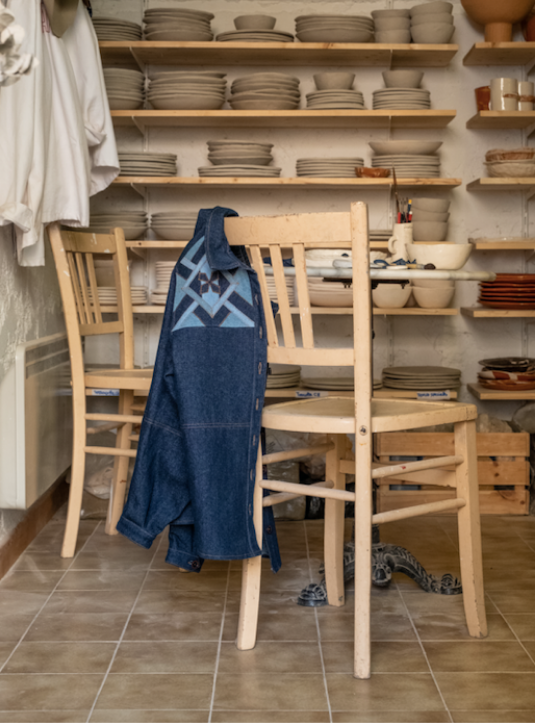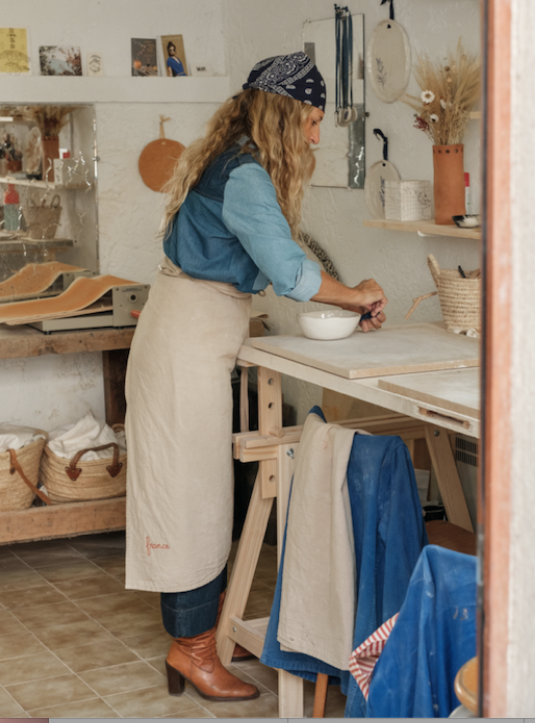 TELL US ABOUT YOUR CREATIONS. WHERE DO YOU GET YOUR INSPIRATION?
France: I would definitely say that I draw my inspiration from the past, from ceramist mural fresco artists, such as Capron, but also from all of the vintage objects that I find. I also love the work of Picasso, Cocteau, Miro... The list is long. Amongst all of these men, I'd also mention Betty Woodman, an eccentric American ceramic artist, and Valentine Schlegel, who was so avant-garde in terms of what I'd like our future to be: a simple life, close to nature and craftsmanship.
Caroline: As France said, the past is very important. All of these artists are very inspiring. The places I travel to, the people I meet, an architectural detail… These often spark the creation of our drawings and creations. Until now, we have used very little colour. We wanted to keep the clay natural. Our technique evolves from day to day and, thanks to Sessun, we are presenting a new version of our work.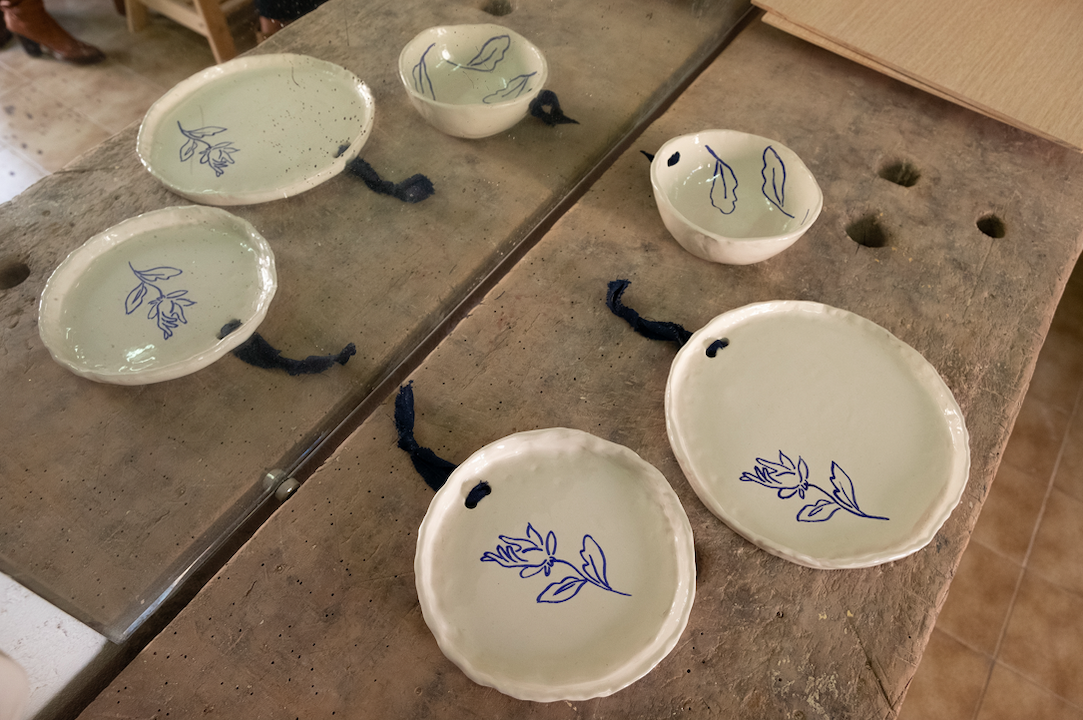 HOW DO YOU WORK TOGETHER?
France and Caroline: We work and draw side by side in the workshop. We inspire each other, compare and combine what we do… Franca would be very different if we were on our own. Our differences harmonise, complete each other and sometimes clash.
HOW WOULD YOU EACH DESCRIBE EACH OTHER?
France: Caroline is imaginative, conscientious, painstaking and a hard worker… Without her, Franca would still be just an idea in our heads.
Caroline: France is exuberant, inspiring, exhilarating, ultra-creative… She's a bundle of energy with hundreds of ideas that pop up in a second. Sometimes I have trouble keeping up with her (laughs). We are very different, but very complementary.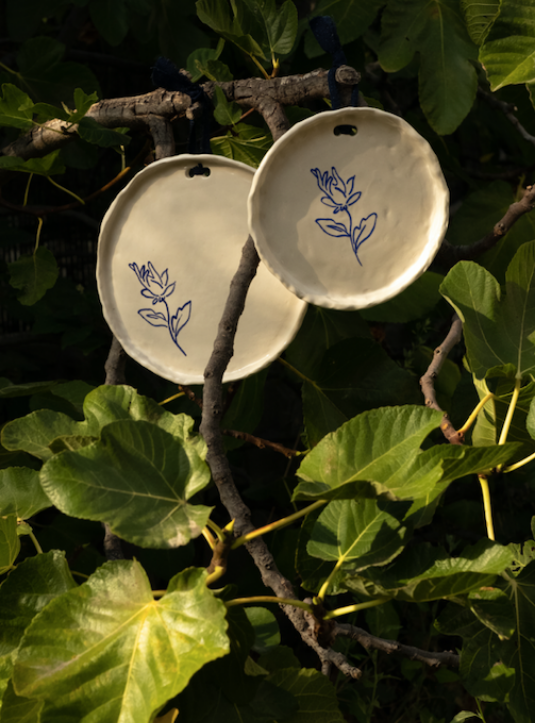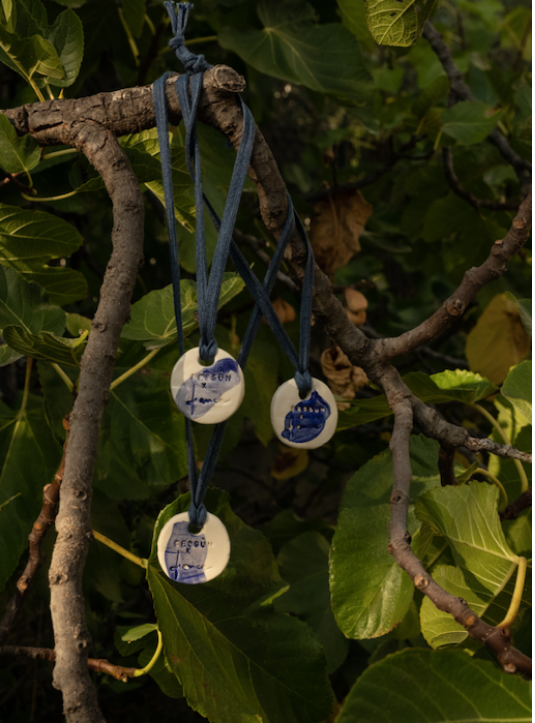 DESCRIBE A PERFECT DAY...
France and Caroline: Wake up at our leisure, do some sports (but not too much), have lunch together, go to the workshop to give form to our ideas and then end with a drink and dinner with friends.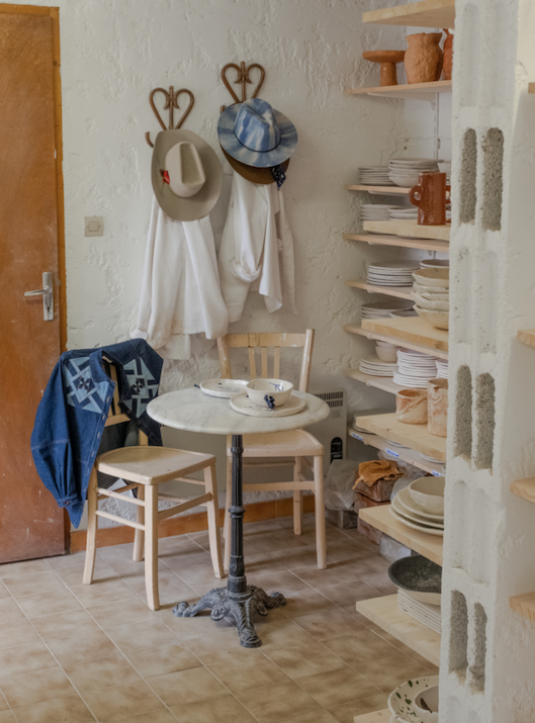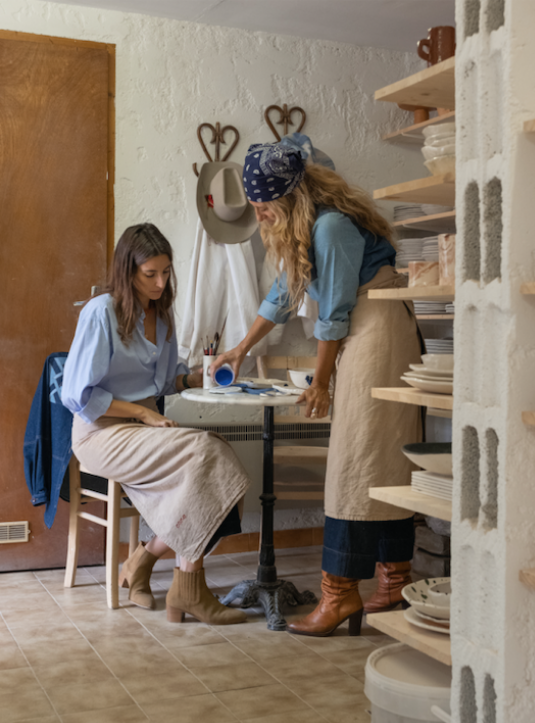 TELL US ABOUT YOUR ENCOUNTER WITH SESSUN. CAN YOU TALK TO US ABOUT THE CREATIONS THAT YOU MADE FOR SESSUN ALMA?
France: I've been familiar with the brand from the very start and I've always worn Sessun. I met Emma 8 years ago through a friend in common. I had the opportunity to develop capsule collections of hats and floral headbands for her 5 years ago. When Franca was founded, I hoped that one day she would ask me to make something for Sessun again. Emma is discreet, observant, caring, loyal… It's very encouraging and a source of great pride to work once more with this brand that I love so much.
Caroline: 10 years? That's so far away... My forties, a family, Franca and an atelier that regroups all kinds of artists in Marseille or Corsica. Residencies and workshops all around the world to discover new techniques and travel all the time.
Caroline: I was still really young when I discovered the brand in a shop in Ajaccio. It wasn't until I was in my twenties that I really got the pleasure of wearing the clothing. I was living in Canada for several months when I rediscovered this Marseille brand overseas. I was proud to be able to share this style with my Canadian friends. Producing this collection for Sessun is so motivating, because of the brand's image, history and convictions. These pieces are delicate, floral, hand-painted with cobalt blue. We make the dishes by hand, without a mould, in our workshop in Saint-Just... It's the perfect union of our two worlds.
WHERE DO YOU SEE YOURSELF IN 10 YEARS?
France: In my village in Cap Corse six months out of the year, living a peaceful life with my love, Numa, gardening, creating art and being in love.
Caroline: 10 years? That's so far away... My forties, a family, Franca and an atelier that regroups all kinds of artists in Marseille or Corsica. Residencies and workshops all around the world to discover new techniques and travel all the time.
Photos by  Florian Touzet 
France wears the Holly Springs Shirt with the Seakey jeans 
and Caroline wears the Marquees shirt with the Cookie M jeans