Léa Bigot opened the doors of her Marseille workshop to us. Meeting with a multidisciplinary artist.
Can you tell us about your background?
I was born on Réunion Island, where I lived until I was 17, before leaving my family and moving to Paris. I stayed in Paris for 10 years. I continued my studies and then I worked in the graphic design and publishing field. That's when I developed a passion for 20th-century Art and Design and a growing attraction to volume. In parallel to my graphic design work, I formed an artistic duo called Klima Intérieurs with my friend Sarah Espeute. For 4 years, we expressed our vision of objects and their place in daily life and in our homes. Then, two years ago, I moved to Marseille, where I rediscovered the sun, sea and cliffs. This return to the world of nature gave me the impulse I needed to initiate my personal approach and make 3D creations.
How did you develop your artistic side? What triggered it?
Nothing triggered it. It was always there. In my family, everyone creates things. My father is a photographer and he had his own photo lab at home. My mother, a teacher, had us experiment with a lot of different mediums: collage, painting and clay! I remember a red earthenware elephant that I made when I was little. Today, my technique is similar to the one I had at the time.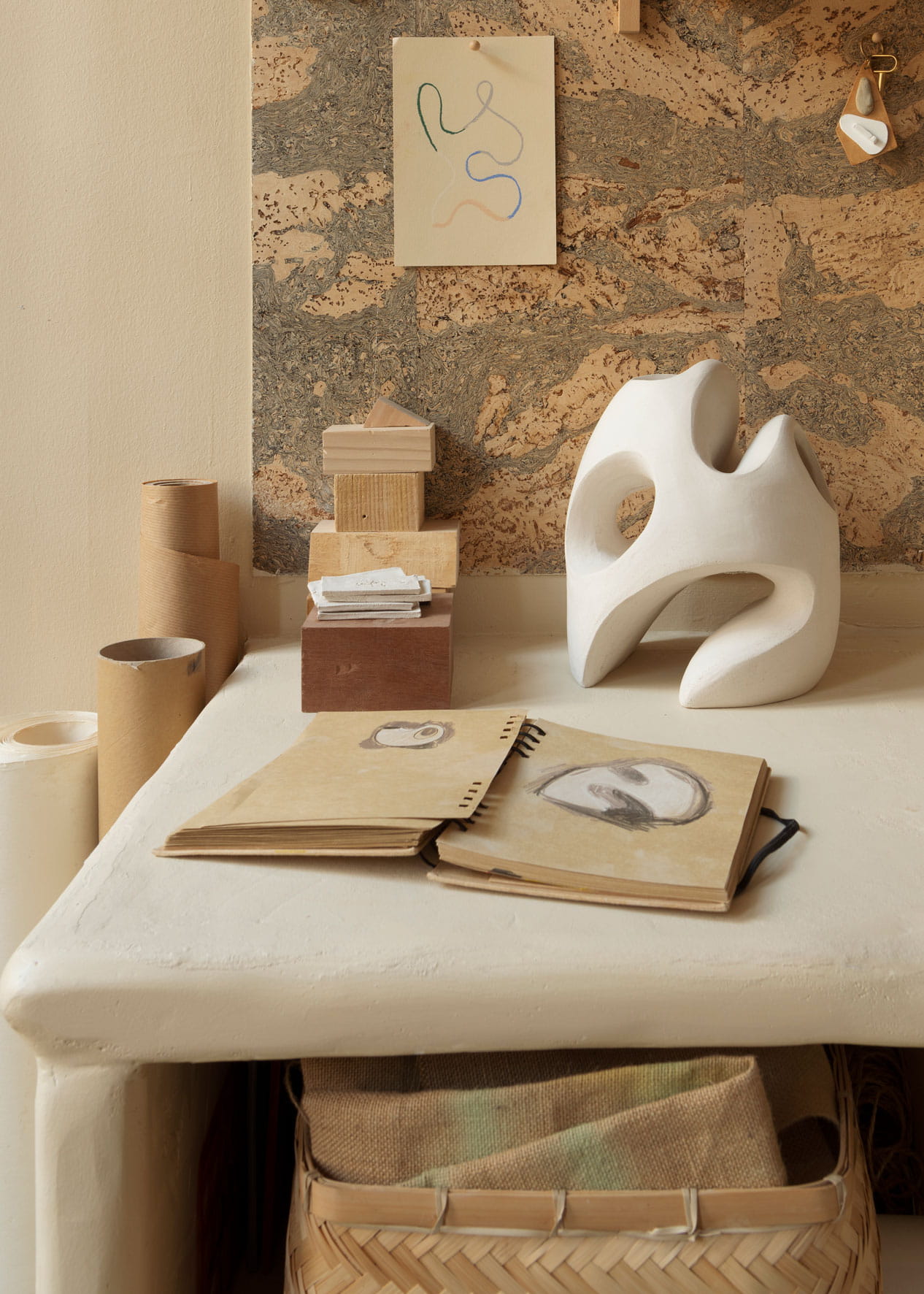 When we look at your work, we feel a strong connection to Jean Arp. What do you admire most about him?
I love everything by Arp and I'm in awe of the beauty of his personal world. I like his shapes, which seem alive and familiar, filled with growing energy, evolution and movement while remaining simple. I also like this constant dialogue that he had with the creations by his wife Sophie Taeuber-Arp, whom I also greatly admire. The search for beauty and balance that marks the artistic creation of this time is an enormous source of pleasure for me.
Do you have other fields of expression?
I paint, draw and trace flowing lines. It's an obsession that I've indulged in for several years now. I discovered this automatic writing kind of by accident and it works like meditation for me. I do it a lot until I obtain a line that I like, which I keep and look at.
Can you explain your creative process to us (obsessions, habits, etc.)? What are your different steps?
I draw and I write a lot, all the time, to project myself into a near or far future. For a sculpture, I draw shapes until I find an interesting dynamic and this is the movement that will guide the volume. The sculpture never really looks like the drawing, but it's the dynamic that I'm looking for, the energy that it emits.
As an artist, have you ever suffered from the "blank page" syndrome? If so, what do you do to recharge your batteries?
When I get "artist's block," I go outside. In Marseille, I love how close the city is to nature. I discovered that being outside nurtures my inner imagination. I'm easily overwhelmed by emotions and walking in wild areas seems to restore my balance. Being far away from the noise of the city allows me to hear what I like and who I am more clearly. This opens up new perspectives for me.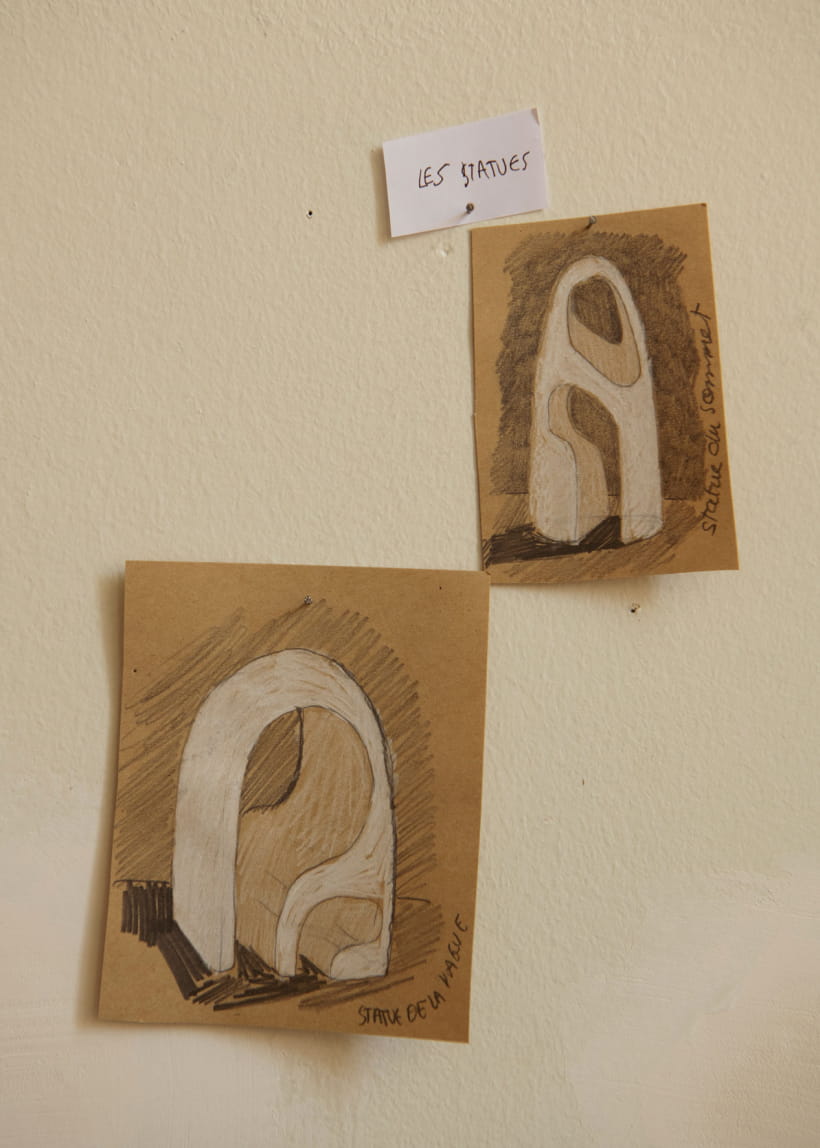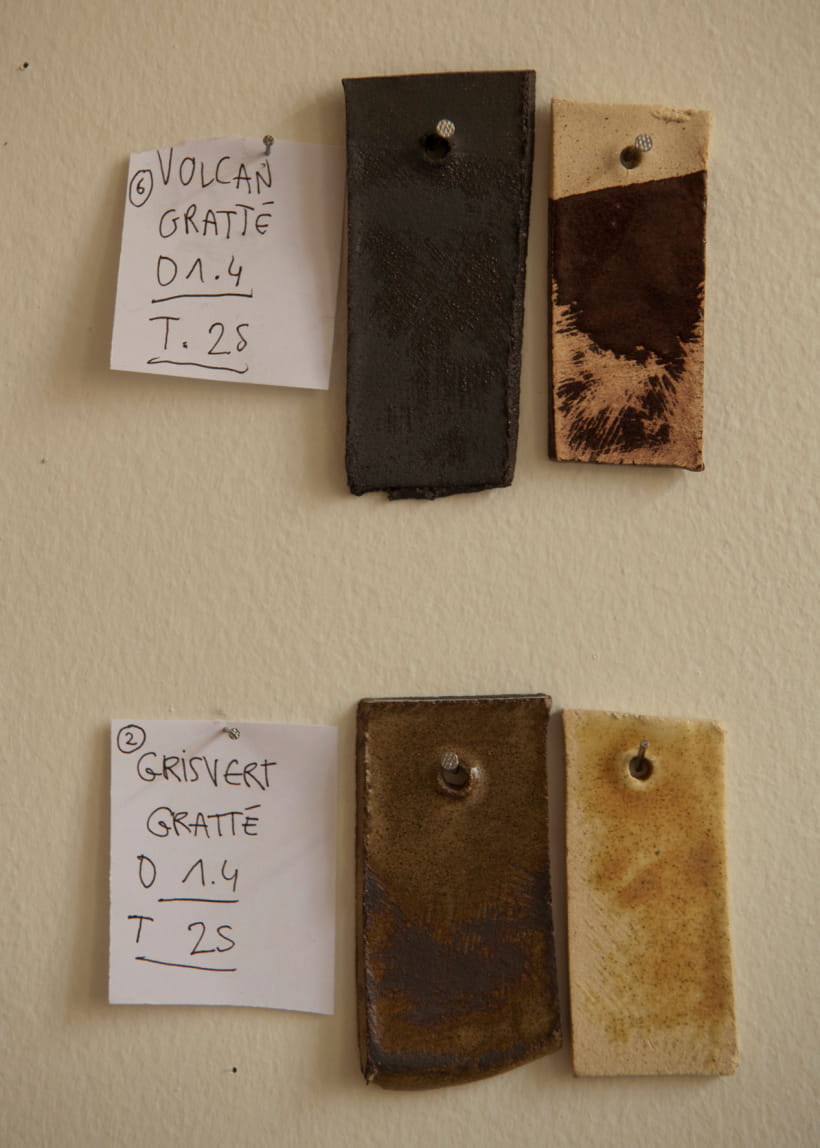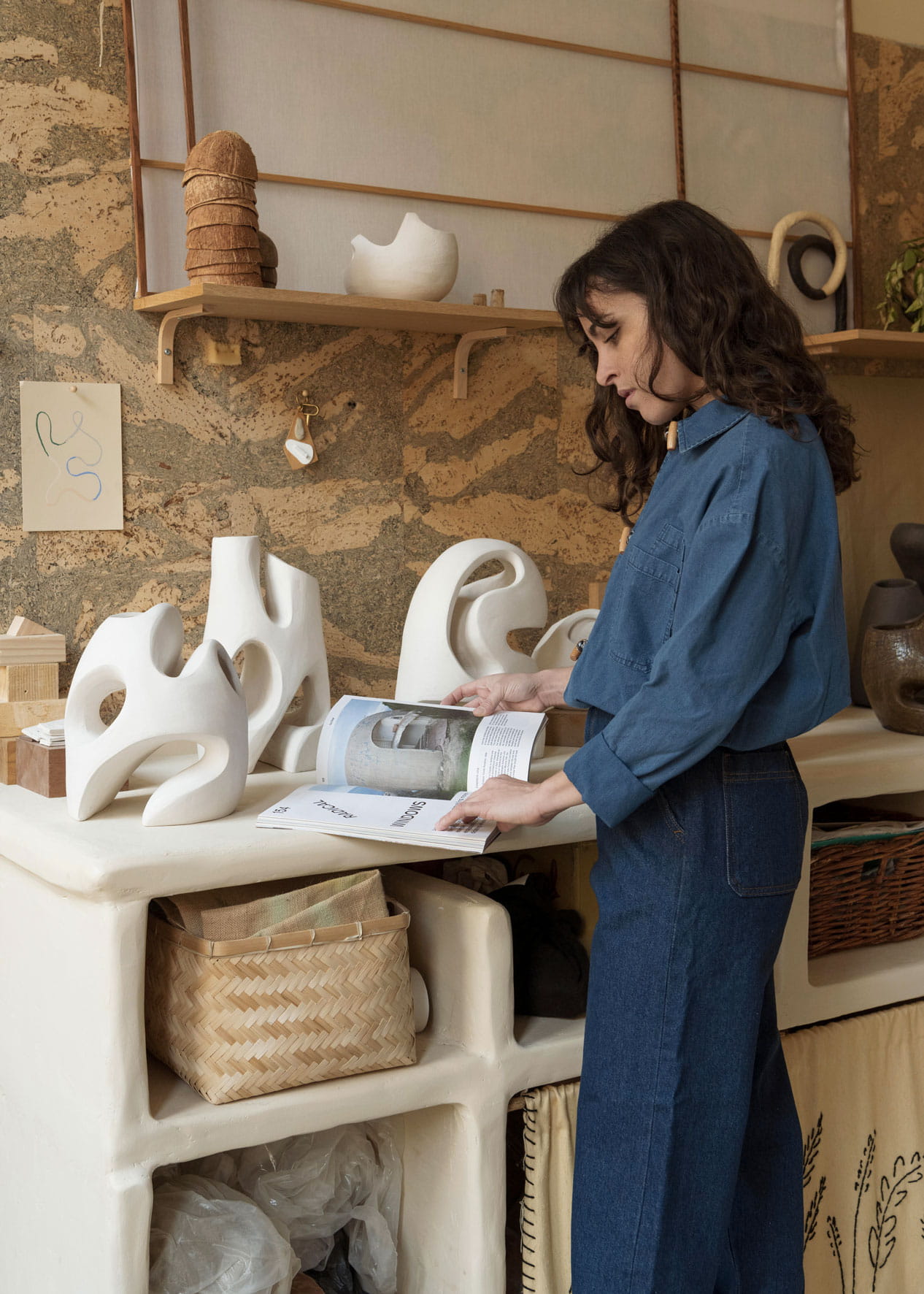 What were these last months like for you? Would you say that they had an impact on your creative process?
The first lockdown was pretty hard on me. I project myself into the future a lot, so I felt trapped. However, when the lockdown was lifted, I found my favourite technique for sculpting. I think that, unconsciously, the act of putting my life on hold allowed me to see the right path more easily.
What does the Sessùn brand represent for you?
A sunny, seaside world that is rough, natural and always in movement.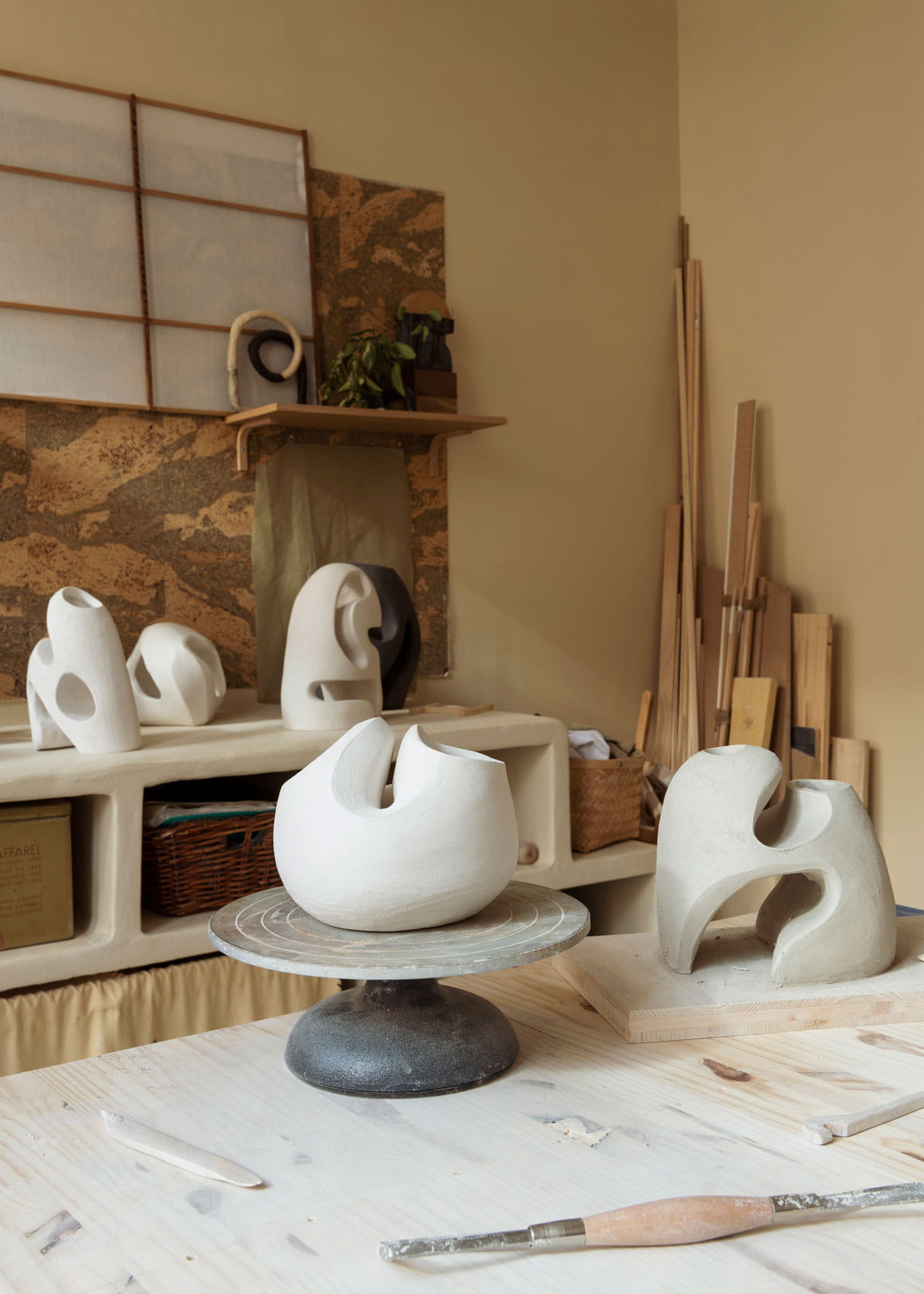 If you could go back in time and relive a specific day, which one would you choose and why?
I'd like to relive one of my oldest childhood memories. A race up a tree with my preschool friends to reach a wild fruit that is still my favourite fruit today. My adult life is deeply marked by this freedom that I felt when I was a child. Sometimes, especially in recent months, I feel that my goal when creating is to try to reconnect with this absolute freedom.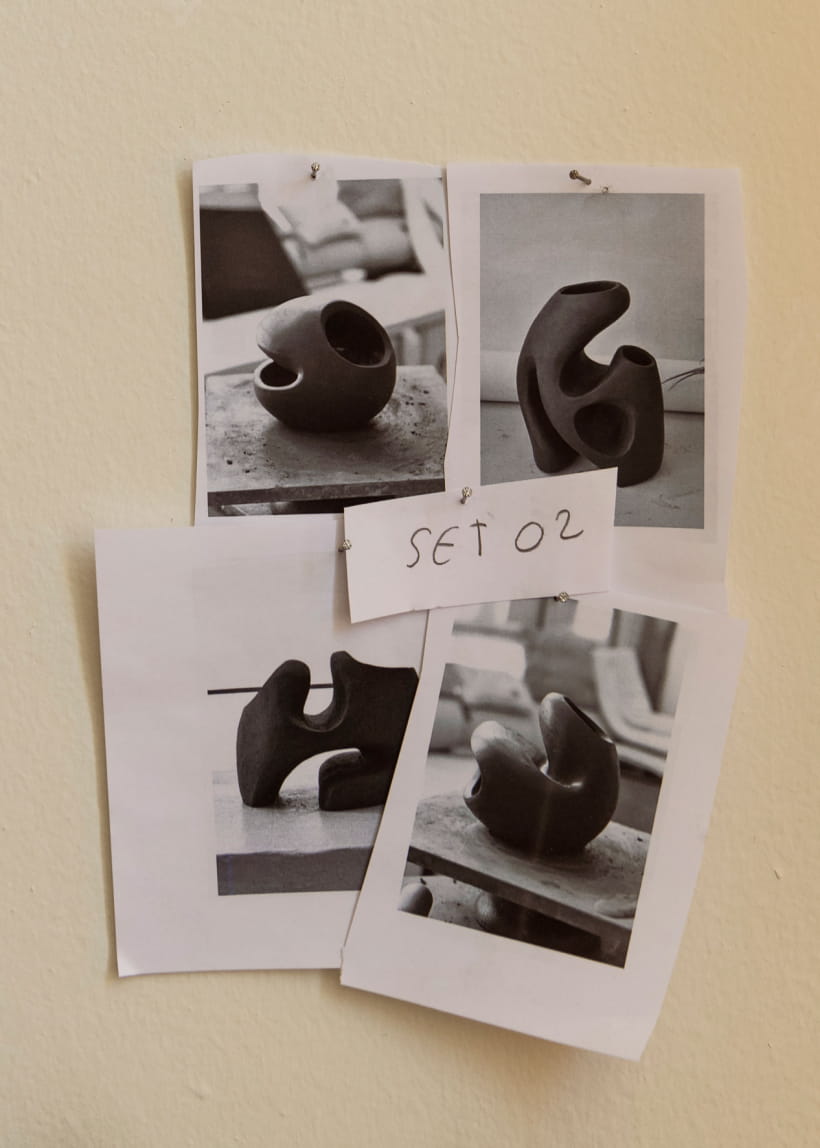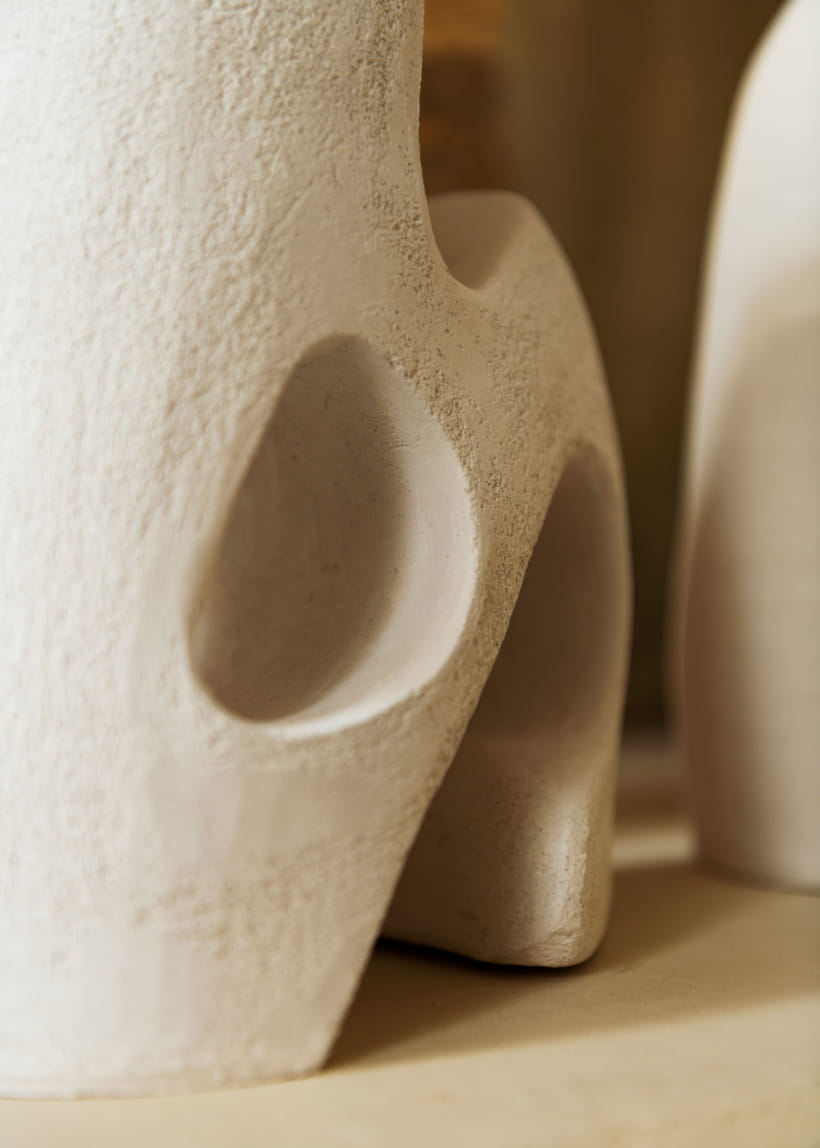 What is the book that moved and/or inspired you the most?
Lately, I'd say The Lover by Marguerite Duras. I really enjoyed this book, which illustrates the colonial society of the era in the form of a love story. This society, marked by brutality and injustice, was that of my great-grandparents. These are lives that are not documented in history and rarely talked of by families but are leaked out by the new generations that live in French overseas departments.
Do you have a particular ritual to tune you into your creative process in the studio?
Napping. My work process is a constant dialogue between my mind and my body. Sleep is a necessary transition between two states: the reflective state, a time when I seek to steep in receiving external elements, and the moment of sculpting, which is a very physical experience.
Can you tell us about the piece you created for Sessùn's "Floraison Créative" carte blanche?
The idea behind Magda is to create a tower that grows out of itself into the light. Its composite nature - three modules that fit together organically - is reminiscent of a vertically articulated frame that rises upwards. It is a tribute to the sun and to all the beings who seek to come closer to it.
What will you remember from this carte blanche experience?
A sense of serenity in my work. The kind of serenity that comes from the trust placed in my work by Sessùn and the respect given to my time of reflection. It is a rare opportunity to be able to express oneself freely and to be welcomed with such kindness.