PHOTO CREDIT : Alicia Peirò
When asked what brought her to clay, Estefanía mentions her childhood on the Mediterranean coast, the collection of earthenware she inherited from her maternal grandmother, writing - her second passion - and Cabo de Gata, a region in the south of Spain where she recently settled and found peace. Through her sensitive creations, gathered under a poetic name - asterisque, Estefanía explores form and matter with one idea in mind: finding beauty in imperfection. Read all about our talk with a plural and inspired artist.
Who is behind the asterisque project?
I grew up in a coastal town in south-eastern Spain and spent all my summers in the Mar Menor, a saltwater lagoon in the Mediterranean, full of small islands, from which we sailed to the Balearic Islands whenever we could, so my life by the sea has defined my character. I love living by the sea, writing, travelling, and in ceramics I have found a way of life and a form of expression that allows me a spontaneity and a freedom that is difficult to exercise in an increasingly normative world. Two years ago, I moved with my husband to Cabo de Gata in Almeria, a place that daily brings me back to my childhood and where I hope we can settle down for good.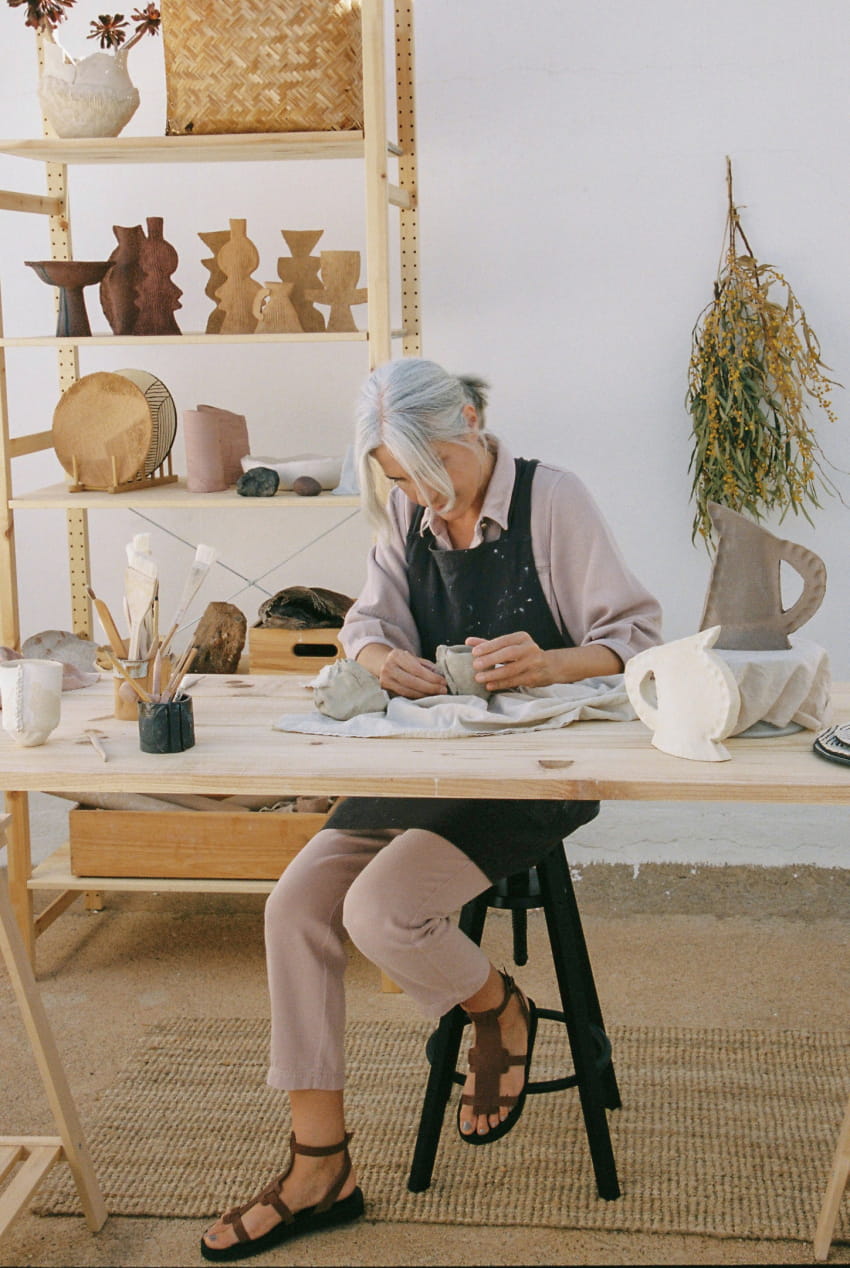 Why did you choose this name for your creative project?
Like the * asterisk... - which is used as a call for margin or footnotes and also serves to indicate that a form, word or phrase is hypothetical, impossible, incorrect, or non-existent - I find authentic beauty in those forms, words, people or images outside the rules.
I have been writing since I was a child, for me it is a way of trying to understand myself and the world, and above all, a space of freedom, which is exactly what I find with the clay in my hands. Both are spaces in which the incorrect can be beautiful, where to look for what is beyond the visible, and where it is necessary to appreciate slowness, to respect natural times... Like the asterisk, the footnote that makes you stop and look away to a different place, ceramics takes me to that calm and continuous surprise. The asterisk thus unites my two passions.
I write asterisque in lower case and without the accent, to pay homage to incorrectness, and in French because it is a language I have always loved and which I studied for a few years for pure pleasure.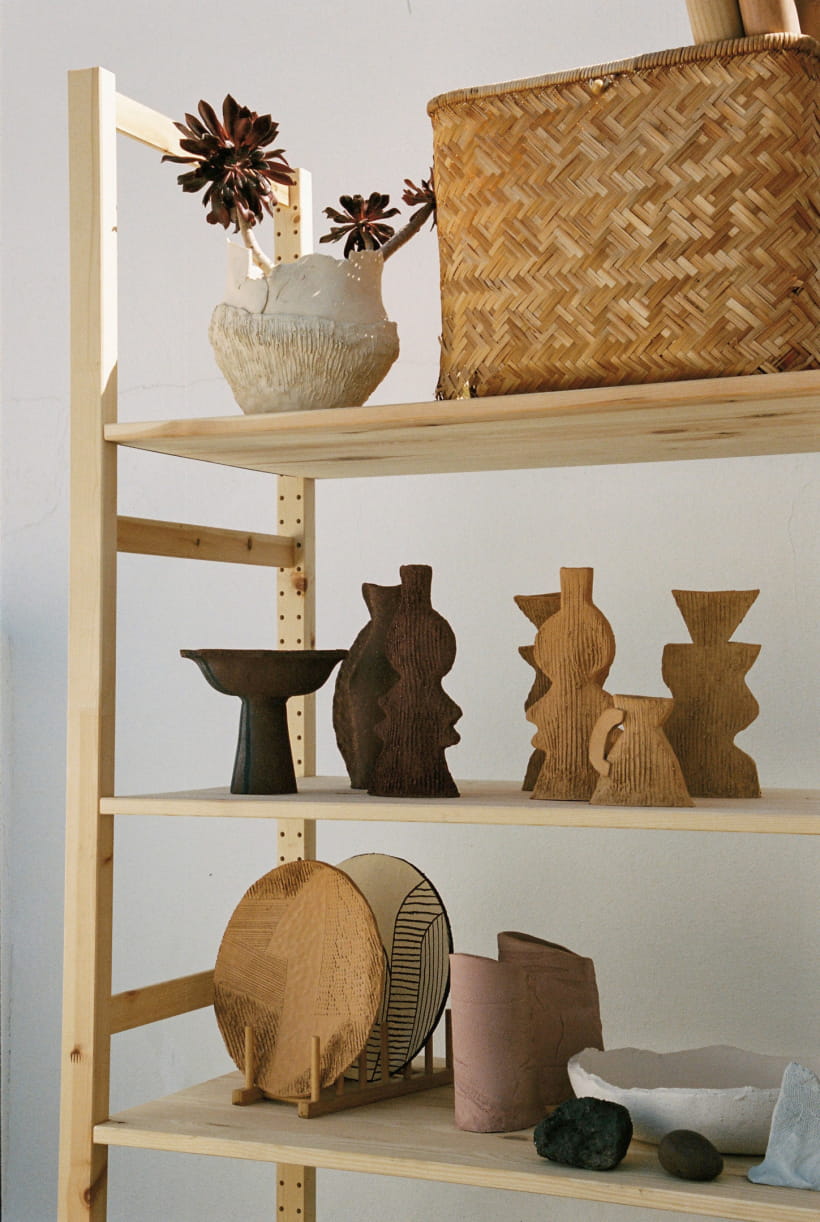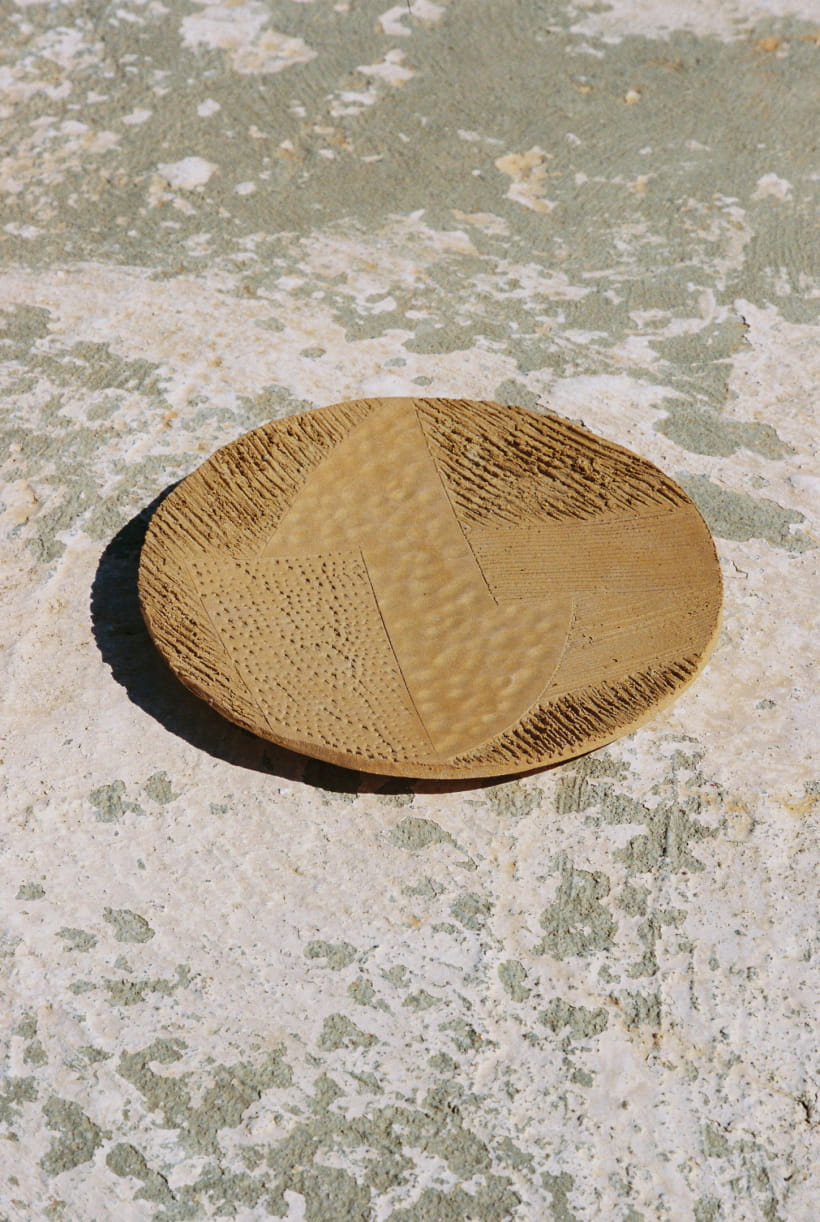 What is your background, and how did you get into ceramics?
Although I loved chemistry and genetics, and my high school education was in science, I studied law, and years later I did specialized studies in business management and cultural institutions, trying to get away from my work as a consultant. At one point in my life, I felt the need to stop and get in touch with myself, so I enrolled in a ceramics course in my city. I chose ceramics because my mother had at home some treasured pieces of earthenware inherited from my grandmother, and in my travelling days, I loved to look for local pottery and return home with a piece as a souvenir or as a gift for my mother. My maternal grandmother, on the other hand, was a wonderful seamstress, with an incredible ability to make beautiful dresses with two scraps, crochet garments and embroidery.
A few weeks into my ceramics class, and I was already hooked, I discovered that when you work with clay, time no longer exists, and it took me to beautiful places from my childhood, to the quietness of making a puzzle, to my grandmother's hands, and even to my taste for chemistry that I can develop with the preparation of glazes. Everything suddenly came together.
How did you learn to work with clay?
I think that, in a way, it is the clay that works and shapes me. The daily experience with clay molds the hand and marks a path to follow, if necessary, and this is my learning process. I don't usually design my pieces, my work is quite intuitive, I don't use a lathe or molds, or tools for that matter, I like to pick up some clay and let myself be carried by it. Just as I do when I write, I try to keep my mind blank, and let the clay come out the way it wants to, and with what I have been absorbing from my surroundings, freely. In the same way when decorating the pieces, there are times when I leave them as a bisque, unfinished for a while, until I know I can do it without thinking too much. I like to approach it as if I were a child, which is very difficult at times, but ceramics is definitely my playground. From time to time, I also like to start from a word, or any object, to imagine a plate or a vase.
Your creations are the result of the idea of an organic geometry, what do you mean by that?
For me, it means that in my objects you can perceive the natural and the human touch, the hand behind it. The shapes start from something geometrical but they never want to be symmetrical, and I like broken and rough textures, which I realize through curves, folds, irregular edges by cutting the clay with my fingers, and asymmetries, or at the moment of glazing, by leaving the imprint of my fingers.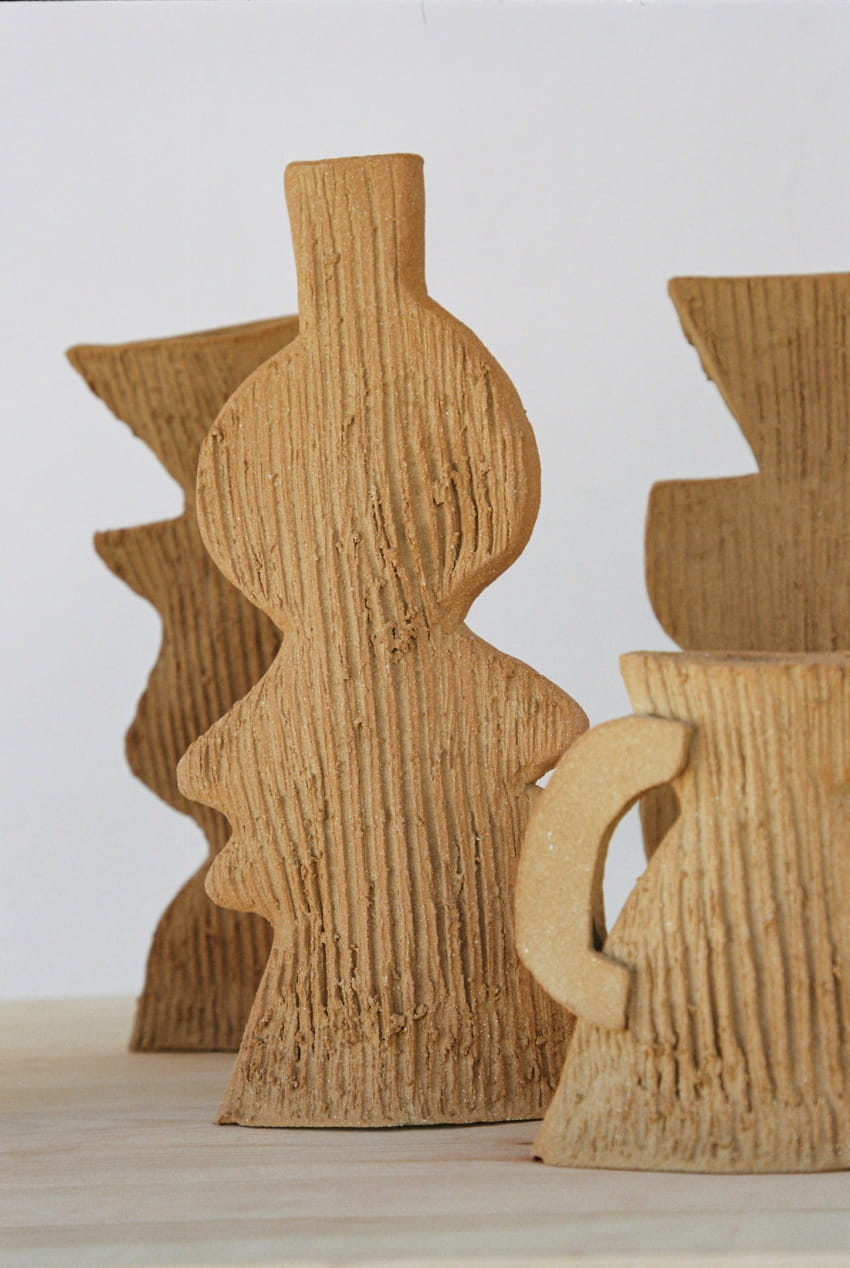 What is the piece that best represents your universe?
All those that I make more spontaneously and freely, and in which the textures, the naked shapes and colours speak for themselves, like the 'yos' vases that I drew in the dark almost automatically one night while I was trying to fall asleep, the 'dom' jars that are joined by simply pressing with my fingers and leaving their traces in the manner of ceramic basting, or my latest collection of 'mahk' vases, which honors the Korean concept I discovered thanks to a book by the architect and former ceramist Byoung Cho, which refers precisely to the state of being imperfect and rough, but in an appropriate way, something like being deliberately unplanned, so that everything comes more naturally. Lately I've also been enjoying the 'kad' collection of plates and vases, which I decorate with engobes and ceramic pencils, as always, without thinking too much...
 How did you imagine the two pieces that you created exclusively for Sessùn?
When I saw Sessùn's imaginary alphabet about a year ago, and I was the asterisk myself, I thought it was very beautiful and that there was something in common. Recently it occurred to me to choose two of the shapes that I liked the most and turn them into the 'alp' vases, with a terracotta stoneware whose color is very similar to the natural tones of Sessùn alma and with a texture that is very much my own.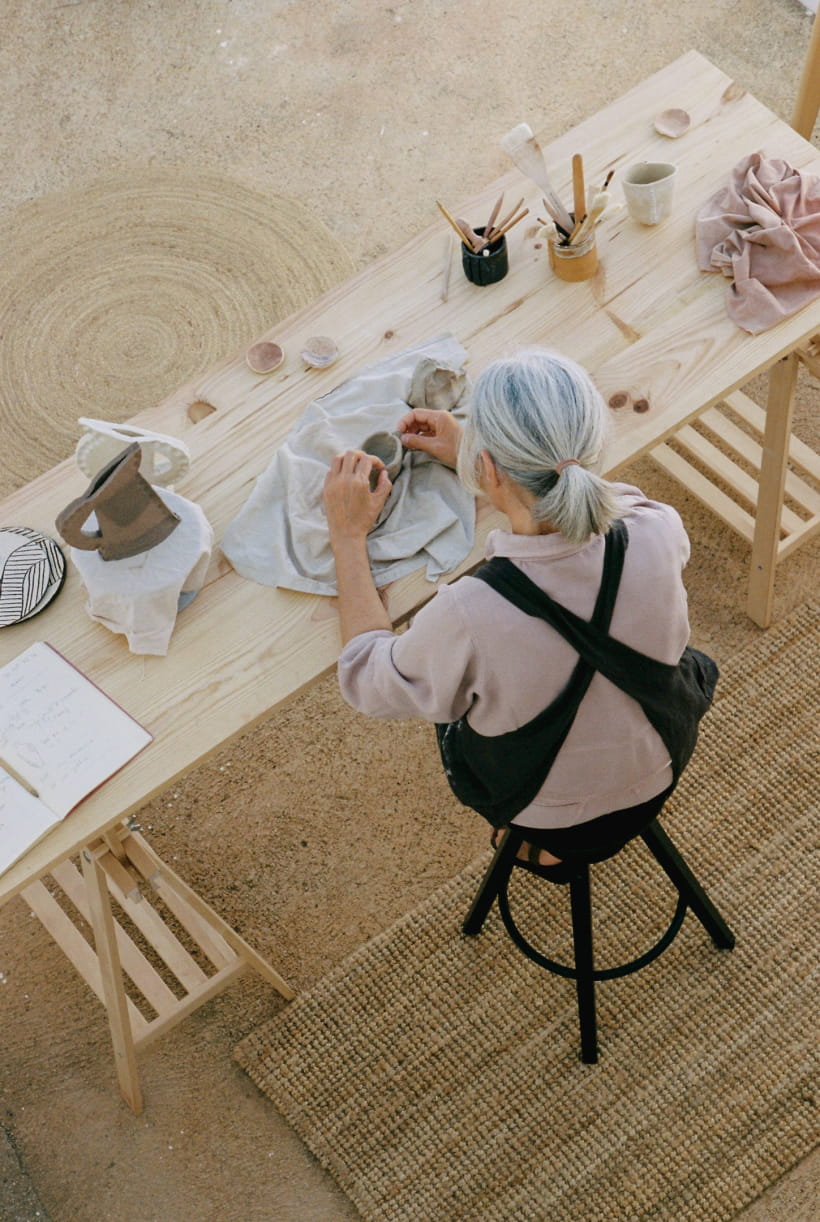 You live in the South of Spain, near the natural park of Cabo de Gata. What attracted you to that area?
This place can be inhospitable for many people because of its isolation, its extreme nature, semi-desert, with fossil dunes, volcanic slopes, and winds that whip you for days and seem to want to erase you, and yet, to me, its landscapes seem hypnotic. Here your days are marked by the slow and powerful rhythm of nature, every day I return to my Mediterranean childhood of eternal summers, when on the way to the beach you are astonished by a perfect row of ants, or a sea lily, or a fossilized shell, and you wake up listening to the waves and the birds singing. I knew this place from visiting it on a few occasions, but since I have been working in ceramics, moving here has become a vital necessity for me.
What are your sources of inspiration?
I am inspired by everything I connect with, be it an illustration, deserts, a canvas, a painting, Africa, a sculpture, a dress, the shape of a stone, or a word. Somehow, they are part of my unconscious and are projected in the form of a vase or a bowl.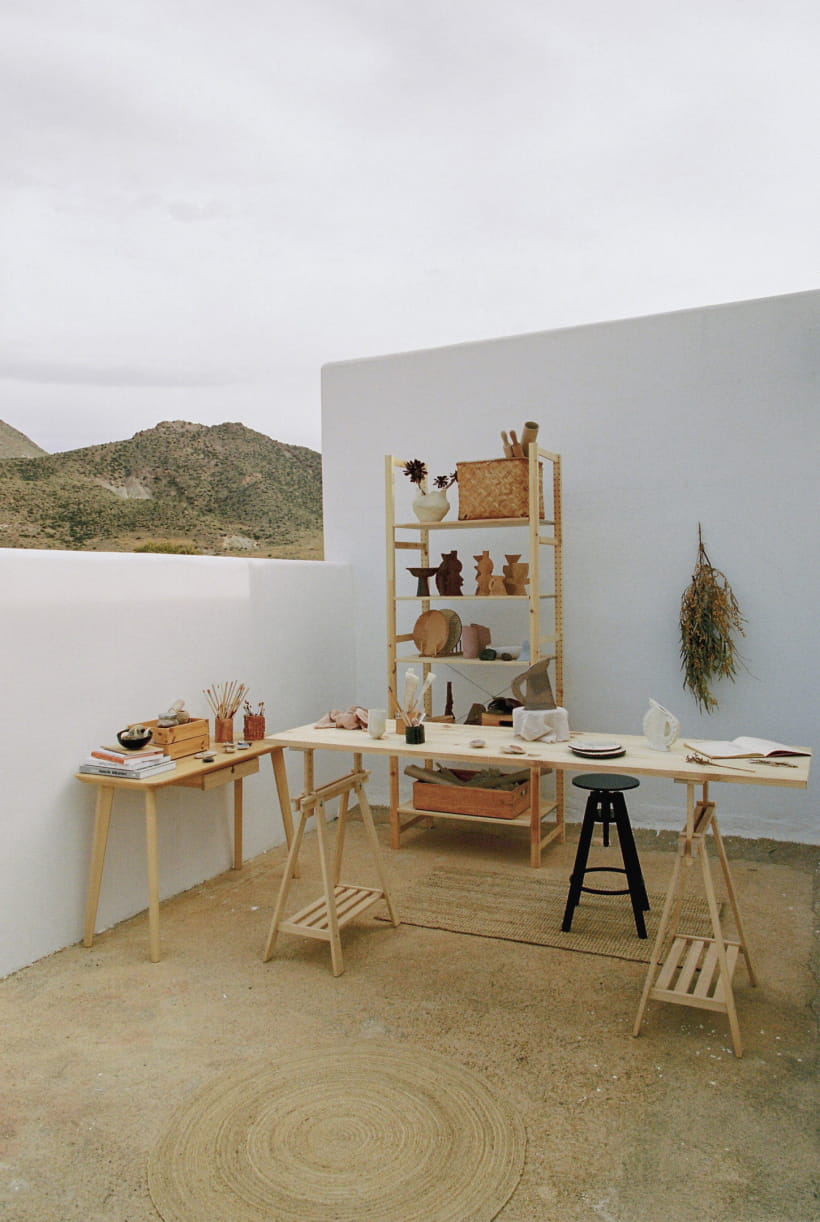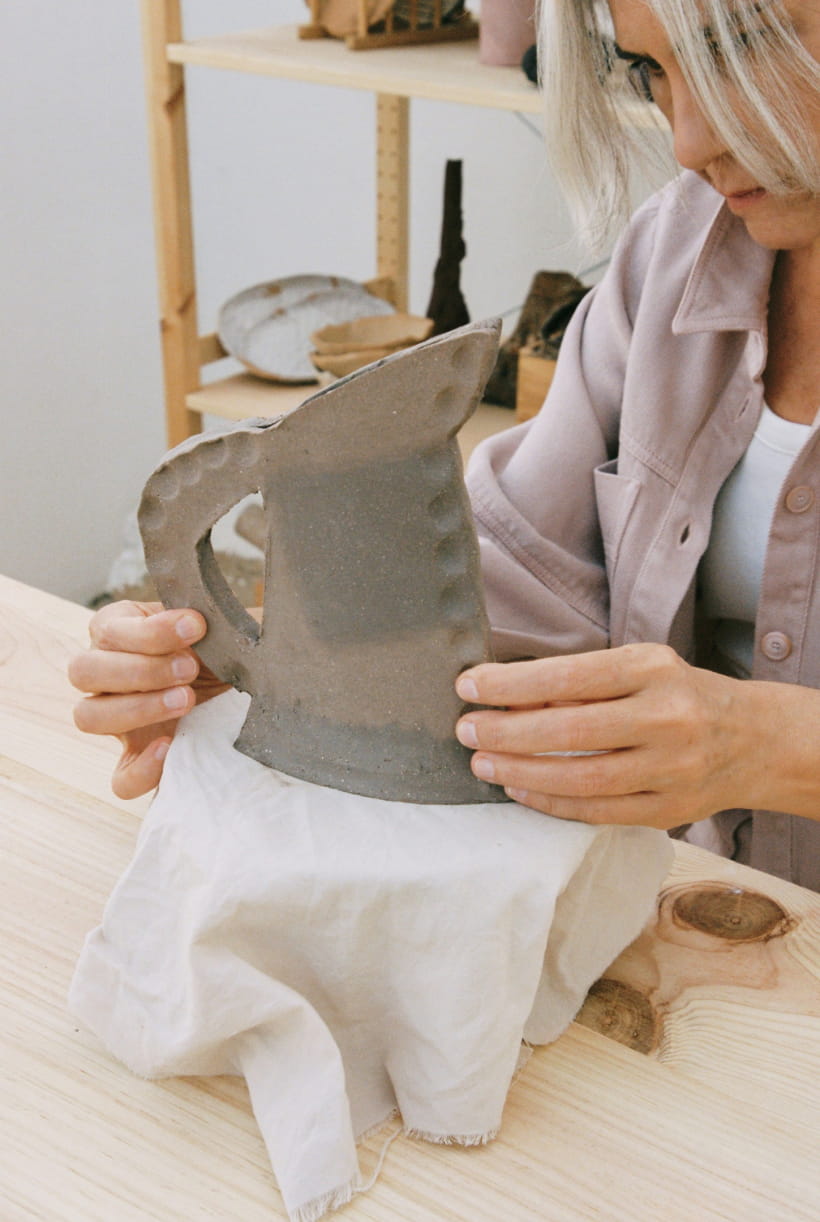 What's your latest artistic favorite?
Curiously enough, it came about thanks to Sessùn, who mentioned the sculptor Sonja Ferlov Mancoba as a reference in one of its publications, and it became an obsession for me. From the search for everything I could find about her work, which I adore, my 'lov 00' vase was born.
What are your links with Sessùn?
I discovered Sessùn on a trip to the French coast long before I started working in ceramics, just 13 years ago, in Marseille. There I bought a striped top buttoned at the front with a small scarf around the neck, which I still wear today. I call it the top of the summer because of its fine, delicate fabric and its sunset in the desert colours. I love Sessùn's aesthetics, its timeless designs, its colours and its philosophy, its artistic references, its love for art/craft, and for the artisans it works with and takes great care of, at least that's how I feel. So much so that, as I said before, I make pieces inspired by the Sessùn universe, which is naturally close to me, perhaps because of its Mediterranean origin.
Any future projects you would like to share with us?
Just one, although it is a big one: to find in this wonderful environment a place where I can settle down for good, a house with a workshop and a small artistic residence where others can come to know this place, work, be inspired and find the peace that I have found here, and perhaps something new about themselves.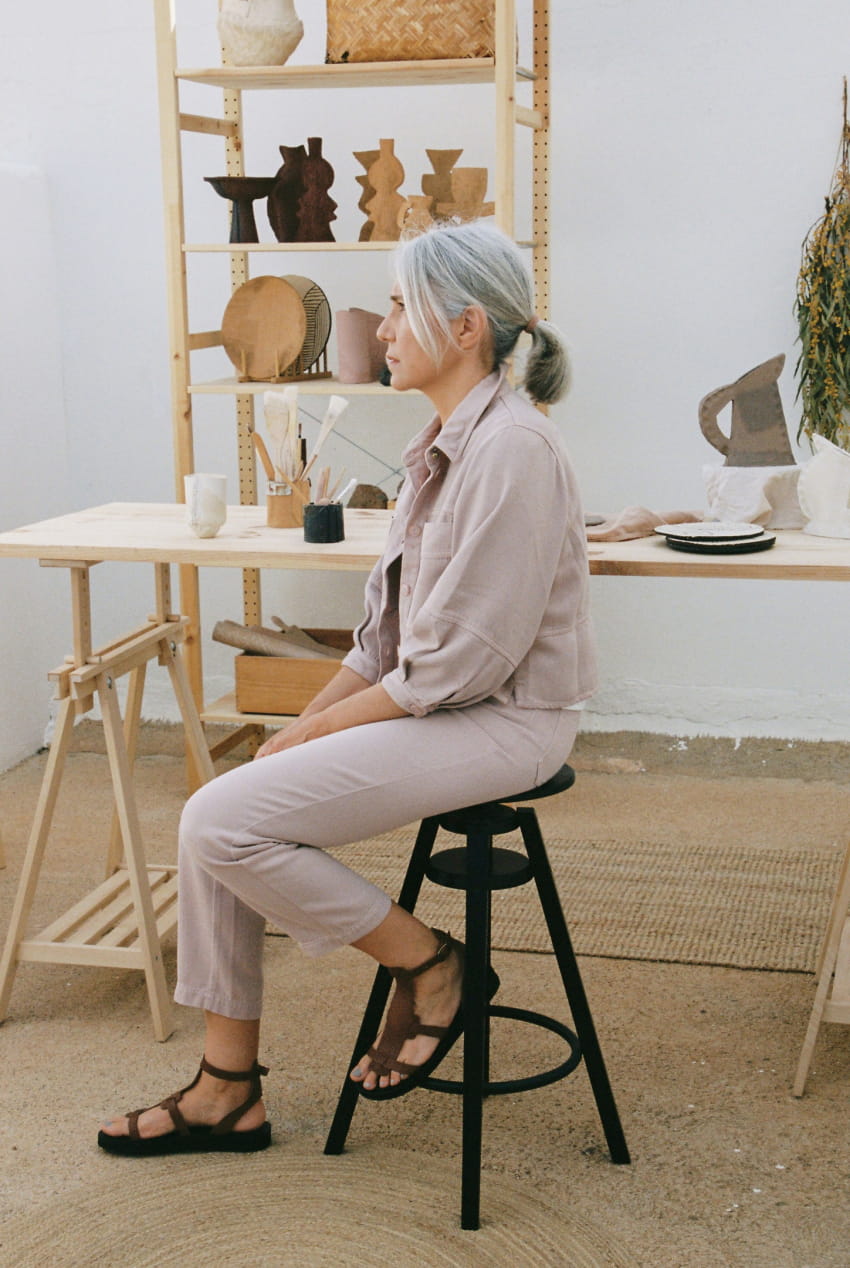 FIND THE LOOK OF Estefania