Having travelled widely in Japan, Mexico and Morocco, Lou Thomas is passionate about traditional crafts and expertise. While she has enjoyed handling clay since the age of 10, she fully embarked on the practice of clay modelling in 2018, founding her business, Simone Loo Ceramics. Working from her new studio tucked away in a historic building near the independent port of Marseille, Lou designs and creates ceramic pieces inspired by different techniques discovered around the world. She also engages in exclusive collaborations with chefs, which she regards as a dialogue between two skilled craftspeople.
How did your first encounter with clay come about?
I loved having my hands in the soil or in the bread dough when I was little. This feeling of "getting my hands in something" has always been with me. I joined a pottery class when I was 10 years old. Then, as a teenager, I put all that aside to focus on another passion of mine. I studied in Paris at a school of marketing that specialised in fashion and design. It was in 2017, during a trip to Japan, that I encountered clay again. I was fascinated by Japanese craftsmanship, traditions and techniques, which are so beautiful and unique to their country. Then, for Christmas in 2018, my brother Robin gave me a pottery class as a gift: and since then, I've never stopped.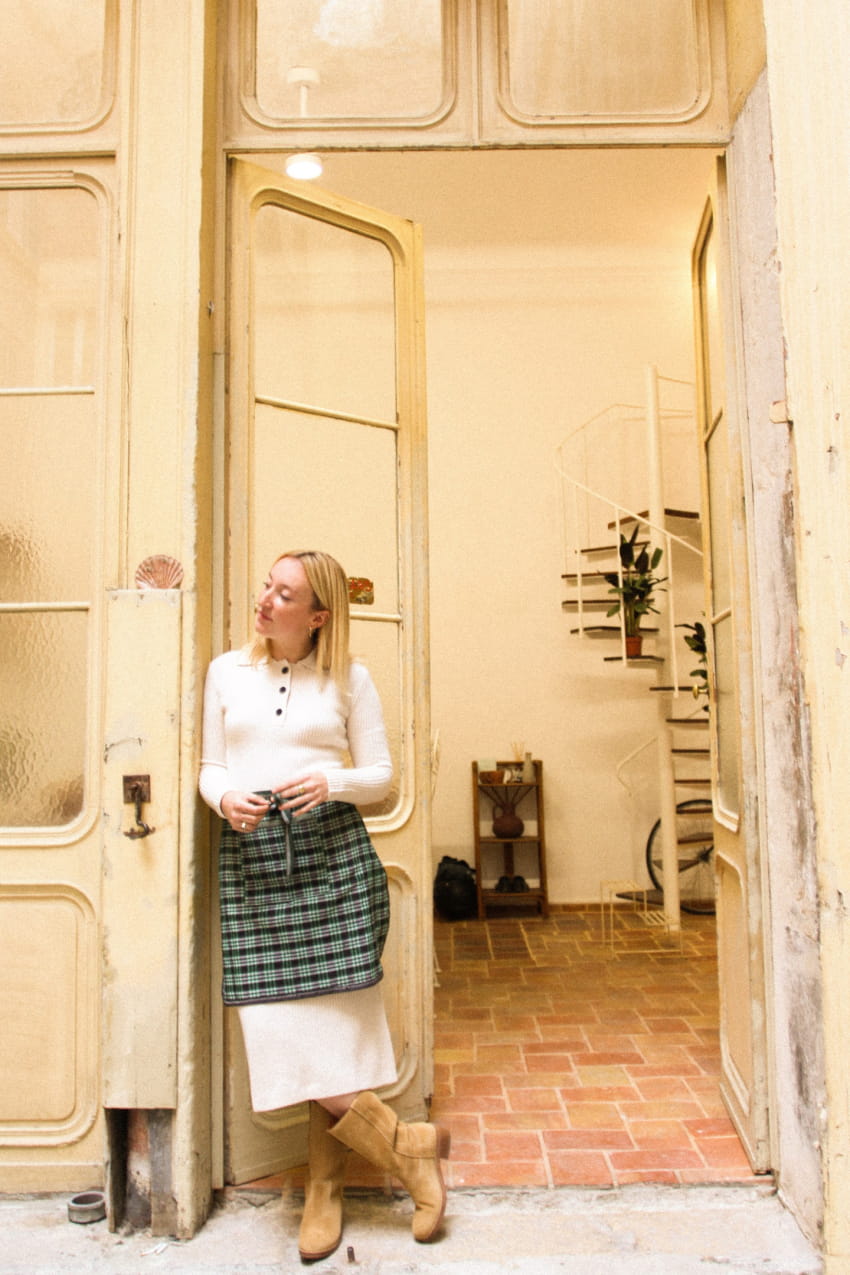 Your Mexican series, which is composed of plates and vases with small handles in chamotte stoneware, is inspired by local Mexican crafts. What memories do you have, and what did you learn from your stay in Oaxaca?
It was as if time stood still. Corinne Aivazian had contacted me to propose a two-month residency with Terra Co. I was staying in a little cabaña in the middle of the mountains. When I wasn't working in the studio, I went directly to the maestras to discover their ancestral techniques, to understand the clay, its textures, and so on. After the residency, I went to a small fishing village on the Pacific coast. My brother Bruce and I stayed there for three months. It felt like paradise; I was able to find clay and create a workshop. I made a lot of prototypes there that are in my collections now. Unfortunately, I couldn't fire my pieces there, so I knocked them back into a ball and started again. Nowadays, I regard this as a beautiful process; the earth returning to the earth.
You also regularly collaborate with restaurants, designing pieces to suit their cuisine. Can you tell us about your creative process for this type of project?
It all starts with a meeting and a discussion, and we share inspirations, know-how and technical skills. And this is the beginning of a brand new and exclusive collection conceived by two craftspeople from different but complementary worlds. One creates the container, the other the content. The symbiosis occurs naturally! When a chef contacts me, I want to talk to them to understand their identity. Together, we choose the colour of the clay and especially the texture, which is the basis of my work. Depending on what it will contain, we then discuss the model (hollow, flat, round, oval, or an organic shape, perhaps). Then comes the choice of finish: firing and glazing. I use very few colours, primarily white or transparent, to let the clay show through. The magic happens when the plates arrive in the restaurant. It's as if they come to life as soon as they come in contact with the chef.
Which piece would be the most representative of your work?
The "Bouboulita" vase without hesitation, inspired by women with plump bellies, straight out of a Botero painting! I like to imagine this series as a bunch of girls with all their imperfections, similar at first glance, whose strong and unique characters we discover as we get closer. That's what I try to reproduce through these pieces.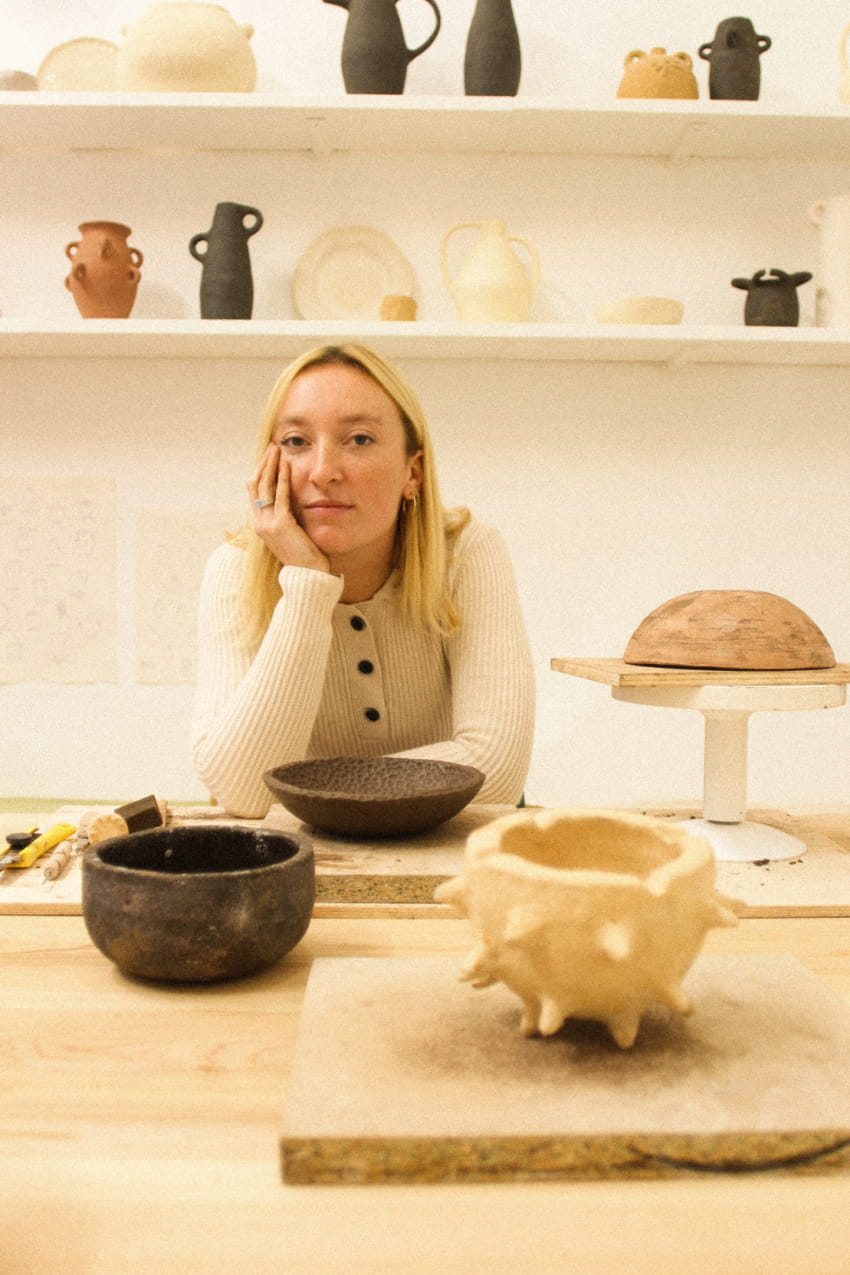 Tell us about your new studio in Marseille. What does it look like?
My studio is exactly as I dreamed it would be. It's located just a few steps from the sea, and it overlooks a courtyard in a historic building linked to the port activity of the city of Marseille. It was previously occupied by a mosaic artist, and it's a very inspiring place for me. I wanted to keep the soul of the place; its terracotta tiles, fish railings, little pink water corner, and so on. In the centre of the studio, there is the table. It was made by the architect Dimitri Felouzis in olive wood, and it's magnificent. At the back, where I exhibit my latest pieces, there is a long three-metre workbench I sculpted in plaster with my friend, Richard. He was a great help to me in settling into this perfect creative space.
Do you have a particular routine running through your daily life in the workshop?
I throw on a Celine Dion album, crack open a crock of clay, and don't look up for hours.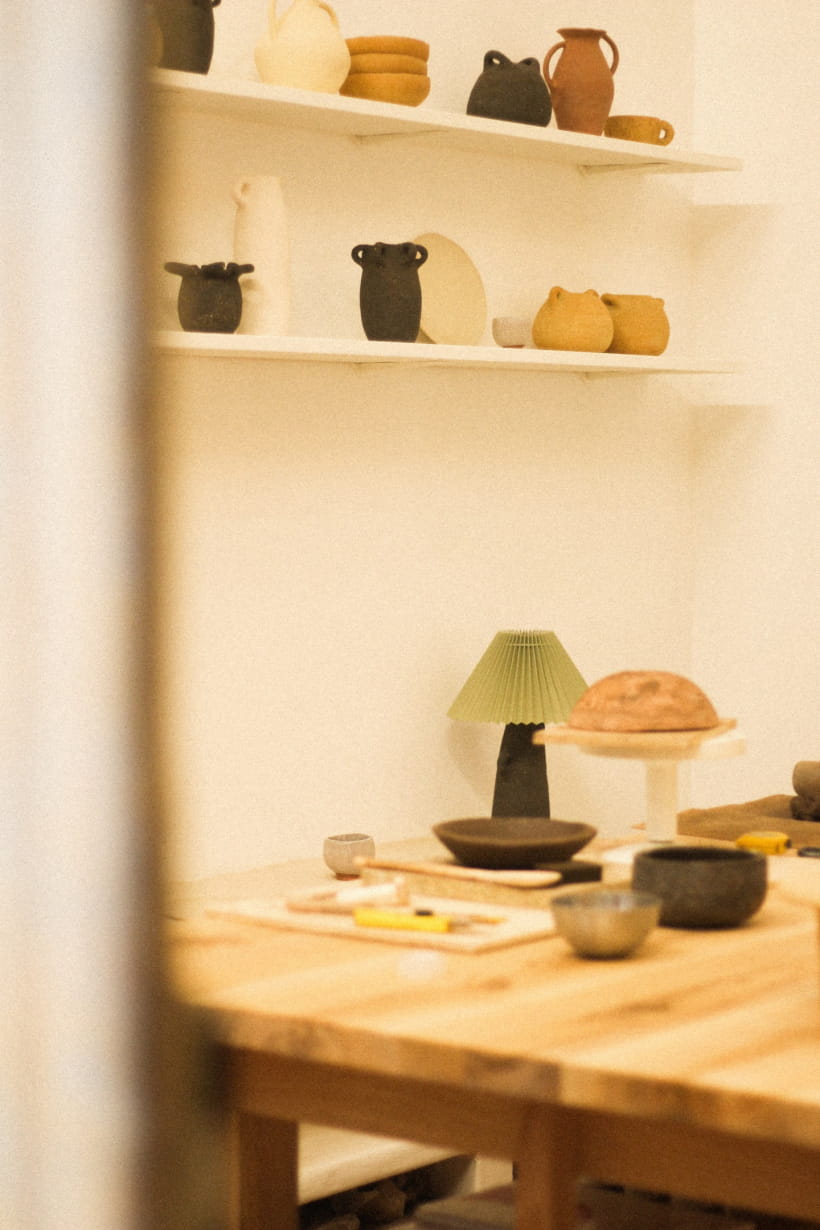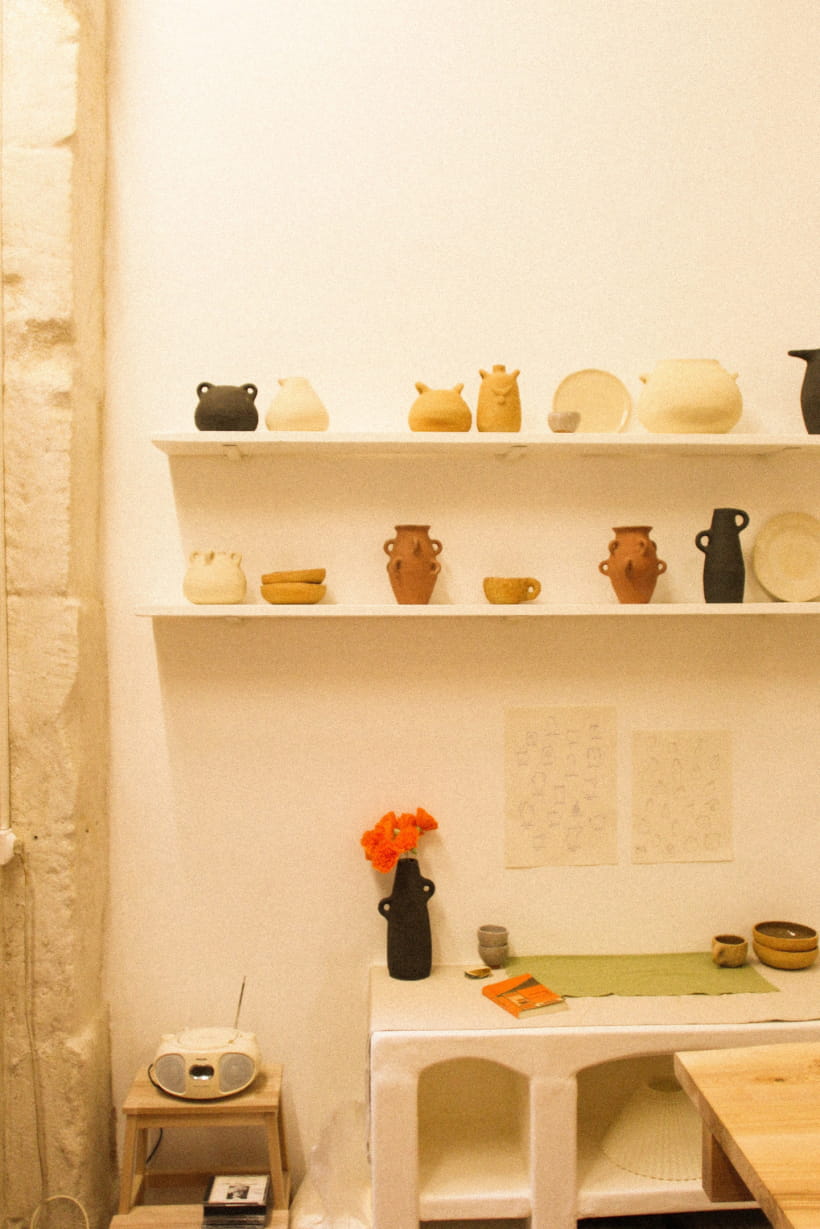 What form does research and creative exploration take for you?
In my case, the research is mostly through travel. I've been lucky enough to travel a lot. Especially during my childhood, when I regularly went to Southeast Asia with my family. I think a lot of my creativity comes from that. I encountered Mexico much later; that was like a revelation for me. And recently, I went to Morocco in the Rif mountains with Memori Studio. It was the sort of week one dreams of. I was able to meet local potters who agreed to share their skills and expertise with us. Those few days filled me with inspiration. These are the times when creative exploration takes place.
For your workshop at Sessùn Alma in November, you chose to teach kurinuki, a Japanese technique. What does that involve?
Kurinuki consists of shaping objects by cutting them and digging into the clay mass. We begin by taking a block of clay, quite a generous one. A foot is created on the top, and then the outer sides are cut with a wire to make the shape emerge. Finally, we turn the piece that we just hollowed out, for a teacup, for example (called Yunomi). In this technique, everything is reversed. It is the perfect in the imperfect; each piece is unique.
What inspires you in the field of ceramics, but also in the arts more generally?
I'm passionate about pre-Columbian and Gallo-Roman cultures. Forms, textures and primitive techniques form the basis of my research. Recently, I went to see the permanent exhibition in the Musée d'Histoire in Marseille, and I was dazzled by the wealth of treasure there! My inspirations come above all from the craft, its customs and its skills and expertise, which are passed on and endure over generations. I think cooking is also a powerful inspiration for me; the return to tradition and to heritage. I'm very interested in working with wood, metal, leather, glass... I'd like to be able to bring all these crafts together in future pieces. And then there's the light, the sun, the sea, and Marseille: a perfect harmony that inspires me a lot.
Have you any future projects you can share with us?
I'm working on two collaborations that should blossom by the end of the year. And at the same time, I feel a need to experiment, to bring all my ideas to life, especially now that I have a space dedicated to that. In the next few months, I shall be working on larger pieces, including some furniture. And finally, Richard and I are thinking about creating a series of lighting fittings together, and I hope they will be released in 2023!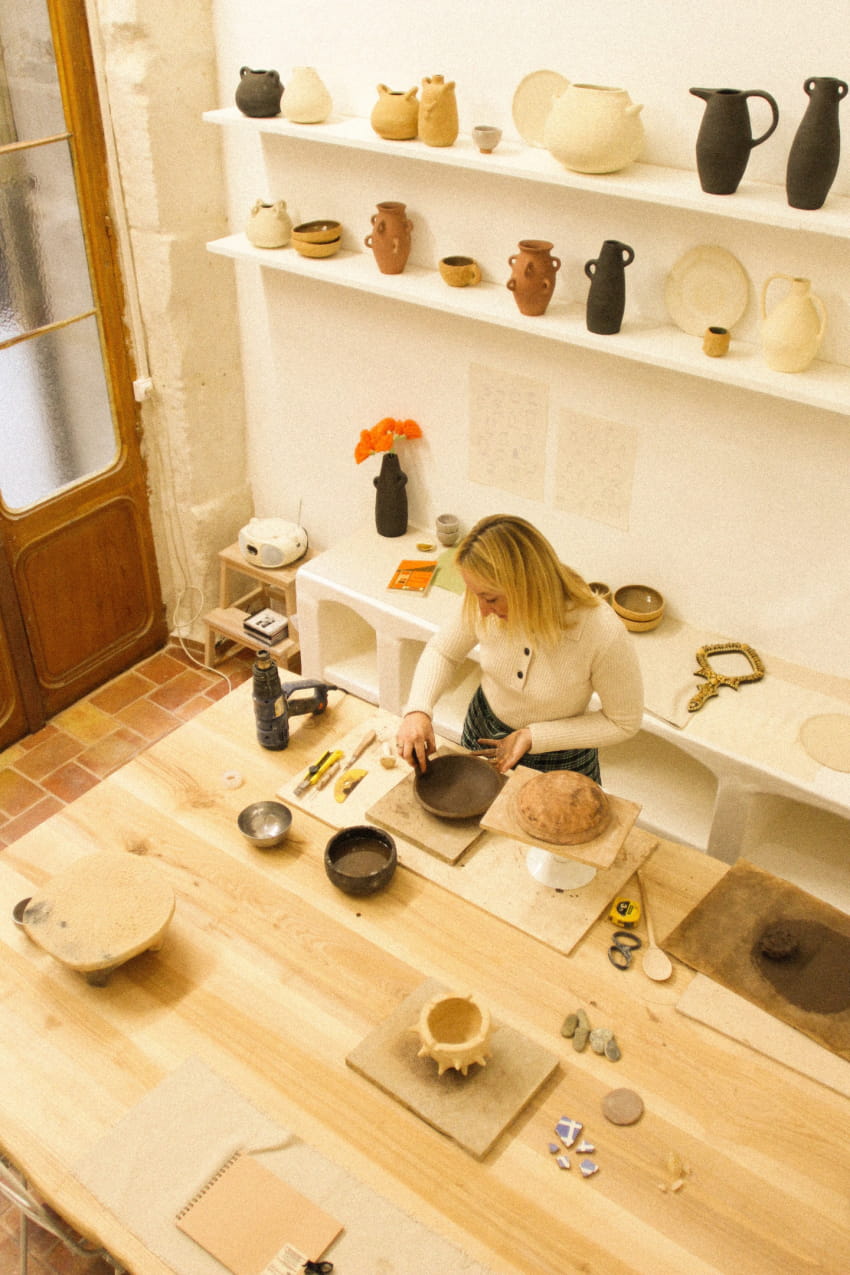 Find the look of Lou Thomas