CRÉDIT PHOTOS : ANNA LEONTE LORON
Trained as an architect, Eloi Schultz followed his intuition by enrolling for a cabinetmaking CAP (Vocational Training Certificate) in 2015. His love affair with atelier work and materials was immediate. For our Creative Flowering carte blanche, dedicated to research and experimentation, Eloi Schultz designed a sculpture made from three pieces of oak, carved and assembled together using a traditional carpentry technique. An object that questions the relationship between human beings and their environment, to discover in our Sessùn Barcelona boutique until September 1.
You studied architecture before taking a vocational training certificate (CAP) in cabinetmaking. Tell us about your background and your encounter with wood.
I started studying architecture in Strasbourg, which I finished at La Villette. I graduated in 2015. Immediately afterwards, through a chance meeting, I heard about the CAP cabinetmaker program at the Paris furniture school. Having always wanted to work with my hands, I enrolled in this training program and started working with Antonis Cardew. It was then that I discovered the workshop, the wood... A world in which I immediately blossomed.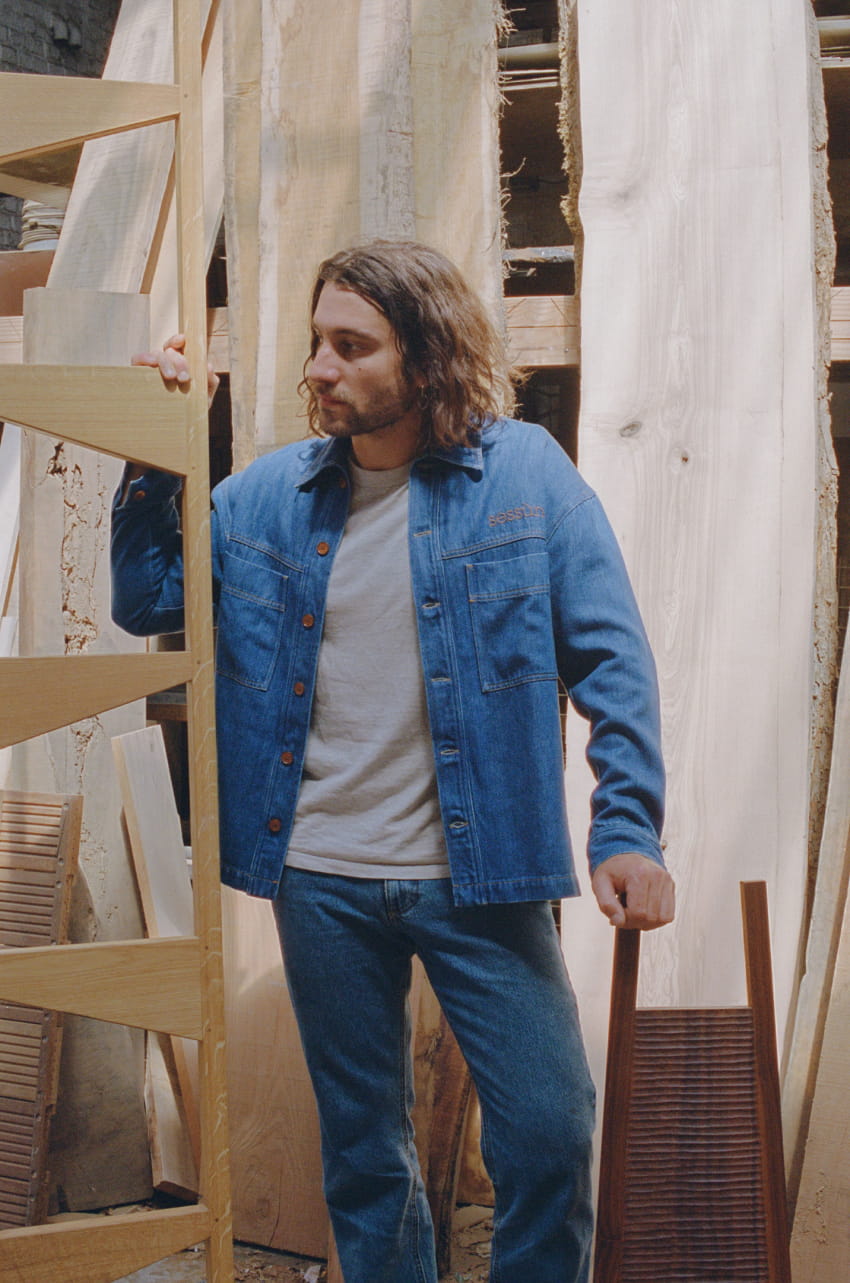 What does this material mean to you?
Softness, warmth, sensuality... You use all your senses when you work with wood. At the moment, I'm attempting to integrate into my approach the idea of the material's complete reversibility, and its relationship with the passage of time. Everything made of wood has a limited lifespan, due to the organic nature of the material, it will disappear and return to the earth. But before that happens, time works its magic, the wood develops a patina and changes its appearance. I like the idea that when my work on an object is finished, time starts its work.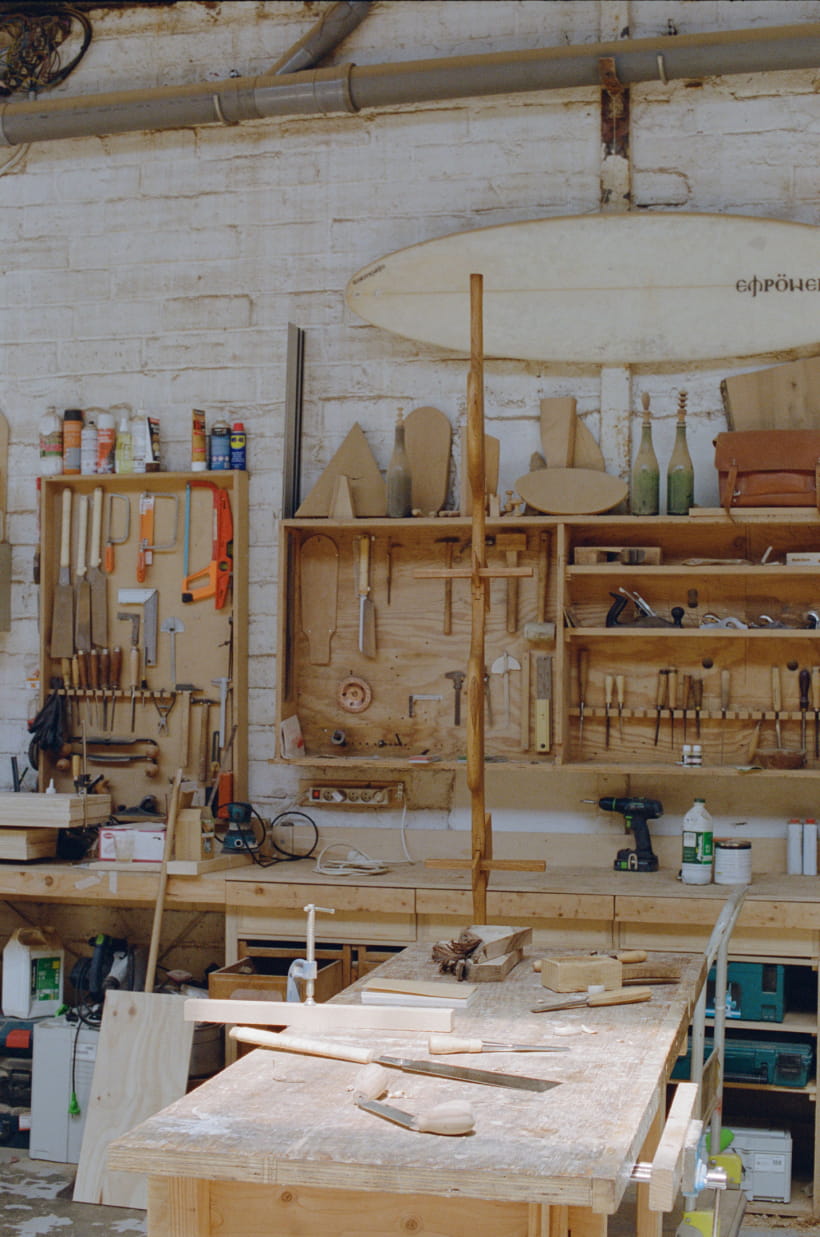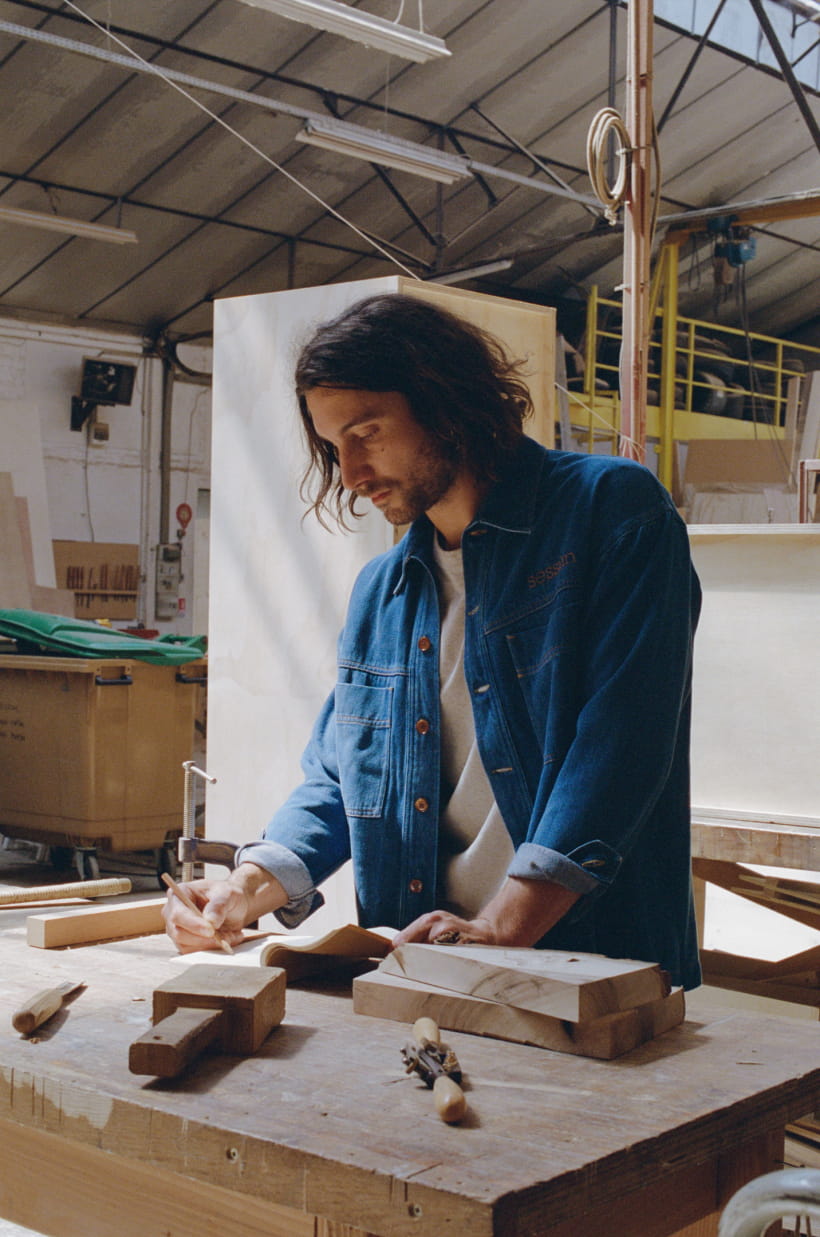 What's your favorite essence to work with?
I hesitate between walnut and chestnut. Both are perfect for working with sharp tools. They're soft and produce beautiful chips when planed. Of course, I also love them for their flame pattern and the different hues that can be found in them, especially in the case of walnut. If I could add a third, I'd say cedar from Lebanon. These trees can grow very large, have a very soft aromatic wood and a very sweet smell. I always have the impression of cutting a pastry when I work with them.
What does your workshop look like and where is it located?
Right now, I'm between two workshops: one in Vitry-sur-Seine, the other, which I'm in the process of finalizing, in Marseille. The Vitry workshop is a large industrial hangar that I share with other craftsmen. We've got plenty of space and a full range of woodworking machinery, which makes it a very good facility, but inevitably a little impersonal. On the other hand, in Marseille, where I plan to set up in the near future, I'm fitting out my apartment-workshop, where I'll be able to live and work. It's made of two former commercial premises on the first floor that communicate with each other. I like the idea of being able to test ideas and shapes any time I want, just by walking through a door.
Drawing plays a central role in your creative process. What are your main inspirations?
Drawing is very important to me. It forces you to bring out the essential, because when you draw, you translate reality into a sum of simple strokes. Picasso said something like: "A painting is a lie that tells the truth". When you draw, you have to do the best you can to convey very complex things with a very simple medium, like a pencil. I have a few references that inspire me in this respect: the drawings of Gustave Klimt, Egon Schiele, Rodin's preparatory watercolors, the engravings of Albrecht Dürer... I'm very interested in drawings of bodies and faces. They provide the vocabulary for my creations.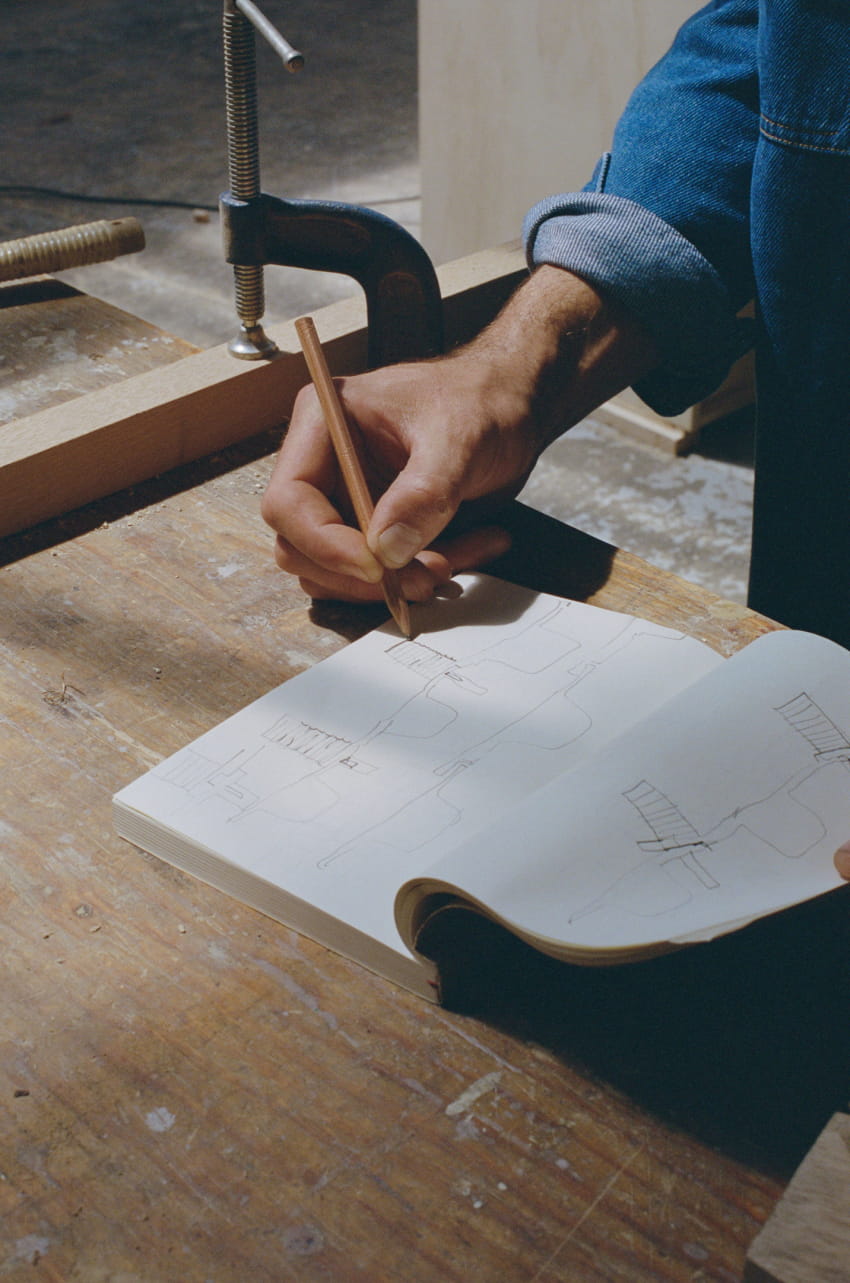 What role do creative research and experimentation play in your practice?
I've noticed that I take a step-by-step approach to creating new pieces. First, there's imaginative research: I try to visualize shapes, textures and volumes that might express what interests me. Then I test these shapes by hand-drawing. It's usually at this stage that I start to feel whether an idea might work or not. Then I make a precise 3D model of the object, to give it real proportions, and possibly think about how to build it. The tool work comes at the very end, when I'm sufficiently confident that I'll be able to produce something functional. I get very anxious about wasting material. Of course, it's also the richest stage when I'm confronted with wood, when I start to play with the knots in branches, the grain and the pattern of different species... So I'd say a lot of research goes on before I start experimenting!
You mainly create utilitarian objects - furniture and lighting. Can you tell us about the piece you designed for the Creative Flowering carte blanche - Le Bois de Sessùn?
My proposal for this carte blanche is not a piece of furniture. It's a sculpture made up of three carved oak pieces, joined together using a traditional carpentry technique: a Jupiter line, blocked by two oak keys, also gouged. In reality, these are the same techniques I usually use in my furniture, but proposing an object with no utilitarian function enabled me to put these techniques at the heart of the work and use them to tell a story.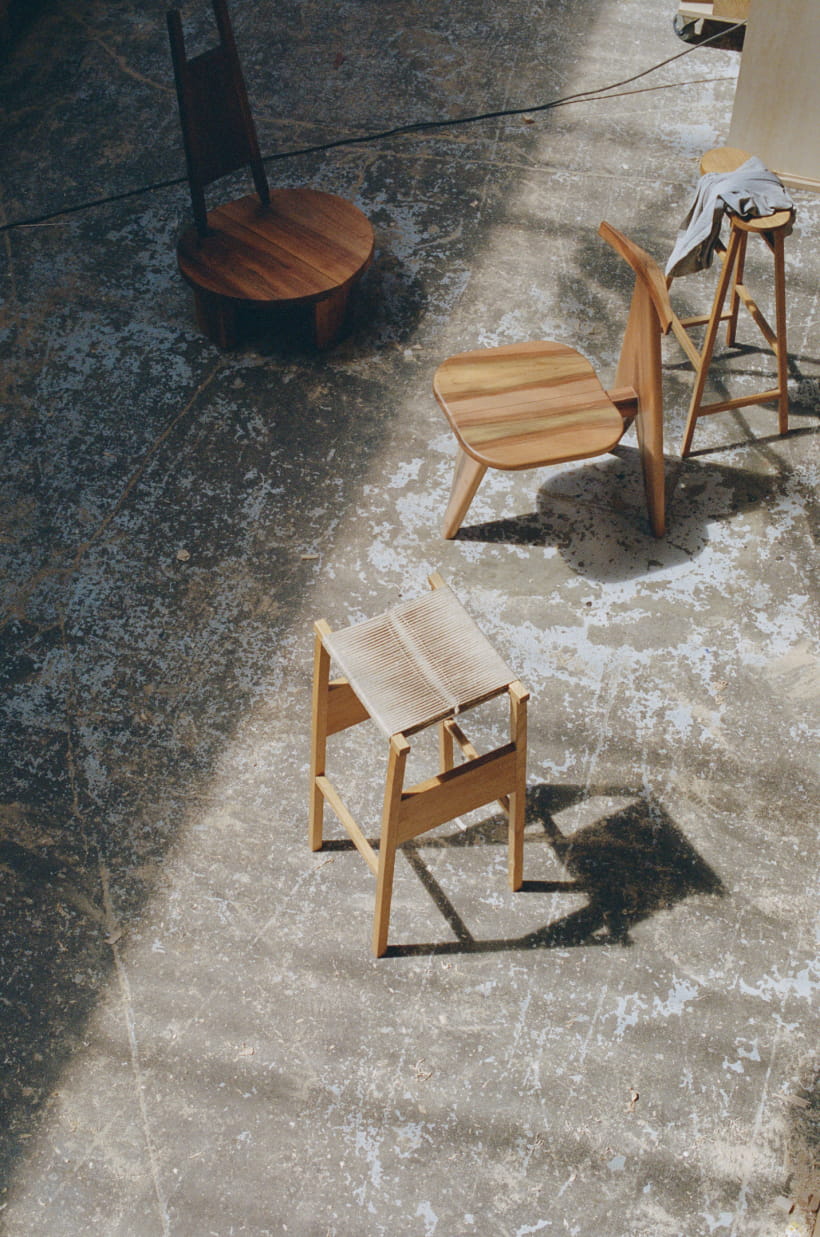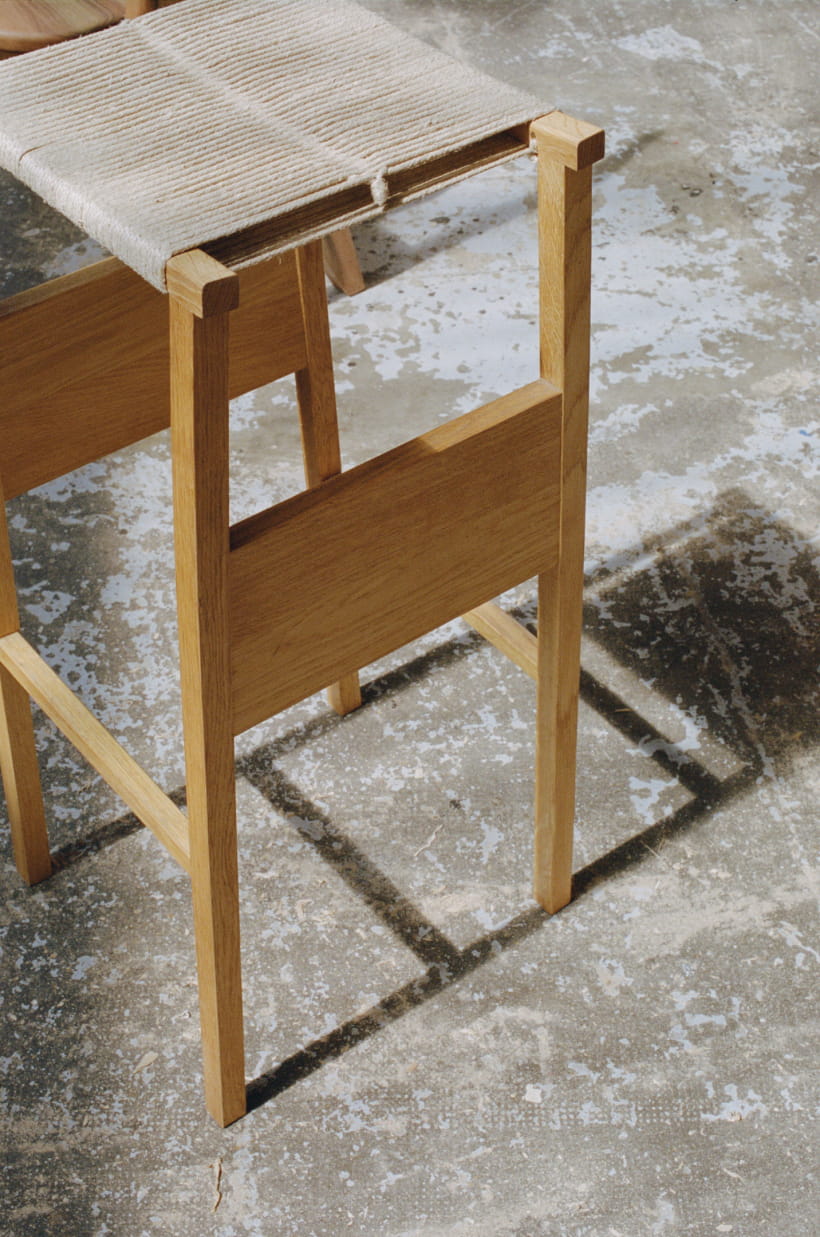 How did you get the idea for it?
It came naturally. The sculpture can be seen as plant-like, or at least organic. These soft, almost limp forms suggest elements of driftwood, or parts of the skeleton of an imaginary organism. These wooden fossils are held together by assemblies that, for their part, reflect human intervention. This hybridization between the natural and the artificial, between the innate and the structured, is for me a way of questioning the necessary balance that human beings must now find in the way they interact with their environment.
What materials did you use to make it?
I kept it very simple, with everything made of oak. I wanted to express a lot through the shapes and assemblies. I didn't want to complicate its legibility. I'm using traditional assembly techniques here, and oak is probably the most widely used structural wood. Its use in this form reminds me of the construction of wooden ships in shipyards, which I think is a magnificent example of a natural material coming together with craftsmen who know how to deal with its organic and changing nature. So, it's an example of balance.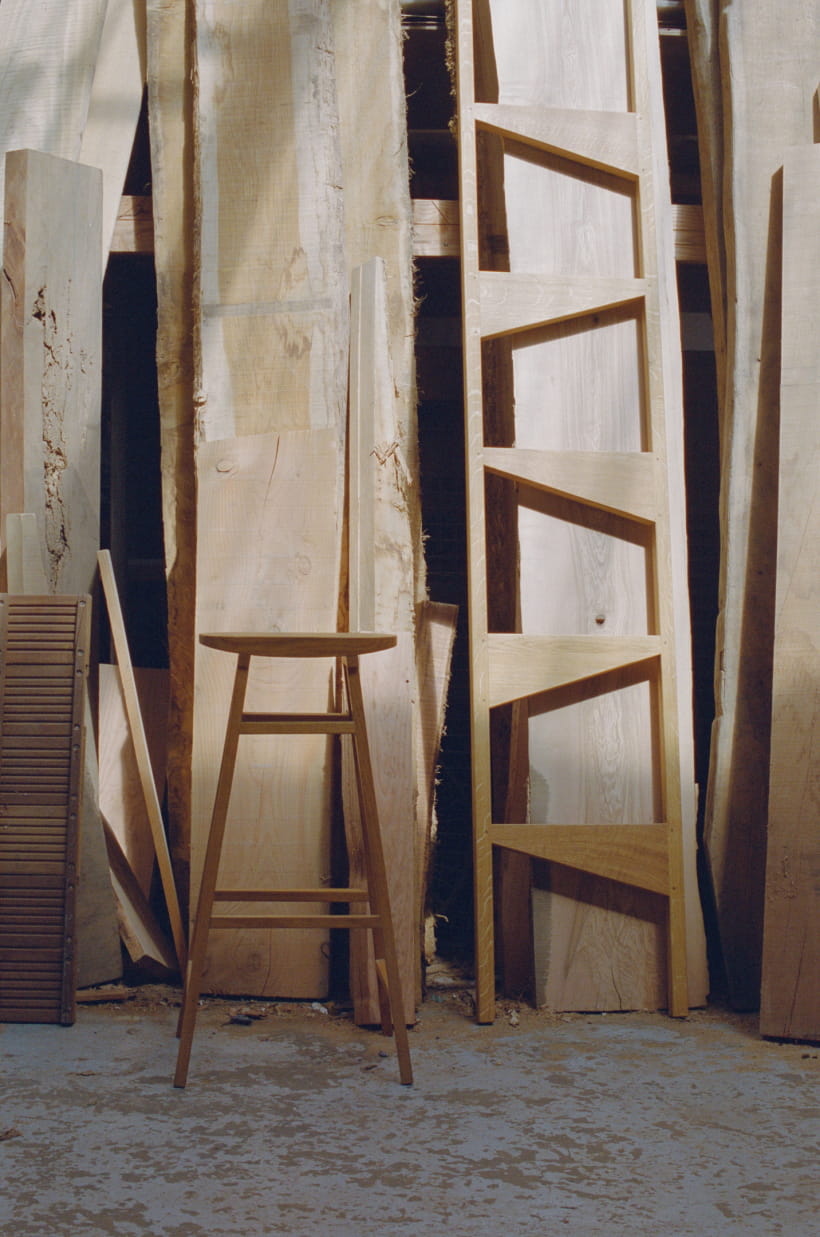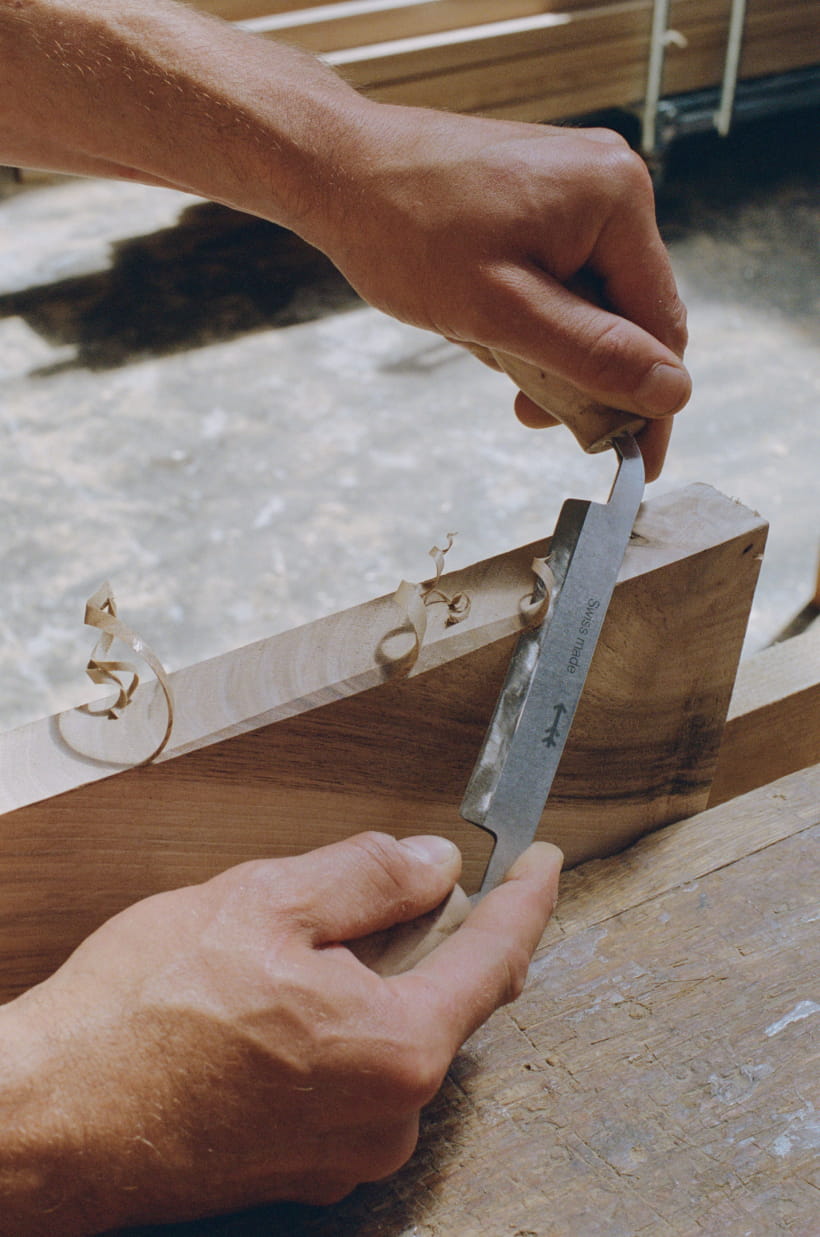 What do you take away from this carte blanche experience?
This carte blanche enabled me to confirm my desire to make the objects I create speak for themselves. While I always prefer to suggest rather than assert, to leave the choice of interpretation open, so that everyone is free to see what they want to see. I've noticed that we tend to pay attention to what pleases/disturbs us, calls out to us, touches us. I think it's the ability to capture that attention that makes me decide whether a piece is a success or not. I'd like to thank Sessùn for their trust and for giving me the opportunity to explore this subject in greater depth.