PHOTO CREDIT : Joséphine Leddet
Born in Barcelona to a French mother and Spanish father, Clara Infante grew up in the United States before settling down with her family in Garraf, south of Barcelona. Passionate about color, she trained in vegetable dyeing in 2018 and became fascinated with a process that she describes as pure magic. From then on, she started making inspired creations with crayons, watercolors and beeswax candles handcrafted in her studio. Enjoy meeting a mindful and committed artisan.
You are French and American, and you live in Spain. Tell us about your background and multicultural heritage.
I was born in Barcelona, my father is Spanish and my mother is French and when I was 6 years old we moved to the US. I grew up as the European kid in the States and when I came back to Spain and France in the summer, I was the American kid. I've always had this sense of being from everywhere but also not quite belonging anywhere. Although now I see the advantages of having a sort of cultural fluidity!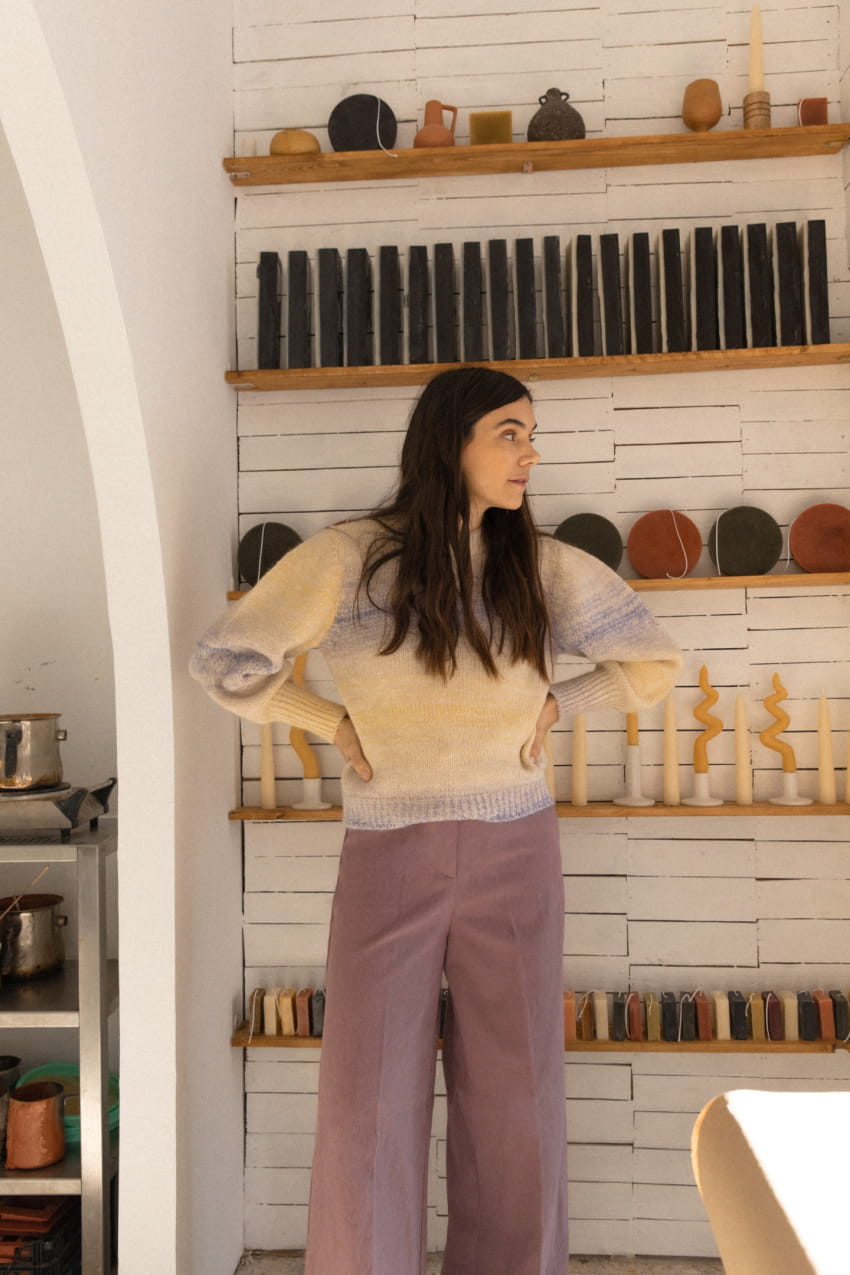 What attracted you to Garraf, near Barcelona, tell us about your autonomous house and its history.
My husband and I were living in Los Angeles for many years and when we became parents, we decided to come back to Europe to raise our family. We spent a year in Barcelona and then found our dream house in the Garraf, just a short drive south of the city. The house was built to be self-sustaining, and we immediately fell in love with its design; 7-meter-tall walls with floor to ceiling windows, large wooden beams, rammed earth walls, it was incredible to look at! Two of our kids were born there and so was Copito (Copito is an experimental project in land and plant pigments mostly in the form of wax). I made a business of renting it out for photo shoots and got a lot of publicity for my own work because of it. But after 4 years of living in this very extravagant house, we decided to sell it. We aren't the same people we were when we bought it, it was like owning a very expensive, very beautiful work of art which we needed to maintain very carefully and it was very impractical considering we have three very small children.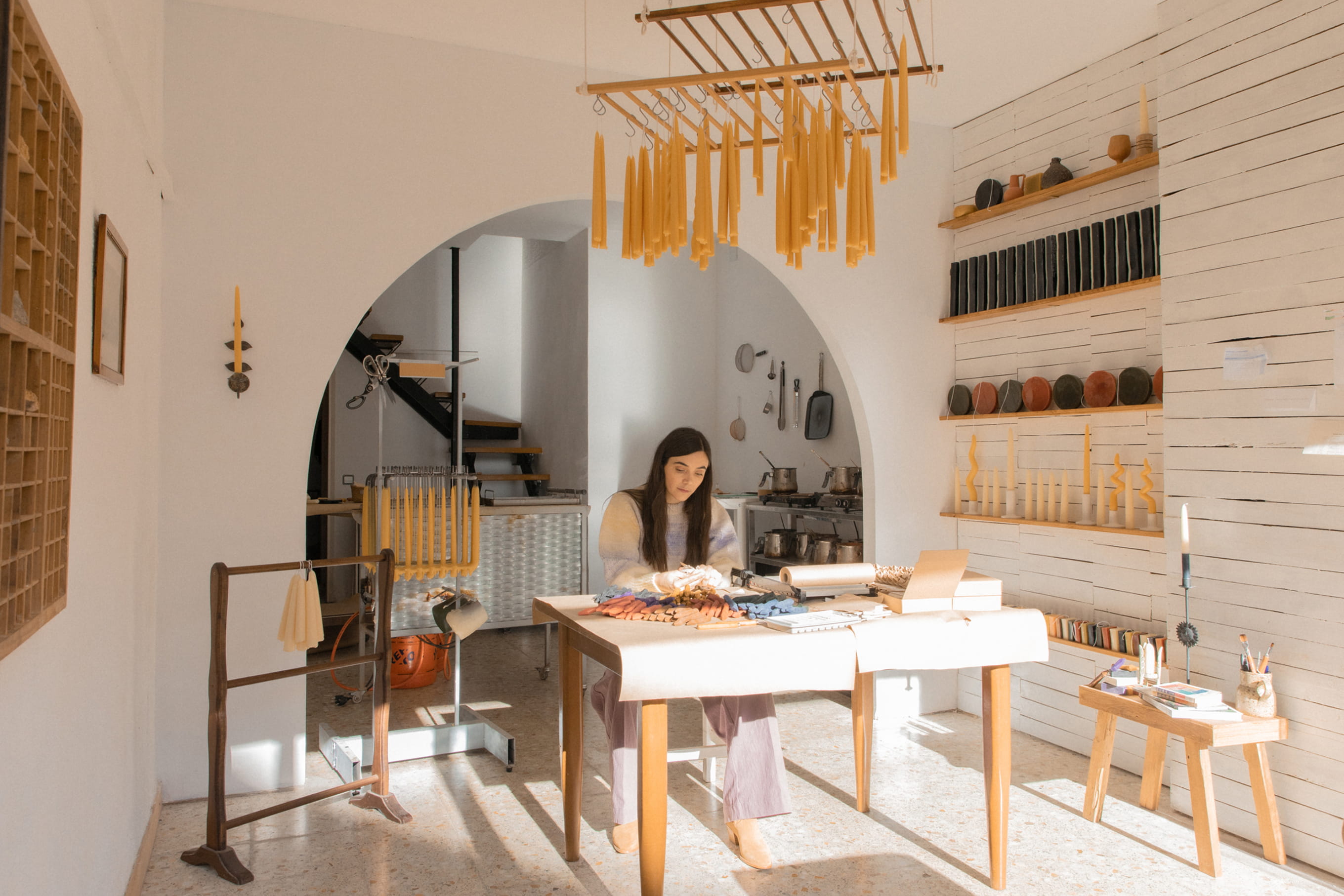 You make naturally dyed candles and crayons from vegetable wax. How did you get into exploring these materials and techniques?
I began to work with natural pigments 4 years ago while I was in the throes of new motherhood. I was giving myself fully to my children and so desperate to have something that was mine, I started participating in workshops and learning how to dye fabric with plant pigments… it felt like sorcery! Just pure magic, being able to extract color from onion skins and transfer it over to a piece of fabric, I was mesmerized by the process. One day, I decided to try and make crayons for my kids using the pigments I had, I recorded and posted the entire process to my stories on Instagram and saw a reaction from my followers which made it clear I had something that was worth pursuing. Eventually I began to work with earth pigments and to expand on my product line with candles and watercolors.
Where do you source the wax and pigments used in your creations?
I source my beeswax from a European co-op of ethical bee keepers. I have read about some beeswax farming techniques that seemed really inhumane so my main priority with our wax is that it is harvested in a way that doesn't harm bees. I purchase around 65% of the pigments we use from local producers and miners. I drive to the Lubéron once a year to collect my pigments from one of the oldest families in that region who have reserves of earth pigments from when it was still legal to collect it there. The remaining 35% of the pigments I source myself: I grow indigo in my garden, collect earth from the vines near my home and on roadsides when I drive to my family's house in the Pyrenees.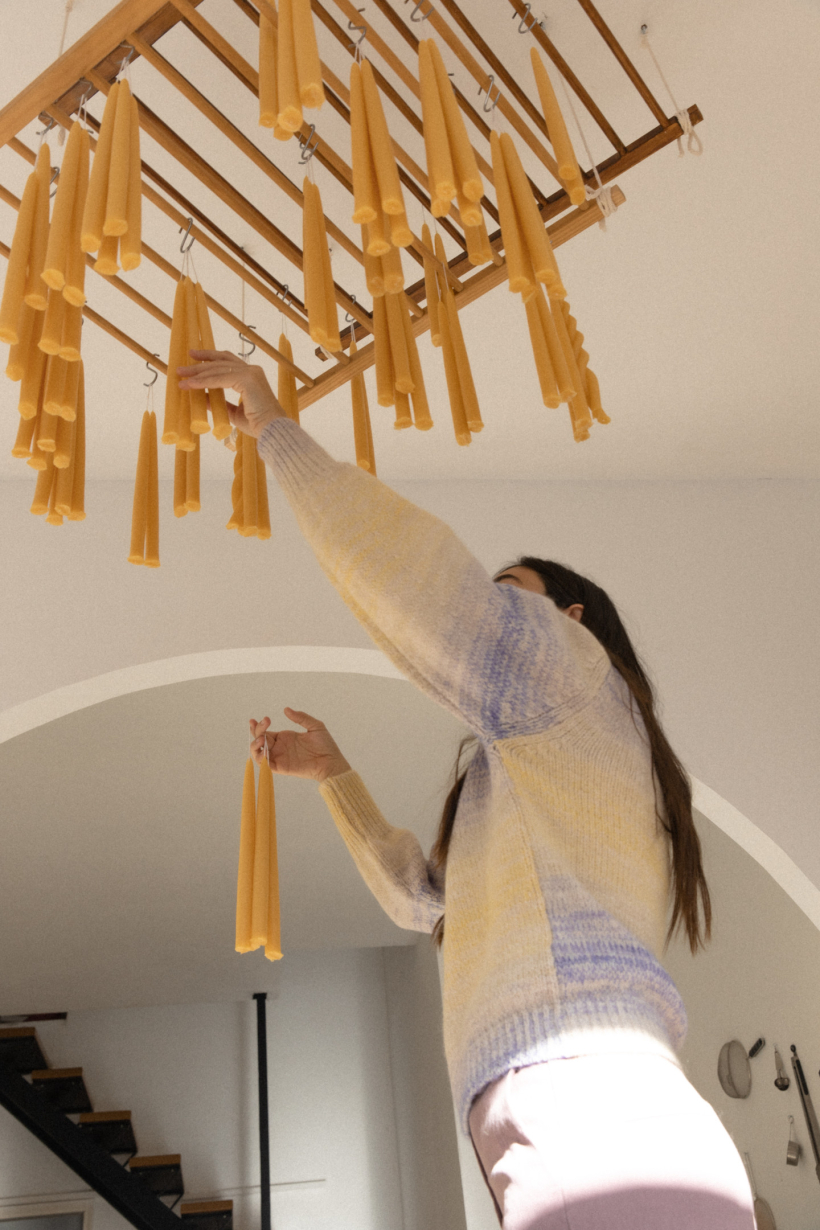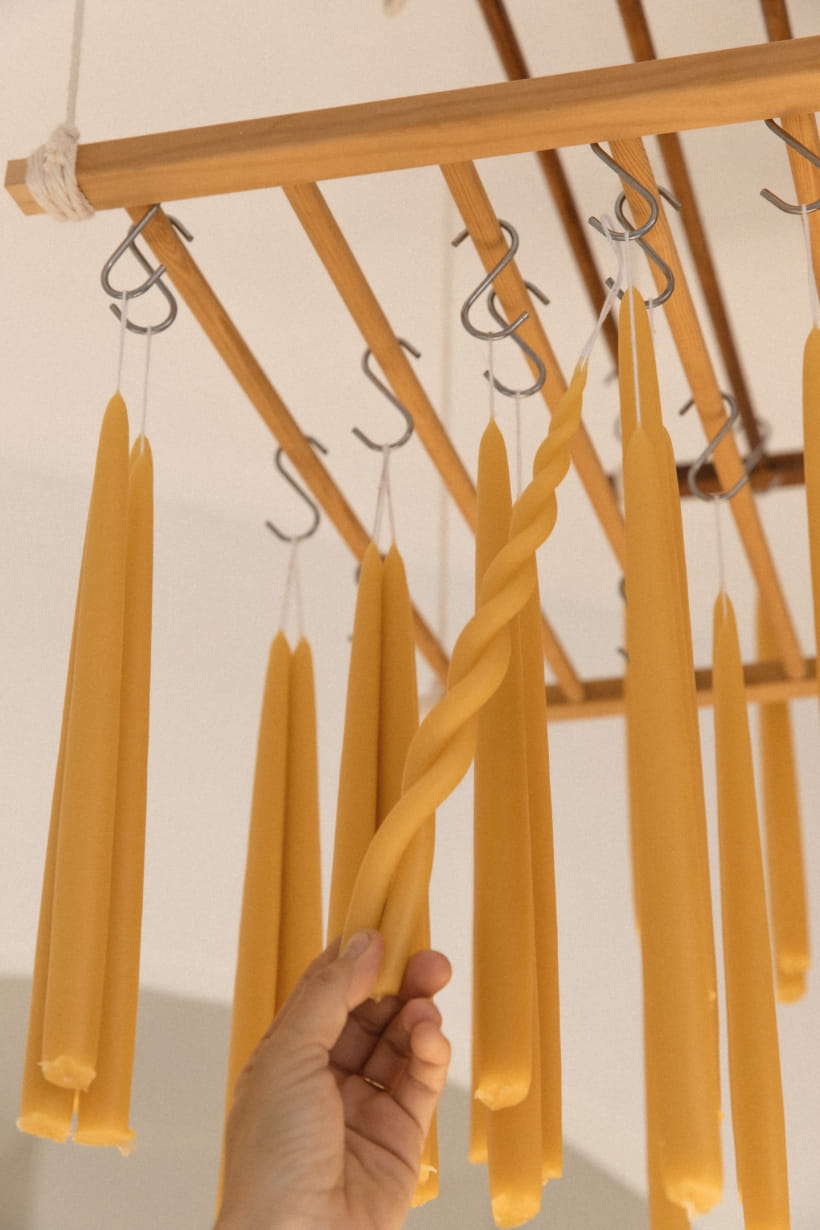 Tell us about the values you hold dear which are conveyed through your various projects and your way of life.
Mindfulness is really at the heart of Copito. My hope is that whoever comes across my work or my Instagram or website can understand how much thought goes into each of my products, how much energy we give to every detail. I believe that it is possible to make a product which is 100% natural and can be just as beautiful as one which is made with paraffins or other chemicals. I choose the planet over profit, hopefully that comes across in my work.
Working with colour and formal research occupy an important place in your creations. What are your sources of inspiration?
I discovered in my work with pigments that seeing the depth of color is my superpower. I see inspiration in almost everything which has color… I can look at the sea and get lost in the different hues of slate, cobalt, sapphire and turquoise. Living in the countryside, it's hard not to pull off the road every time I see a color that intrigues me. I also have found that living far from the city and having the limitations that motherhood has given me, the internet has served as a wonderful window into the world of what other creatives are doing. Seeing things on the internet not only sparks ideas but also keeps me motivated to work harder at creating new products.
You also lead workshops. What role does the transfer of knowledge play in your creative process?
I began my creative practice through learning and participating in workshops, without that transfer of knowledge, I wouldn't be here! I love being able to show people what I've learned, to see the awe and delight in their faces that I have felt in learning my craft. It makes me excited to go back to my studio and learn more and create new things.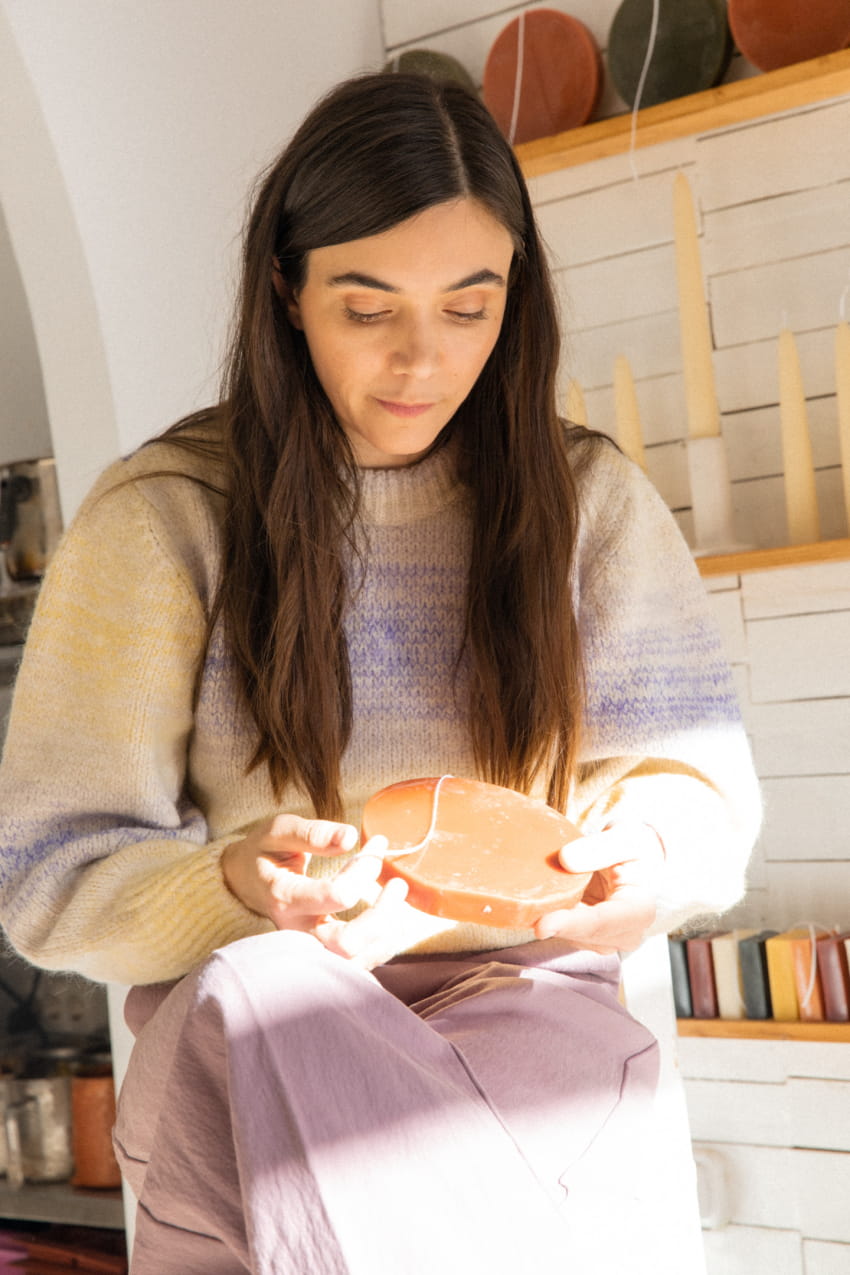 Who are your favourite artists at the moment?
I absolutely love and am inspired by Julie Daleyden, Adele Beaumais, and Nacho Eterno at the moment!
What does Sessùn mean to you?
Sessùn to me feels like a warm breeze. Every collection is effortless, feminine and practical. More importantly, Sessùn is a brand which rests its identity on elevating small makers, doing business ethically, and still managing to succeed.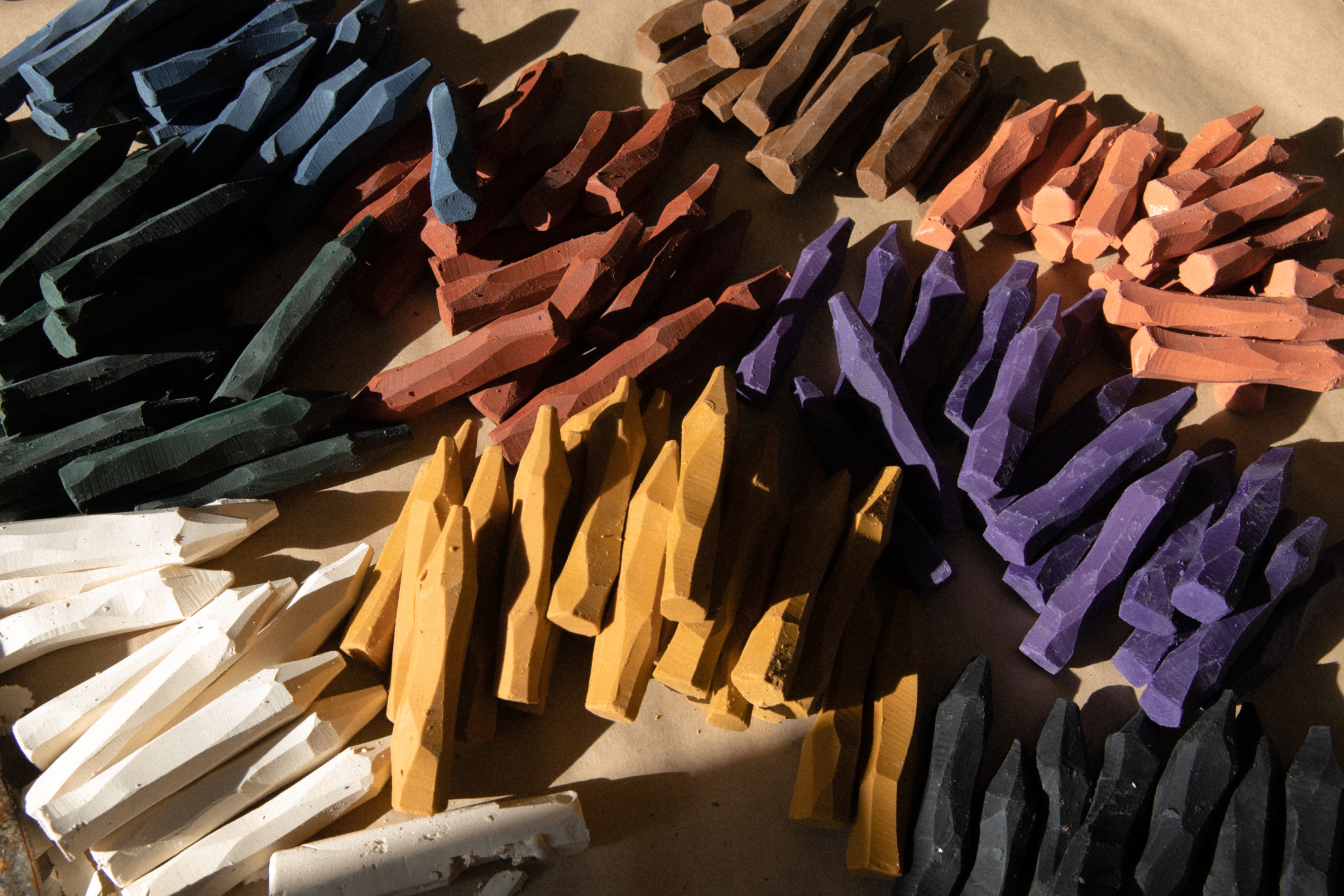 What are your upcoming projects?
I am in the process of recording my workshops in three languages (French, Spanish and English) and taking some time to slow down in my production and start developing some new homeware projects.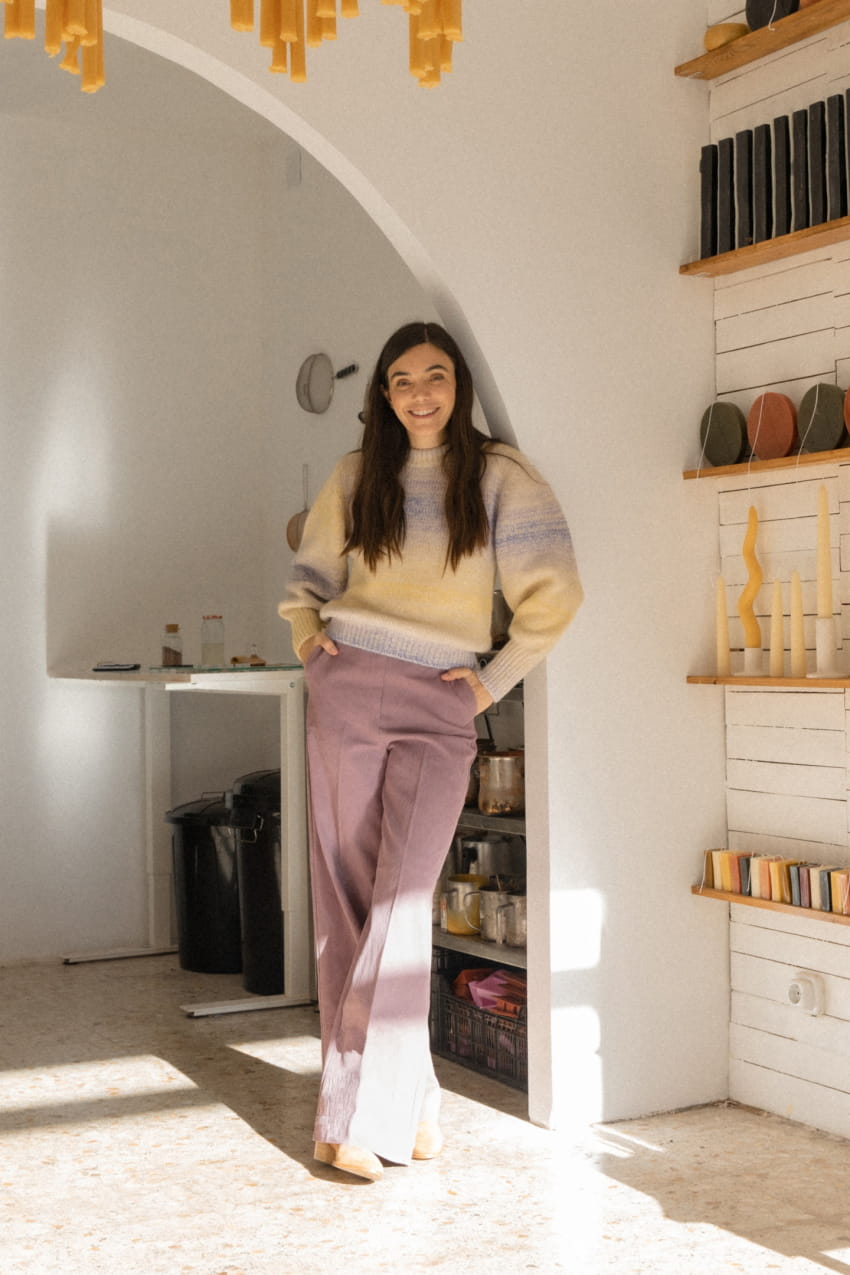 FIND THE LOOK OF Clara Infante