Photograhies : TIMOTHÉE CHAMBOVET
Graduated in 2016 from the Ecole de Céramique de Provence (Aubagne), Camille Chaleil started her practice in Marseille, where we discovered her, then in Tunis, before setting up her studio in the city of Tours, in 2017: join us for a Jolie Rencontre in the heart of France, in the middle of a chamotte earthenware gradation with Mediterranean influences.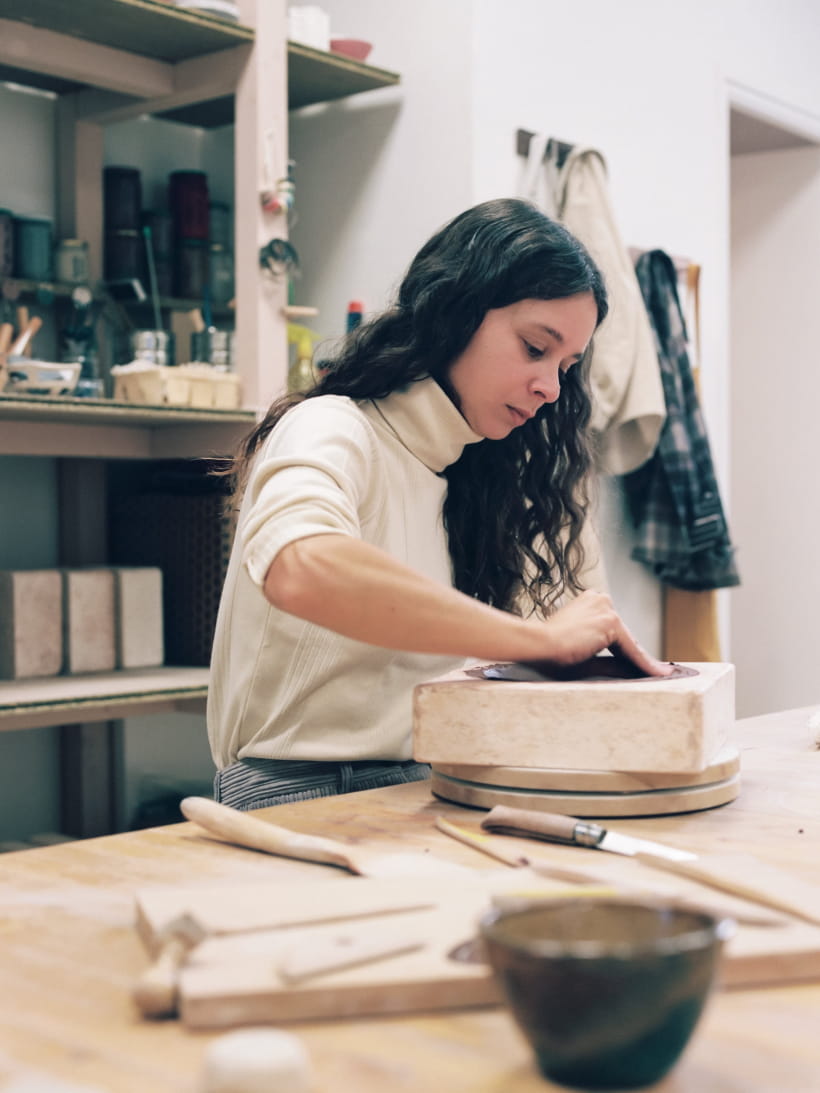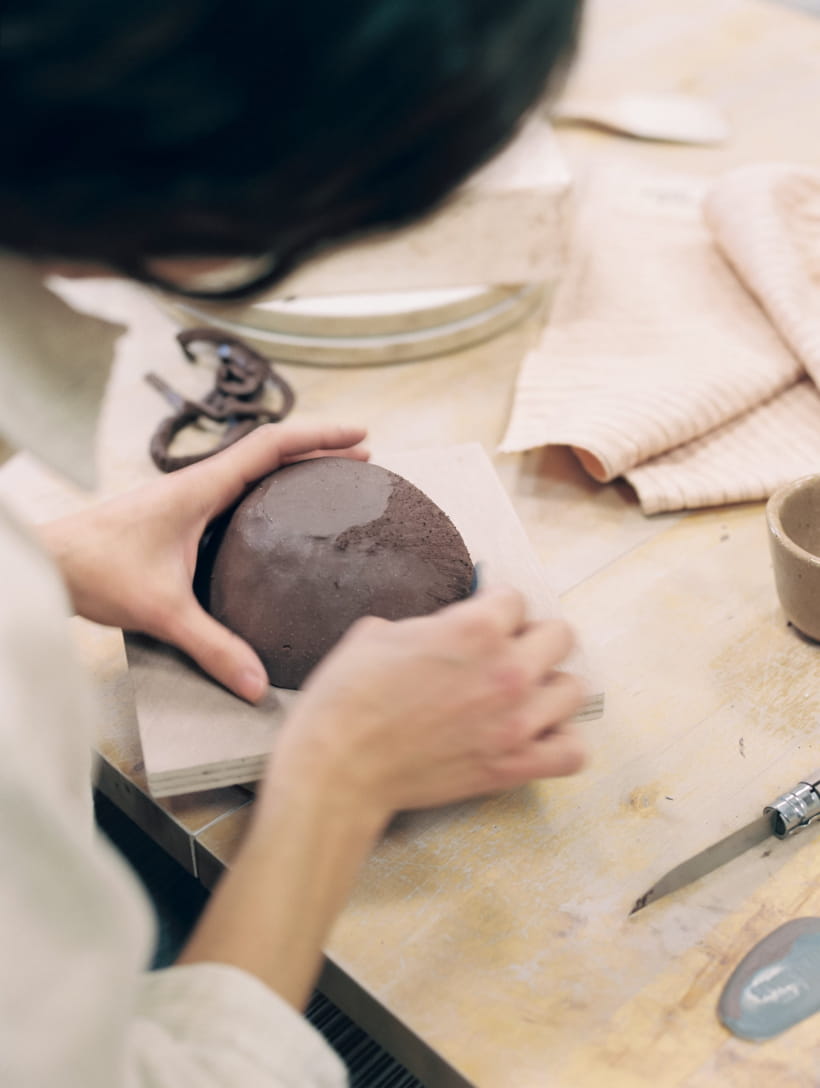 CAN YOU INTRODUCE YOURSELF AND TELL US ABOUT YOUR CAREER?
I grew up between Provence and Corsica. In terms of my career, I have a very diverse background: I worked in catering in Marseille, then in communications, and after that I spent a few years in photography. Later, I got the chance to work for the Rencontres d'Arles, and was assistant to Antoine D'Agata for a few months. I also sometimes collaborated with my partner at the time, the father of my daughter, who is a journalist. During a trip to Tunisia to create city guides for Vice and Trax, we went to the National Centre of Ceramics in the Sidi Kacem El Jellizi Mausoleum in Tunis. It's a beautiful and mystical place. Sidi Kacem el Jellizi was a Tunisian saint and ceramist. He lived in this incredible place, which is now a ceramics school, and was later buried here. During our visit, there was a party in his honour. At the celebration, I was introduced to pottery throwing, and time just stood still. I had never thought about ceramics, and I had never even touched clay before. It was a revelation. When I returned to Marseille, I looked around for a training course, and I was able to start three months later in Aubagne. I returned to Tunis for the final stage of my training, just before graduation. Finally, I ended up in Tours, where I opened my studio eighteen months ago. Not only do I have the space to produce my pieces, but I can also give classes in throwing and modelling.
HOW DO YOU CREATE YOUR CERAMICS?
I work mainly with modelling and stamping techniques. My background is in throwing, and I love it, but this technique is not compatible with the style I'm currently seeking. I am going for a natural, organic, imperfect look. I want to create pieces that are similar yet different, that are unpredictable and porous, in a variety of shades. Certain pieces start from a mould, but then I cut them freehand, bend them, or add more clay to them to make them unique. I work with my own clay, made from a mixture of two different clays and a grog that I make myself. By way of this process, I have created a palette of shades that range from white to red when the pieces are unglazed, and from white to brown when they are glazed. The clay is gritty and uneven, which allows me to create my ideal finish: natural and not overworked.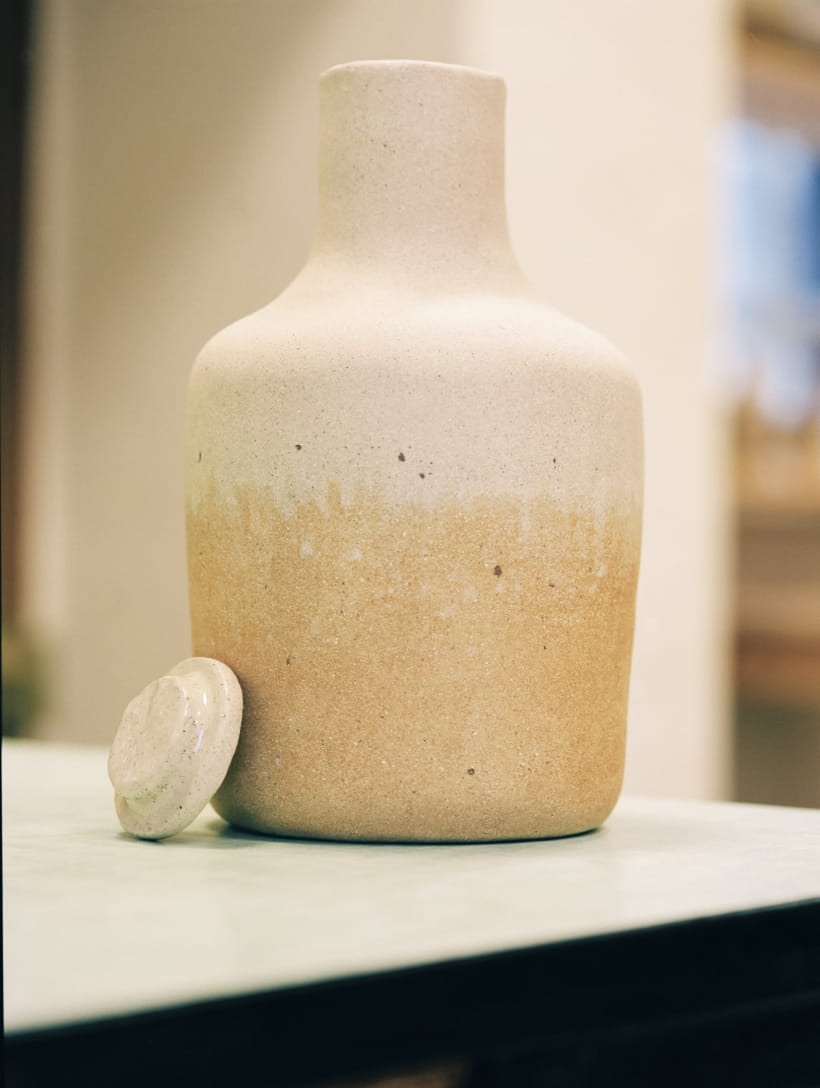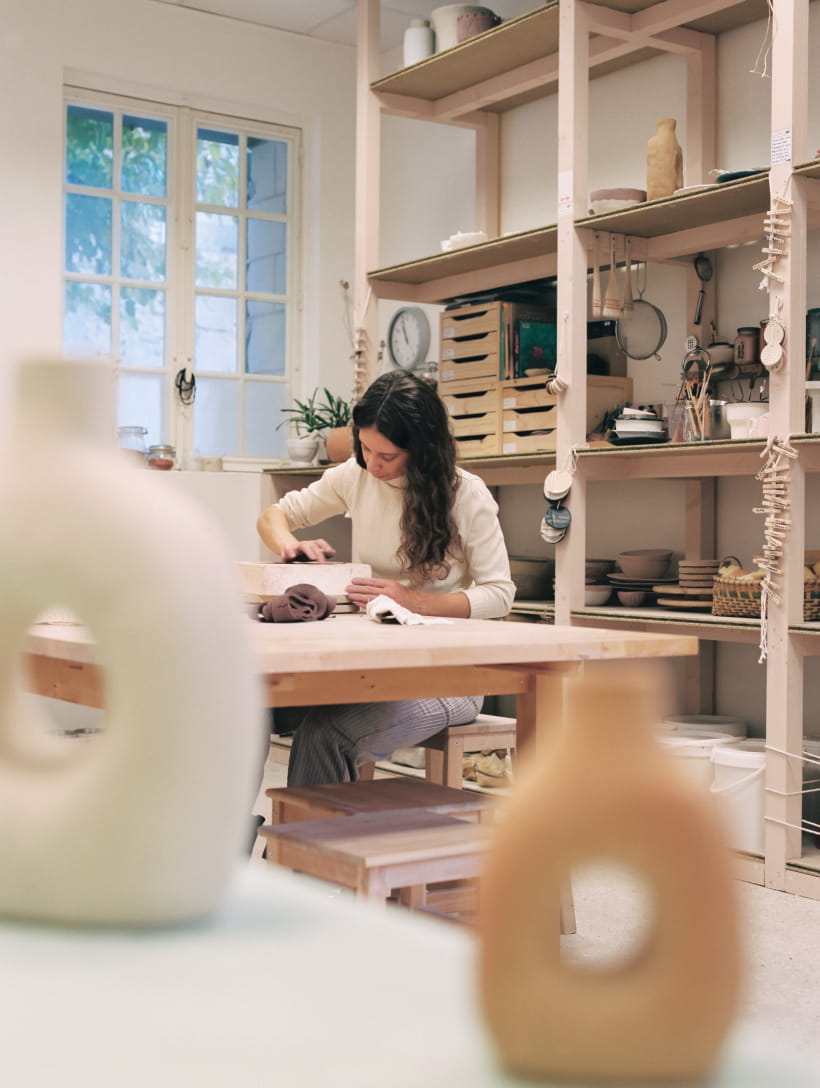 WHAT INSPIRES YOU?
The Mediterranean, mainly. I spent a good part of my life in Corsica. I have spent every holiday there since I was born, in the house that belonged to my grandmother and my great-grandmother. Every time I can go back and take in the island's smell, I am flooded with memories. I grew up in Provence, then I spent ten years in Marseille. When I was twenty-four, I fell in love with Tunisia, with its light, and I went there as much as I could. I love the paradoxical qualities of the Mediterranean: the clash between unchanging traditions and the modernity that comes from the meeting of so many different peoples. In this part of the world, nothing ever changes, but everything is constantly shifting. It is a land full of love, warmth, rounded shapes, violence and hardness. The landscape is peaceful yet hard, with a quiet, electric atmosphere. The clash and balance between the land and the sea is especially intense in Corsica, for example, where the mountains plunge directly into the sea. For me, no other landscape is as powerful. That's something I put into my pieces. They are round but rough. They are sturdy and soft all at the same time. I've even tried to give them the colours of the Mediterranean: the white of the light that burns your eyes, the yellow of the sand, and the reds of the Provençal earth. I give them imperfect forms. Imperfections are a part of life, which is why I stop working my pieces early.
WHICH PIECES BEST CAPTURE YOUR CREATIVE PROCESS?
My bottles. They are the pieces closest to my heart and that I most enjoy making. I shape them through pinching and coiling, forming all sorts of shapes. Sometimes in a single shade, sometimes in several colours. I don't always create a design in advance, and I often abandon my template along the way. As a result, I tend to end up with a slightly different shape than the one I planned. I also often use leftover clay, which is not labelled or organised. When I get them out of the kiln about a month after shaping, I never know what to expect: my favourite kind of surprise! I think they are the clearest examples of the kind of paradoxes I love so much. The paradox of the Mediterranean and the paradox of ceramics lie in a perfect blend of technique and surprises, of complete control and letting things go the way they want to go.
WHO ARE YOUR FAVOURITE ARTISTS AT THE MOMENT?
I've got two favourites: Alice Guittard and Manoela Medeiros. I discovered these two artists through Nicolas Veidig at the Double V Gallery in Marseille. I like the artistic side of their work, but I also love the craftmanship that you can see in every finished piece. Alice Guittard often depicts hands in her work. They are an expressive part of the body, and I can really feel the emotion in her pieces. Manoela Medeiros reverses the process of creation by removing material. Her work speaks to me and makes me ask a lot of questions.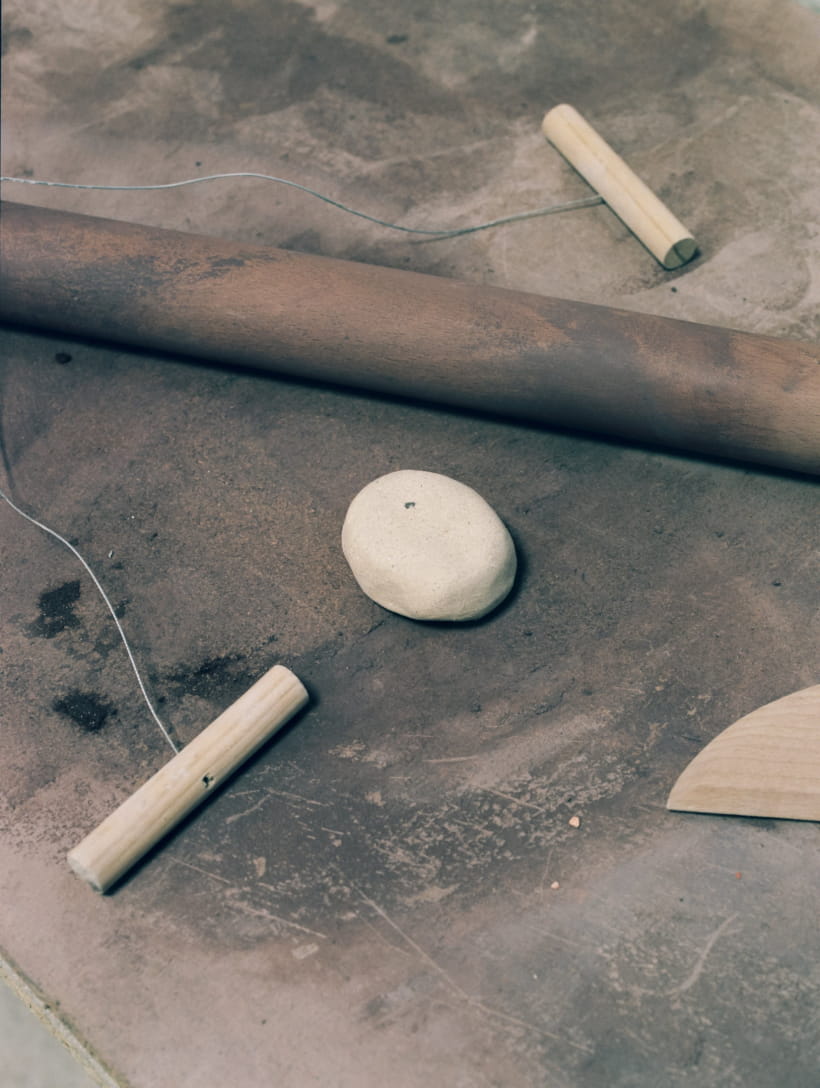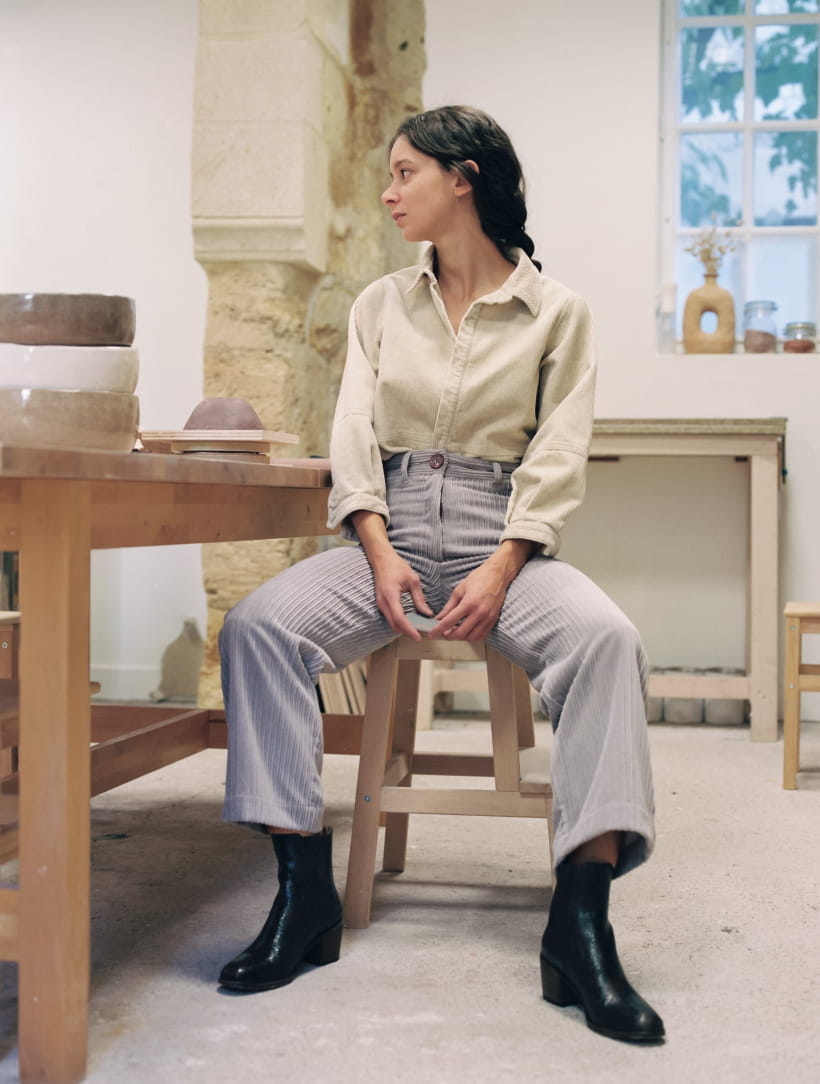 WHAT CAN YOU TELL US ABOUT YOUR FUTURE PLANS?
I have thousands of ideas and lots I want to do. I would like to go back to Tunisia to visit Sejnane, a village of potters in the northwest of the country. The women there create powerful sculptures. They extract the clay from the earth, shape it, and then bake it in kilns that are dug into the ground. I met them in Tunis, and I haven't stopped thinking about them since. I would also like to take the time to do some sculpting and continue to train. That's my plan for the next few months. In the meantime, I'm starting a collaboration in January with my friends from Hors Studio. They are researching and experimenting with reusing industrial and artisanal production waste. They are able to create new materials from recycled materials. Their studio has just developed Leather Stone, a material made from leather scraps, which we're going to try and shape using the same techniques I apply to ceramics.