CRÉDIT PHOTOS : JOSEPHINE LEDDET
As somebody who loves clay and its many facets, Lisa Allegra chose to base her studio in Barcelona, where she experiments with the concepts of balance and contrast through her unique pieces – lighting, furniture, and objets d'art that always flirt with the limits of gravity and are full of evocative poetry. For Sessùn Alma's Floraison Créative exhibition, she came up with 3 large minimalist vases with curves, whose surface she has ornamented like a new way of telling stories.
You travelled a lot before founding your brand. How did these travels inspire you on a creative level?
In 2012, I travelled around the world for almost a year with my partner, to Southeast Asia, China, Korea, Japan, United States, Cuba, and Brazil. This trip changed my relationship with time and the world. This feeling of freedom had an impact on the choices I made afterwards in my art, my work and more generally in my life.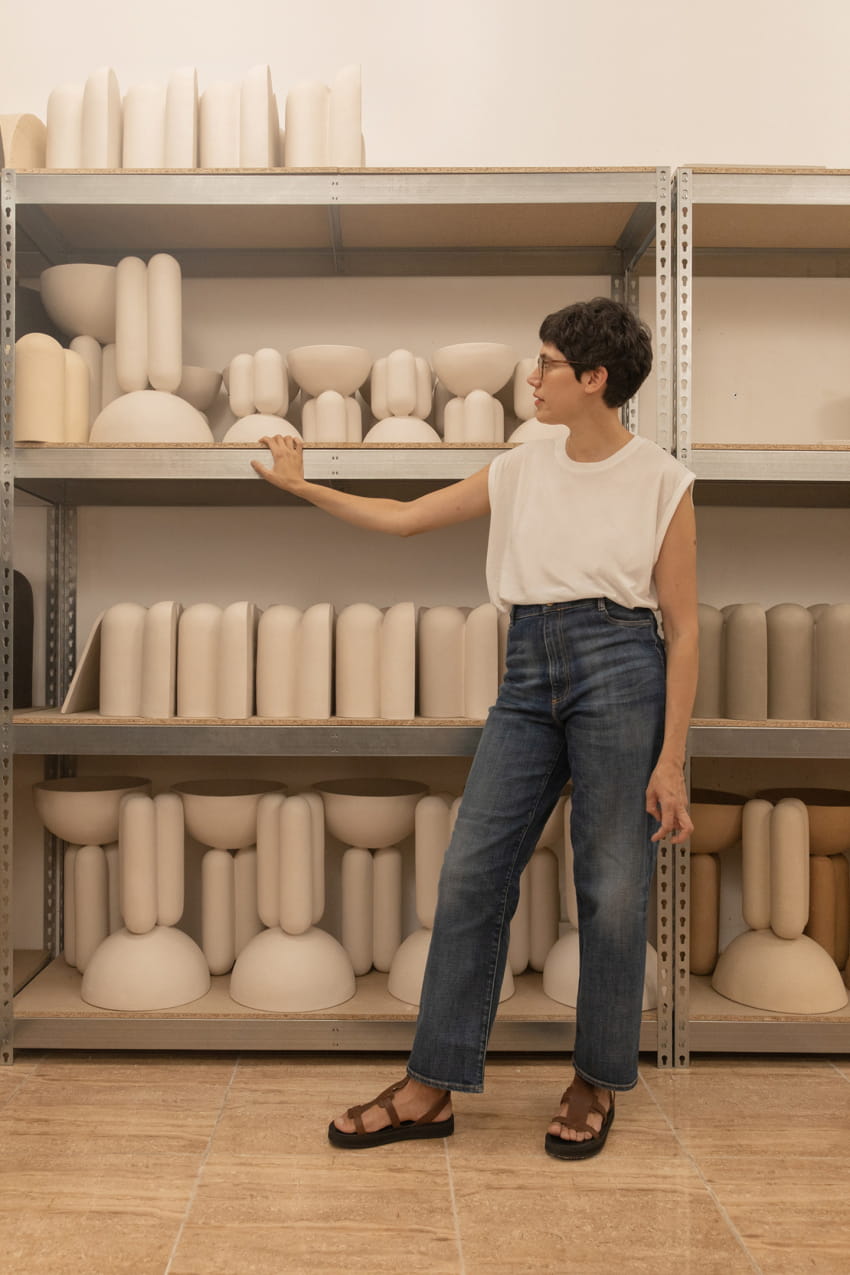 Why did you choose to set up your studio in Barcelona?
I made the choice instinctively. I wanted to change my environment, my everyday life, my climate, my language. I like Barcelona. I love this city, its culture, its language, and the people around me...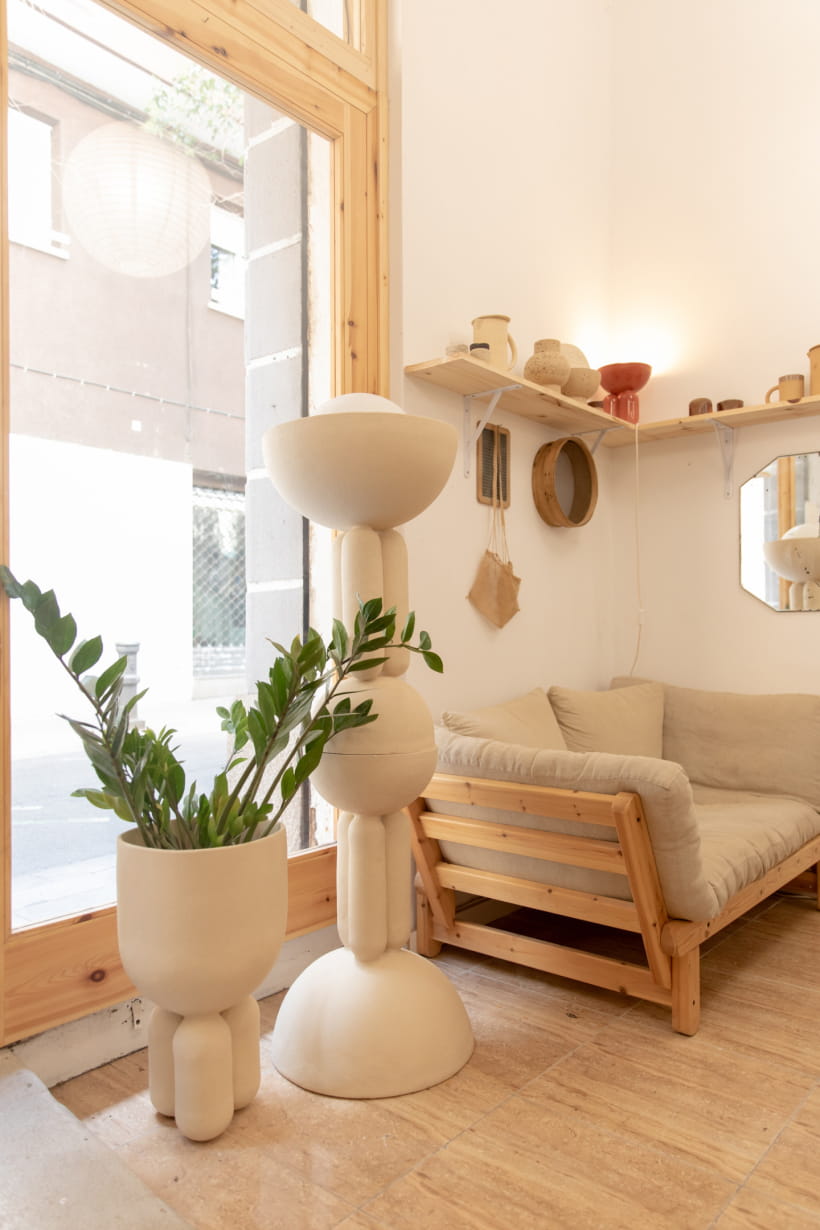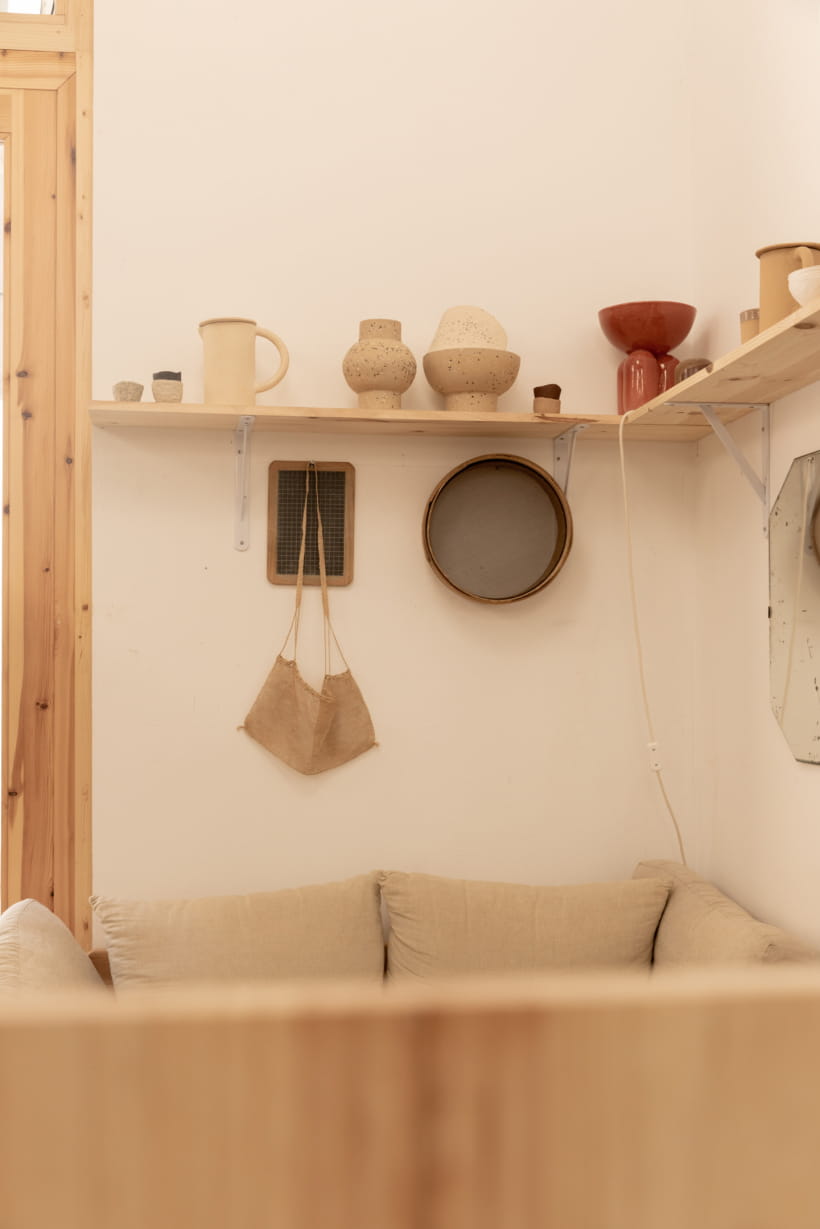 Is there anything in your studio that cannot be found anywhere else?
In my workshop, I have a sieve which was used by my grandmother to prepare couscous. It is very similar to the sieves used to sift enamel... but this one is special.
What is your relationship with clay as a material?
I make large, heavy and imposing clay pieces. I don't just work with my hands but with my whole body. My relationship to the material is therefore intense and engaging. I'm tenacious, somebody who approaches their work with clay like an ascension. Clay might have a soft appearance but for me it's a material that requires power and physical and mental strength.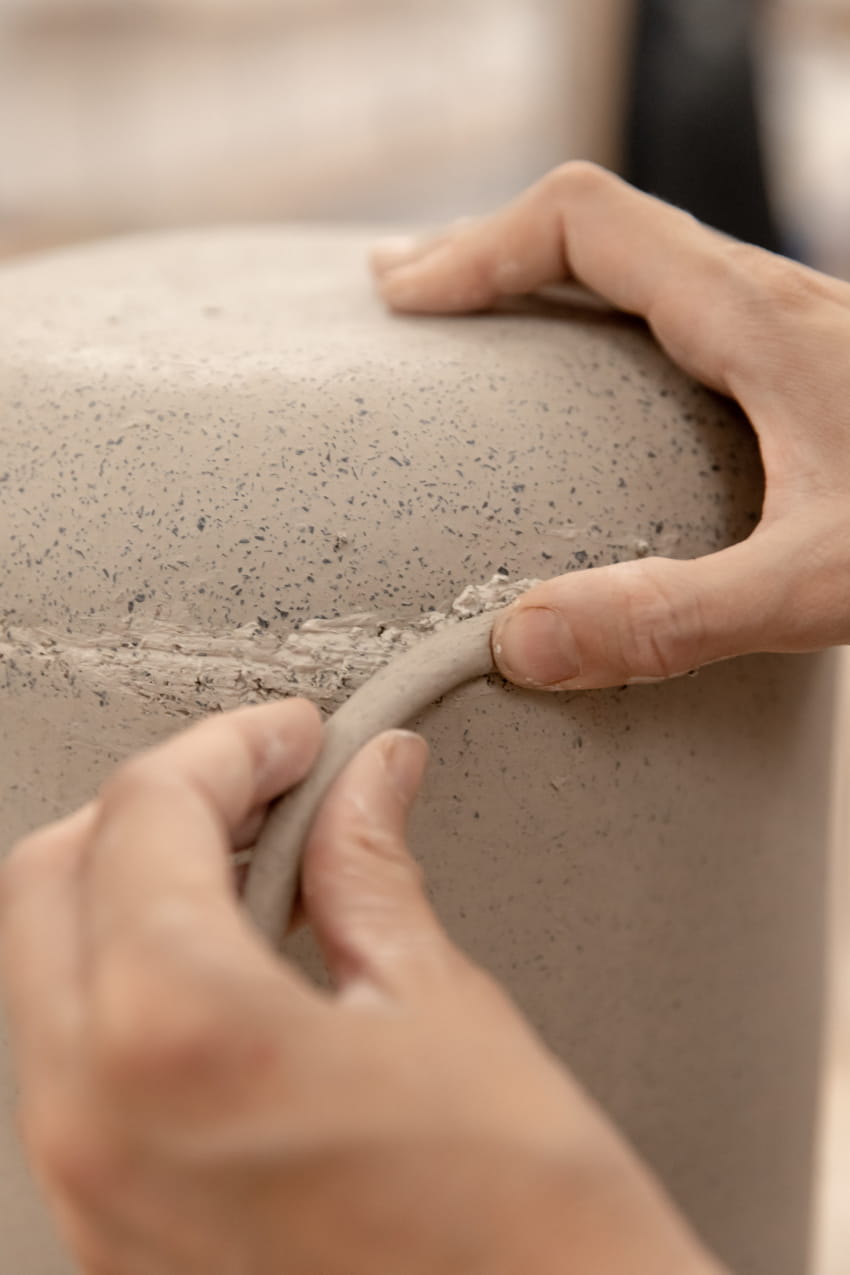 What impact does your training as a designer have on your work as a ceramist today?
I am a designer. I design objets d'art, furniture, and lighting. I draw them, work on the lines, the proportions. The choice to work with a particular material is for me a means, not an end. It's a means of being autonomous, of not relying on publishers and brands to see my work exist. It's a means of being the main person at all stages, from production to distribution, as well as communications. Also, I'm concerned about the environmental impact of mass production... My encounter with clay has helped me respond to this desire for autonomy, all while working on small series, where each piece is shaped by hand. And now my work as a designer has a more complete dimension, because I've established a deeper bond with the material, through acquiring expertise in it. It's something that reminds us that good design is all about the materials, materials that you have to know and understand to be able to make work with any kind of meaning.
What do the themes of contrast and balance, which can be seen everywhere in your work, mean to you?
The designs for my work always flirt with the limits. A high tripod, tiny points of connection between the various elements, a floating cushion, etc. You can see my fascination with contrast and balance in the material I work. Clay has a childlike and demanding aspect to it, as it's both soft and hard, requiring meticulous work when it is a small object, but it's also a building material. There's also a more poetic side to this concept of balance, such as a tightrope walker on their rope, a leaf carried away by the wind...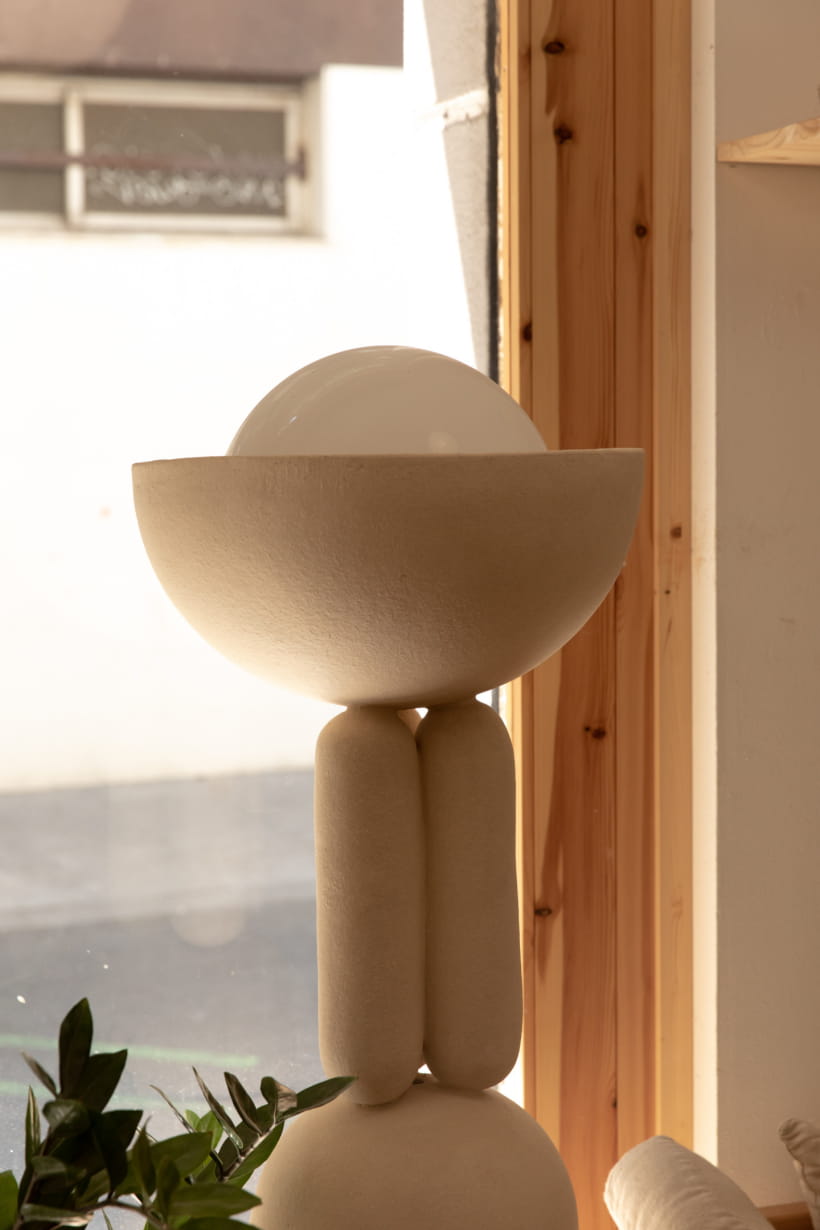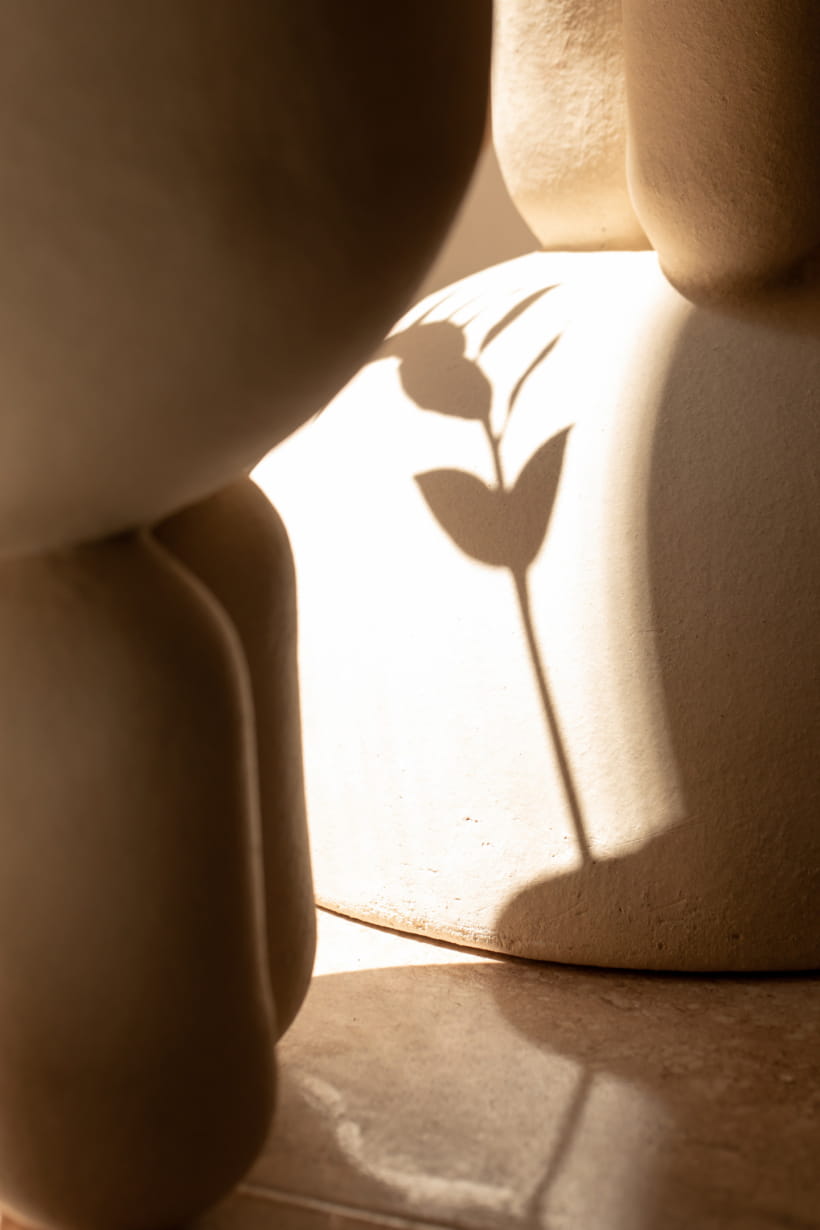 What role do creative research and experimentation play in your work?
Searching for a form can be quite challenging for me. I procrastinate, I don't sleep properly, I have doubts... And then I find direction, a sense of meaning, my design! The trials and tribulations of my search give way to joy. Then I start experimenting with the clay, and it's often very recreational. Even when you're experience with it, it's always a material that is full of surprises, whether it's in the shape it takes, the colour, or the glaze, captured by the firing process in the secret heart of the kiln at 1280 degrees.
Do you have any routines when you're making something in your studio?
I often work with the radio on in the background. I don't always listen to it but it's there as a companion, structuring my day.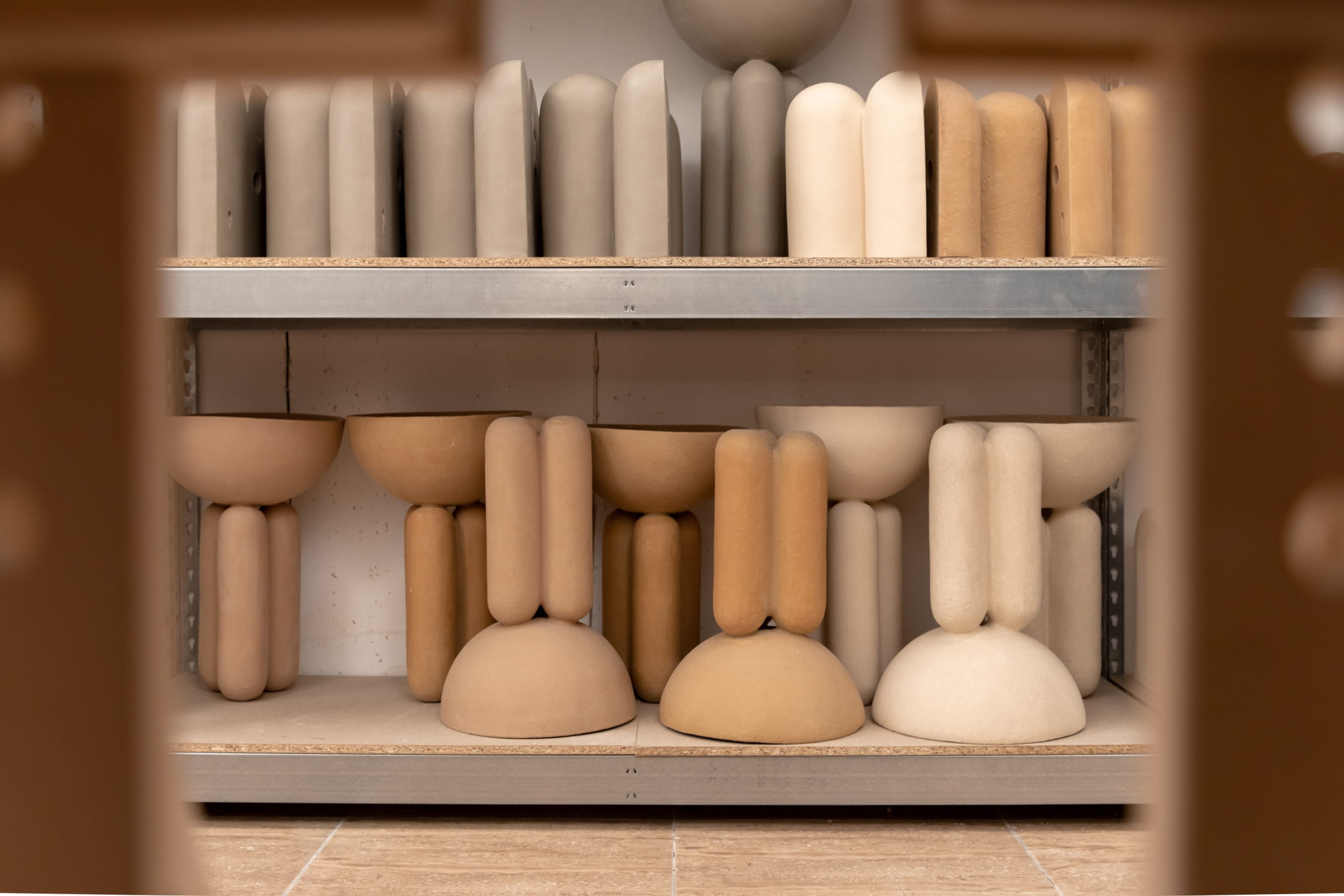 Tell us about the piece you came up with for Sessùn's Floraison Créative carte blanche commission.
Sessùn's carte blanche is like a gift, an opportunity to escape away from your usual path to explore different and surprising spaces. I came up with three pieces that look like blank pages: three large, minimalist vases with curves. I wanted to inhabit the surface, the skin of the form I'd chosen. I wanted to pierce it, decorate it, introduce something random and work with the glossiness and colour of the glaze. Then these pebbles, like the ones you might pick up during a stroll, made their way onto the canvas and created designs, patterns, stories.
How did you come up with the idea for this work?
It wasn't anything spontaneous. I went off the beaten path. I wanted to get away from my usual creation methods; the methods you construct in spite of yourself, so I could try and lose myself and start creating without any precise end in mind, just trying to enjoy the exploration process. It's a risky yet joyful exercise which opens you up to new directions and marks the start of a new approach.
What do you remember about this carte blanche experience?
It was an opportunity to reinvent yourself. A real opportunity to try something daring. I'm looking forward to the next bit... The bit where I get to meet with and talk to the other people involved in the project (Léa Bigot, Julie Boucherat, Marion Graux, Suzie Le Pennec, Emmanuelle Roule), which is the communal, sociable dimension to this unique project