Photographies : Stéphanie Davilma
From her workshop in the village of Saint-Victor-la-Coste in Provence, Lena Morelli weaves antique chairs and seats which she first lovingly chooses and selects from second-hand shops and flea markets. The atypical, contemporary and above all unique creations she produces are achieved by adapting and reinterpreting the techniques used in traditional Danish paper cord work. She is currently designing a large format wall panel for Sessùn to be introduced this coming autumn, representing a new phase in her creative work.
Could you tell us about your background?
I grew up surrounded by vineyards in Provence, where I developed a high degree of sensibility and a certain capacity for observation. After completing my baccalaureate, I spent a few years working in construction engineering, focusing on the reuse of materials in architecture and the world of design. I very quickly began to feel a need to work with my hands, as closely with the material as possible. So I took evening classes in furniture upholstery at École Boulle [a college of arts and crafts in Paris] before then moving to the south, to the beautiful village of Uzès, where I gained my vocational qualification as an upholsterer. At the same time as doing all this, I was also experimenting with different techniques, skills, materials… It was through buying a spool of Danish cord to experiment with on a chair that I'd found that my weaving technique was born. It was born out of an accident, out of a reinterpretation of traditional Danish cord work. The weaves I create today are atypical, contemporary and unique.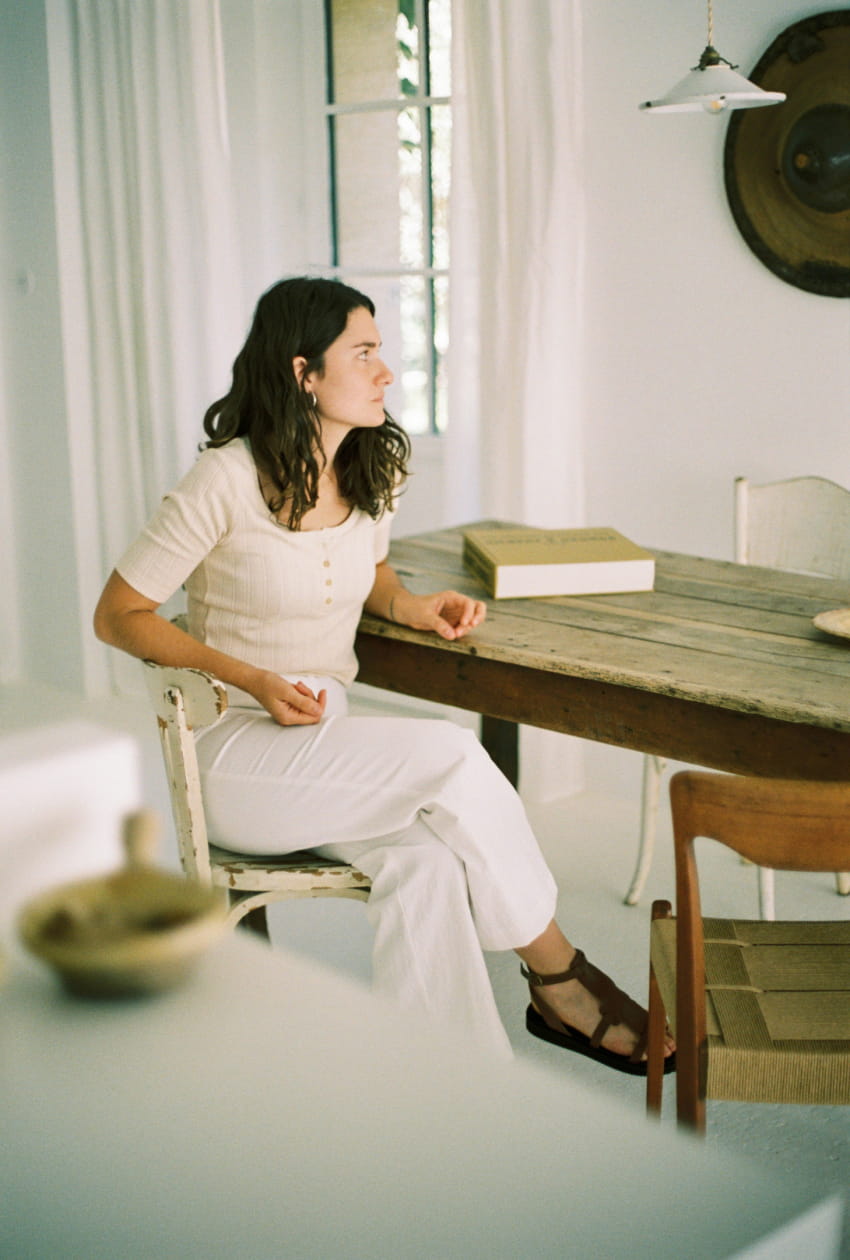 What was it that attracted you to the craft?
Creative freedom. Before I even began working with this cord, I was already fascinated by the beauty of the chairs and seats you can create with it, and by the fact that it's made from paper. People generally think of paper as a fragile material. However, the cord itself is very strong and has been used by Scandinavian designers to create furniture intended to last a long time since the 1940s. When I started working with this material, I quickly became aware of the creative freedom it offers, both in terms of the composition of the patterns and designs and the range of structures it's possible to weave. Though I'm currently using it for chairs and seats, etc., there are so many things it's possible to do! I'm still just as much fascinated by the results: weaving allows you to create an embossed effect, to create texture; it also captures the light differently depending on the direction of the cords, creating an interplay of light and tones…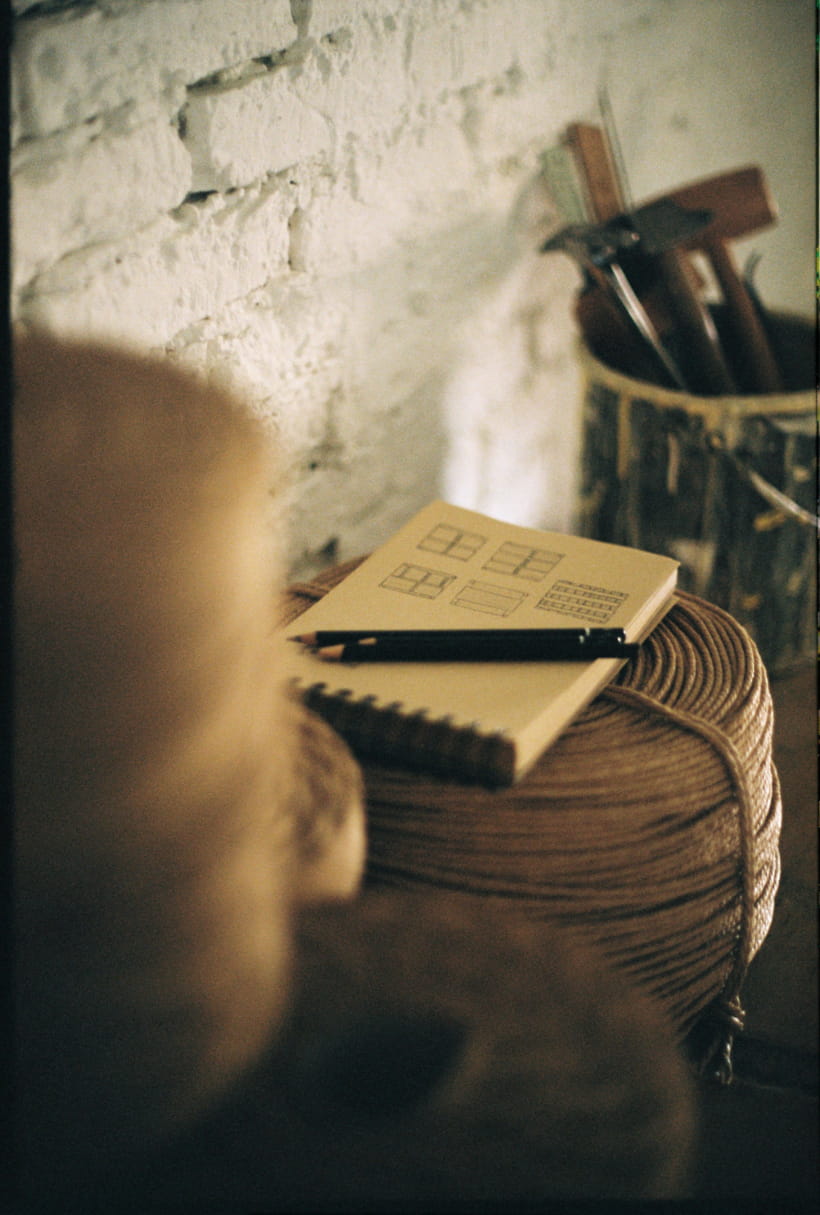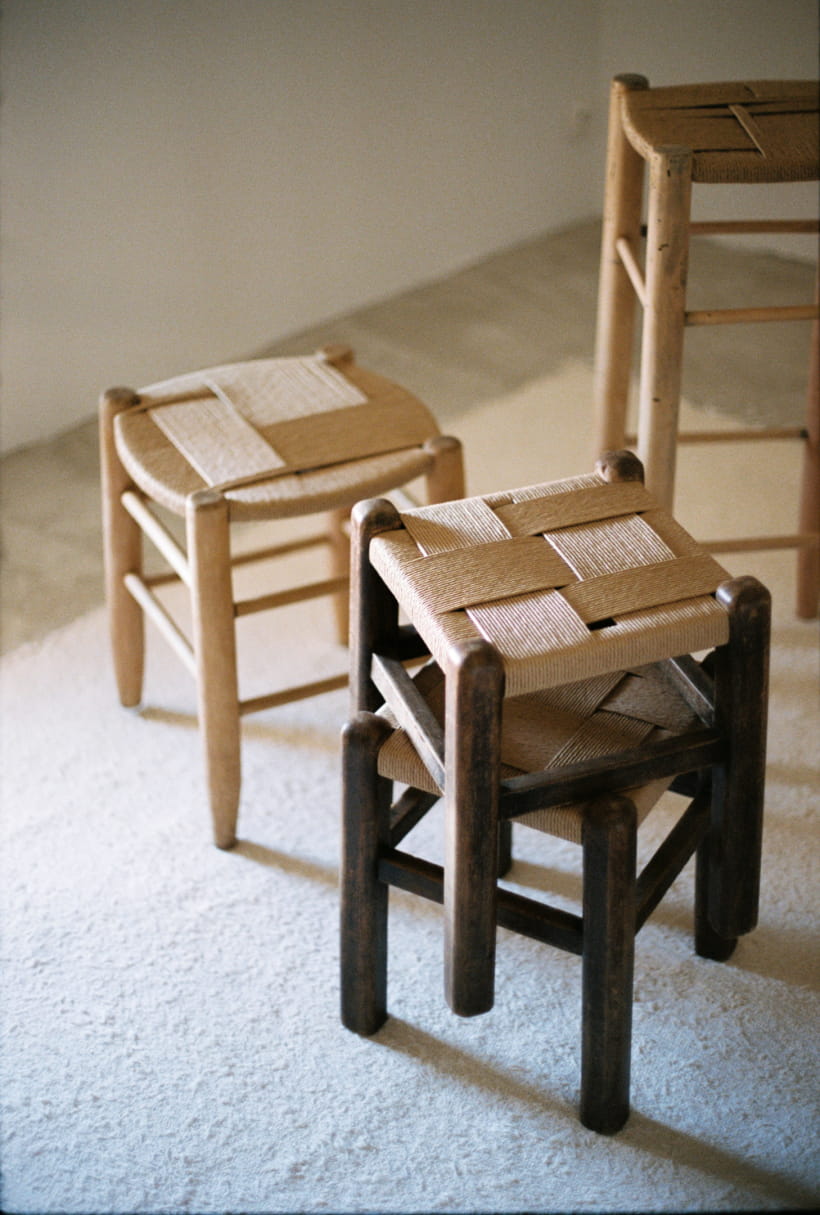 Can you tell us where your studio is and what it looks like?
My studio is an old attic we renovated ourselves. It's in the middle of the village I live in, Saint-Victor-la-Coste. It's a space I designed myself, that reflects who I am. You access it via an old wooden staircase housing my collection of Mediterranean ceramics and which has old-fashioned, traditionally whitewashed walls. At the top, there's a glass studio wall – picked up second hand – separating the showroom space from the studio space. There's also a large brick wall, which I completely stripped and painted white, that adds considerable character to the room. Hanging on a small section of wall is a metal sculpture made by my father, representing Eve and based on a drawing by Cocteau. The floor is made of a bare concrete I refer to as Frankenstein, as it's composed of different parts, with some older than others and smooth in places and some rough, with the colours varying to form a pretty patchwork… I try to keep my studio fairly uncluttered and minimalist, with everything in it very white; this enables me to stay focused and creative.
You've chosen to work with vintage furniture, which you give a second life to. What''s the significance of this for you?
Coming from the world of sustainable development, it was very important to me to create pieces in keeping with sustainable design. I've been going to flea markets since I was a little girl, so it was perfectly logical for me to create using existing vintage chairs and seats, which I first collect and renovate before beginning the weaving process. They're so much more interesting, as they're pieces with a soul, with a history, that can be read through the colour of the wood and the marks left by time. I particularly like to work on pieces that have been neglected, forgotten or damaged… This also raises questions about an object's desirability, because the simple fact of taking the time to rework a piece completely changes its status.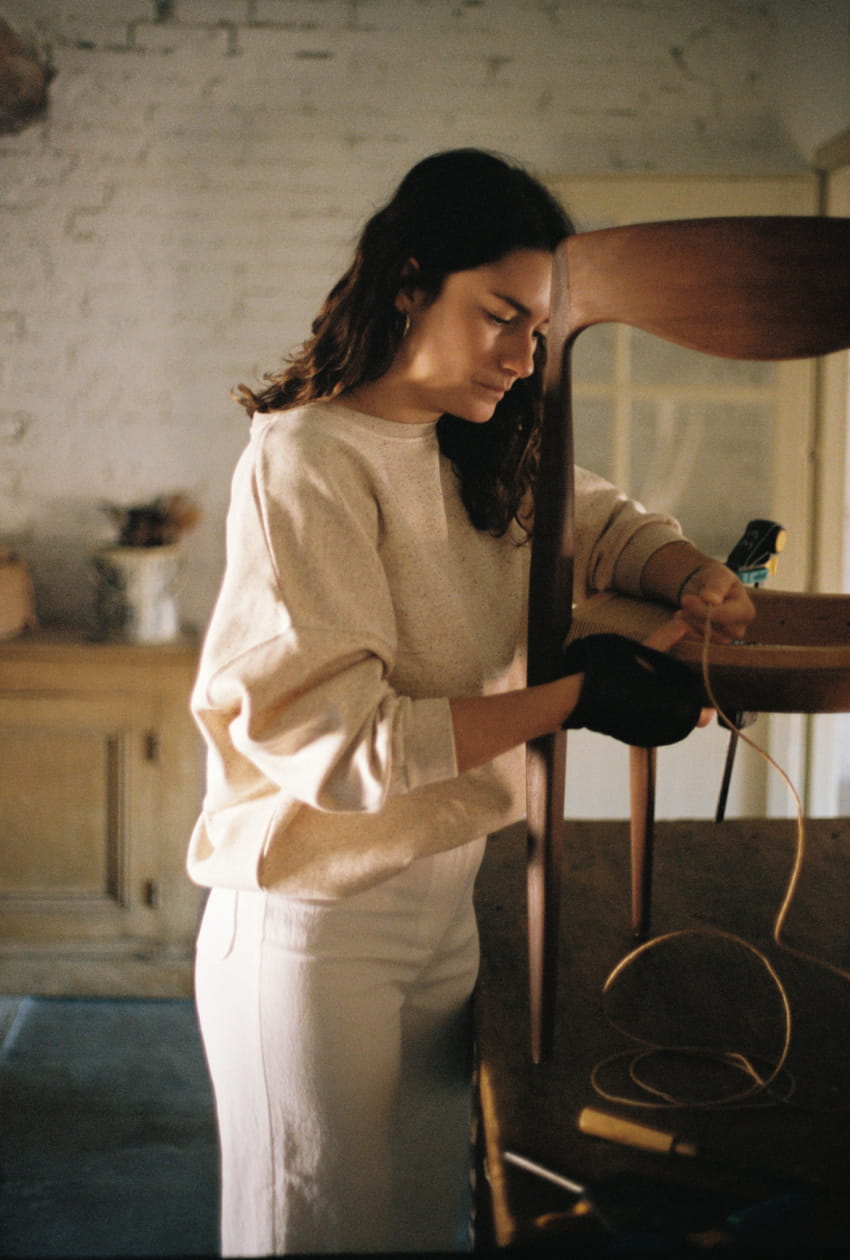 Where do you find the chairs and seats that will serve as a basis for your work, and how do you choose the materials to weave with?
I mainly visit flea markets and second-hand shops in the area where I live, as well as going to the Les Puces du Canal flea market in Lyon. Over time, I've built up a network of second-hand dealers that I work with. Where the materials are concerned, my pieces are now exclusively woven using Danish cord. The urge to use other materials is making itself felt however. I'm currently looking into jute, hemp, linen and sisal fibres. My only indispensable condition is that the materials must be natural.
How do you arrive at the designs for your chairs and seats? Where do you get your inspiration from?
I don't always have a precise idea about the pattern I'm going to weave. It's a very intuitive process; I let my hands guide the process and dialogue with the material, with the structure. The drawing often serves as a basis for research. The weaving process allows me to give form to what I'm trying to express.

My research is focused on traditional weaving and basketry techniques and incorporates strong Scandinavian, Japanese and Mediterranean influences.  I'm constantly developing my eye, and I draw lots of inspiration from the world of architecture, especially from traditional Japanese houses. Though I've never been to Japan, I'm fascinated by the simplicity, delicacy and harmony of their architecture and crafts.
Could you tell us which art or artist has most caught your eye recently?
There are many… I could cite the young Belgian artist and painter Eleanor Herbosch; her work with earth and clay is simply sublime; the crackled-textured ceramics of Japanese artist Kazuhiro Katase; the raw, natural woven works of Adriana Meunié ; the rice straw pieces of Japanese artist Arko; the abstract landscapes of painter Nina Rety, whom I recently had the pleasure of meeting; and finally, the delicate wood sculptures of Victor Giannotta, aka Sepa.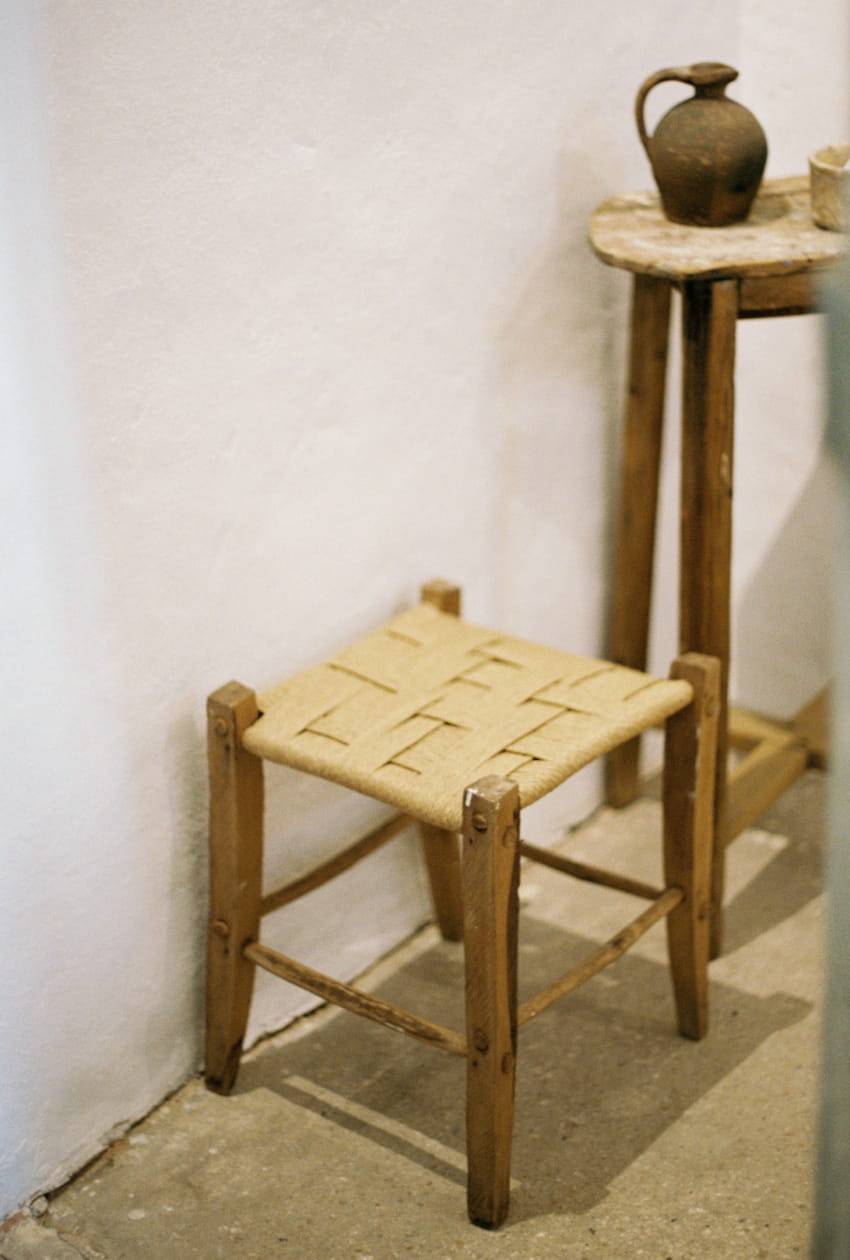 Do you have any special habits or quirks when working?
You're about to make a woven wall panel for Sessùn. Is the idea of stepping outside the frame of the chair or seat, etc., something you'd like to develop?
It's an avenue that's bringing a considerable amount of fresh air to my work. This woven mural is a challenge, as I'm not used to working with such large formats (200 x 100 cm). In truth, I'd been waiting for a project of this nature for a long time. I'm therefore very grateful to Sessùn for entrusting me with this carte blanche.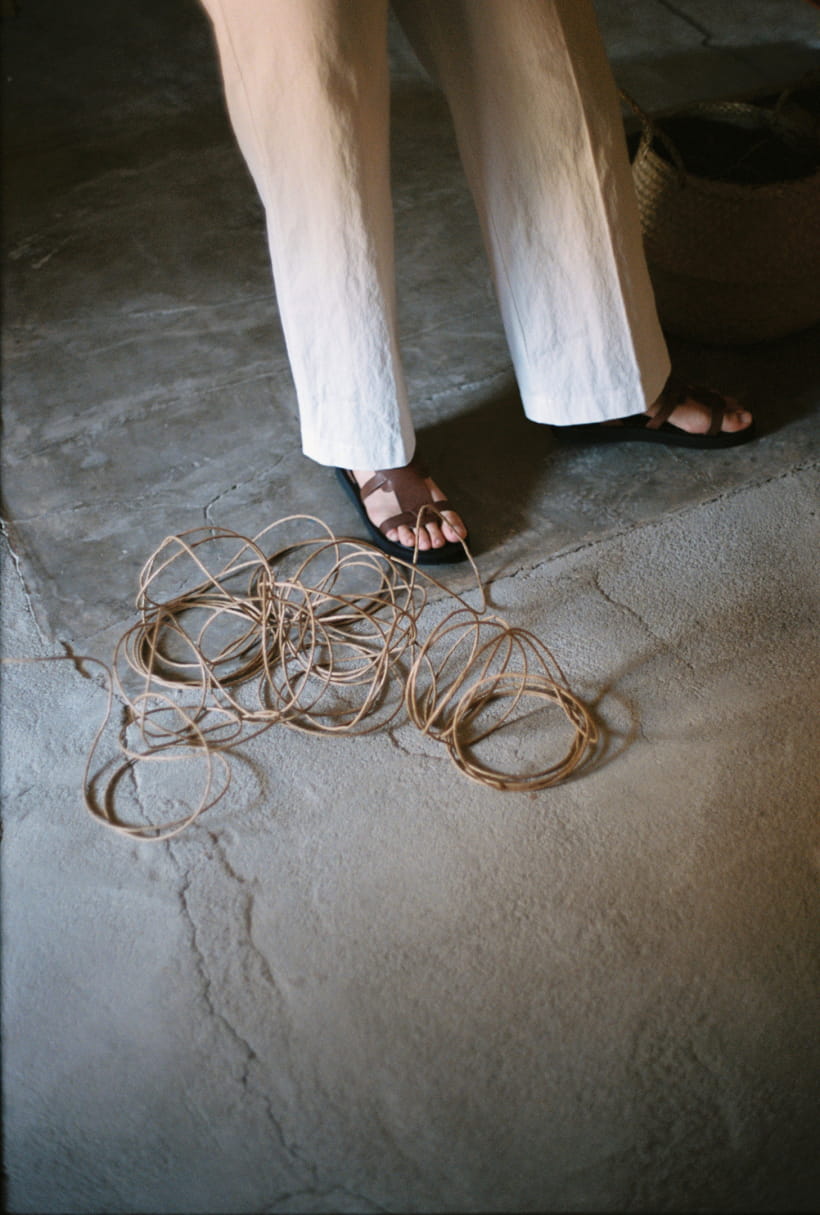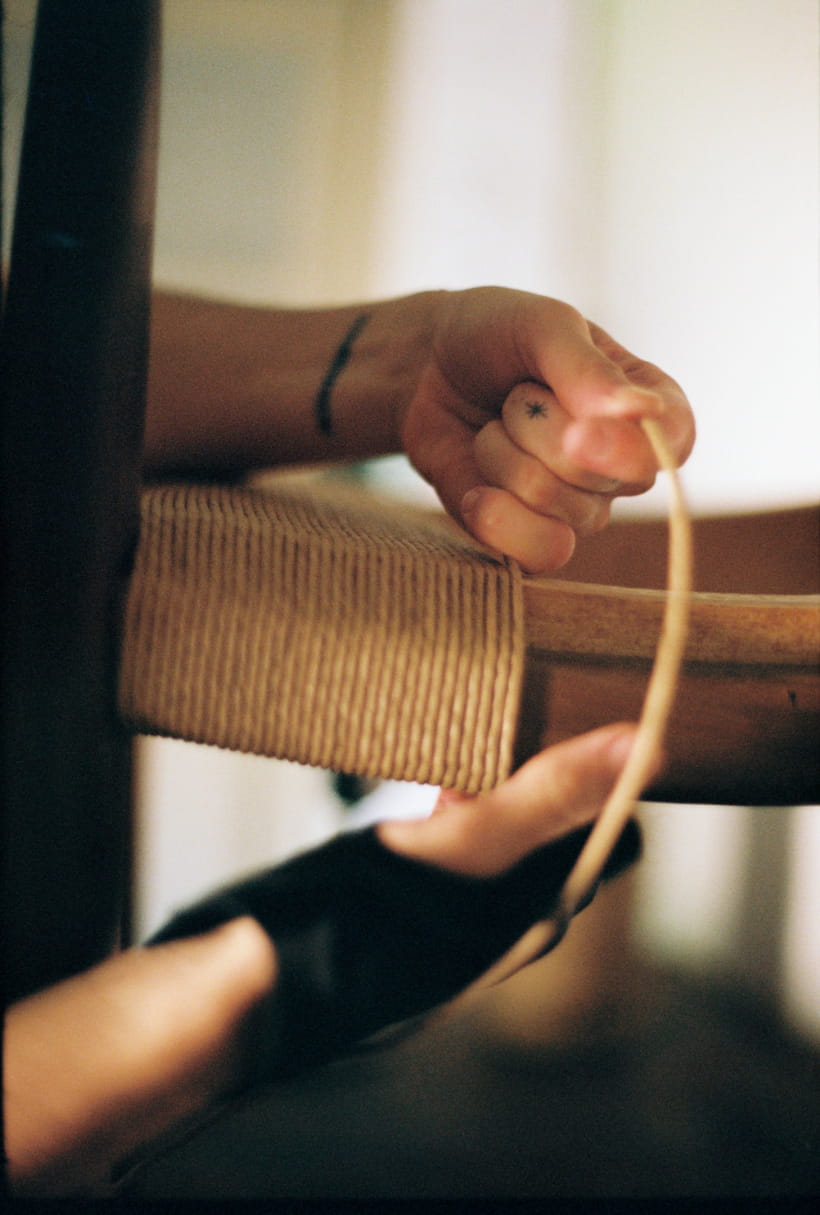 Do you have any upcoming projects you'd like to tell us about?
The launch this summer of a second capsule collection with Trophée Macocotte, the gallery that represents me. It's a prospect I'm very excited about, as we've been working on it for several months! An exhibition in Berlin this autumn, but that's all I can say about that for the moment! And finally, the growing desire to produce furniture in small series: unique pieces made in collaboration with other craftspeople and artisans.