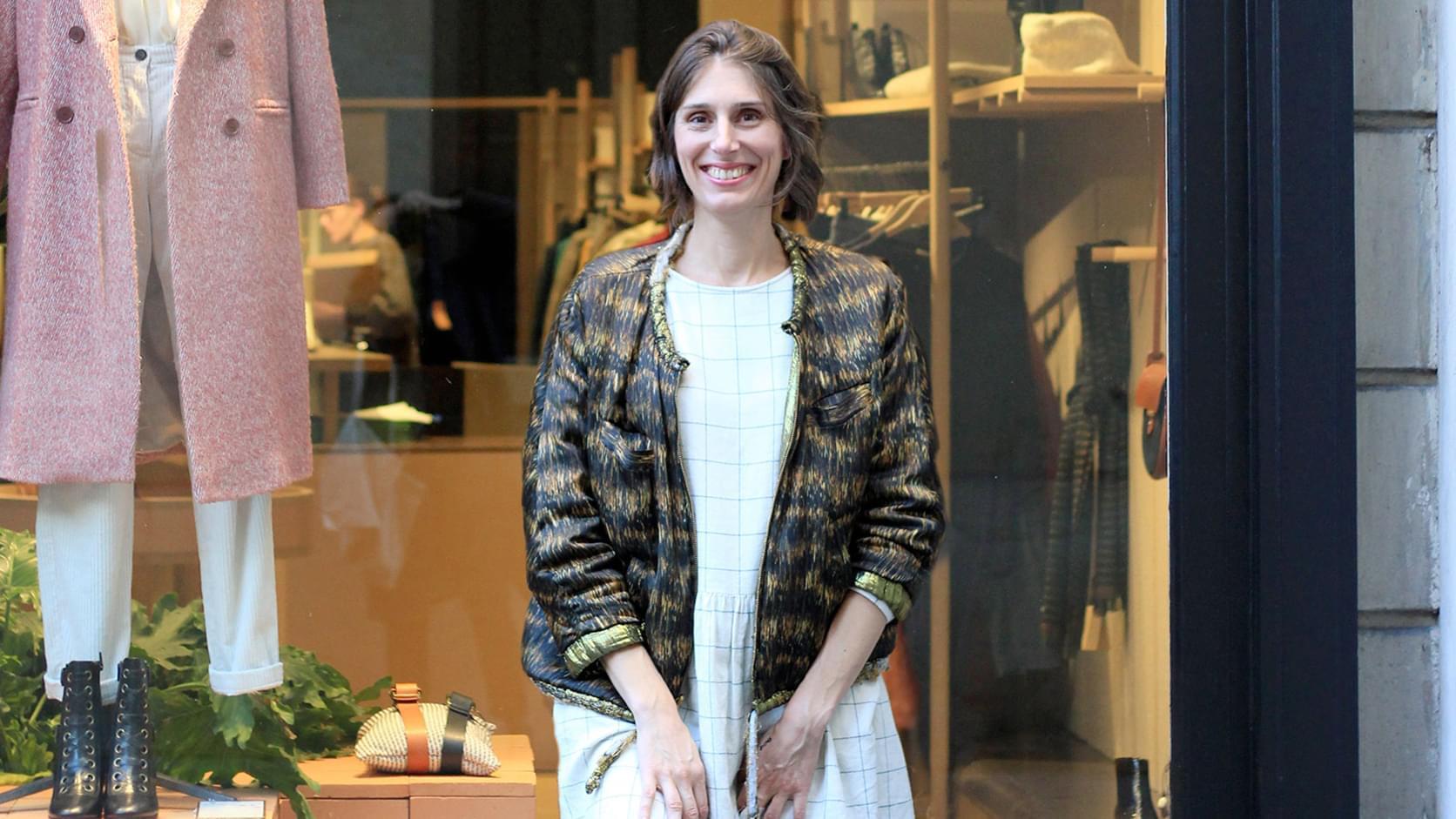 Aurélie Rimbert, with whom we have just finalized the project of the new shop located at 55bis rue des Saint-Pères in Paris, has kindly agreed to answer a few questions. She tells us about her career, her projects but also tells us a little more about all the ideas around this new shop.
Can you introduce yourself in a few words?
My name is Aurelie Rimbert. I'm an interior designer, scenographer and graphic designer. I launched my own agency 12 years ago. In 2012, I designed a series of trunk inspired pieces of furniture for the Galerie Gosserez for which I was awarded the Talent à la Carte prize at the Maison et Objet trade fair. Since then, I have designed various spaces, museums, stands, shops, offices and private residences in France, Italy and Morocco.
Tell us about some of your past projects.
My most important projects in France have been La Resille, which I created for the Salon Art Elysees during the FIAC, a museum / curiosity cabinet in Anjou, and pieces of custom-made furniture made for private clients who gave me free rein to use my imagination and create unusual pieces. Elsewhere in Europe, I have collaborated with Cristiana Cutrona in Italy on the design of the head offices for Microsoft and Facebook, and I turned the Scottish Public Prosecutor's Office into an apartment, designed the Avril Gau boutique and more recently I created a pleated surface for a dance choreographer. Currently, we are working on a stand project, a villa in Rabat and most recently the new Sessùn boutique in Paris!
Can you tell us more about what you do? How are your projects generally conceived?
My job is to imagine a concept and draw it, but I am also the project manager, which means that I have to deal with suppliers, approve quotes, and monitor the progress from start to finish until the final project is handed over to the client. It is a very wide-ranging profession, with many technical aspects. I enjoy drawing as much as I enjoy making prototypes and then seeing the final design come to life.
What was the initial brief for Sessùn boutique on the rue des Saint Peres in Paris?
We approached Emma and explained to her the affinity we felt with the Sessùn brand and to her designs. When she was ready, we met her in the showroom in Paris. She was familiar with all of our projects, and asked us to design the shop on the Rue des Saint-Peres. We were thrilled!
Did you have to meet any special requirements?
We had to move fast; the shop was meant to open in September, and it was already early June! It took us two months to bring what was once a children's shop back to life. During the first meeting, we laid out a joyful mixture of materials, ropes and sketches that seemed to reflect Emma's ideas. She was thrilled, so we went ahead with our plans. We wanted to have a visual conversation about the nature of the garment, and to borrow fabric and sewing methods to create a fabric skin that would hold the clothing rails. Let me explain: the double saddle stitching, zips, embroidery, trimmings, so many of these design details related to sewing led us to encase the shop furniture, to imagine flexible hinges, to design a covered furniture in the style of the fabric-covered cupboards of the 80s or tents whose fabric are stretched on poles! What was also important for us was to reflect the craftsmanship and detailing which is so dear to Emma, and is an obsession that we have in common. While visiting the Sessùn showroom, there were these wonderful ceramic necklaces, terracotta plastron necklaces, ropes and weavings that were very inspiring.
In your opinion, how does this shop reflect the spirit of Sessùn?
We wanted to tell the story of the fun, light-hearted character of the Sessùn girl. Wearing a dress, putting on a pair of sandals and grabbing a clutch or a basket, was like bringing a little sunshine to Paris! In fact, we thought about putting a large sofa in the shop to make it feel "like home". Communicating the joy of the Sessùn spirit was important to us.
In more practical terms, how did you design this shop?
We loved the space from the outset: a long rectangle, dotted with pillars. Considering the little amount of time we had, we literally only had time to just move straight in! We kept the original parquet floor, the mouldings and the ceiling. We dressed the walls in fabric and wrapped fabric around the pillars. Then we added nests of tables, a dressing table, the cash desk and the display window. The pillars became a bit like long strands on which pearls were threaded, literally and figuratively. Then we re-faced the pillars with tiles made by a potter and bound them with nautical ropes.
In what way did you bring you're your own style and signature to this project?
At l'Atelier our trademark is to respond to a commission with rigour. For this project, we had to fill the specifications of ten clothing rails, to design a purchasing path, but also to seduce the customers, to make them want to come back by creating strong visual moments / experiences, which start by trying on a garment, adding a pair of shoes, then looking at yourself in a mirror, and naturally make people smile, while adding a bit of fantasy and taking care of the finer details. When it comes to furniture, decoration and layout of the interior, I like to take my queues from the clothes themselves, and the way that they have been made. For example, I really like the brown stitching on the Sessùn denim jeans. We wanted to do the same in our shop design work. And the advantage was that Emma and I understood each other without even having to speak to one another!
Who did you surround yourself with to design this project?
I must say that I had a lot of great support to help me achieve my ideas. First of all, from Elisabeth who draws and models the plans, then BEC who said yes immediately to carry out the work and Jean-Brieuc, my trusty cabinetmaker, who does wonders with wood and fabric.
Can you tell us more about your collaboration with Jean Brieuc?
I met him in 2012, and gave him a first project to work on. Our collaboration came into being then. We help each other to grow. He introduces me to new materials because he views his job as a cabinetmaker as a bit like that of a fashion designer. He's very hands on with the projects he's working on and will follow through on an idea from start to finish and help it take shape, and in this respect, he is not just a simple collaborator. He's a real jack of all trades and on this project, I knew he would do a fantastic job.
If you had to describe this shop project in one sentence?
This project combined so many different materials, colours, finishes, and curves that it was both complex and subtle at the same time. In a word: it was a delight!