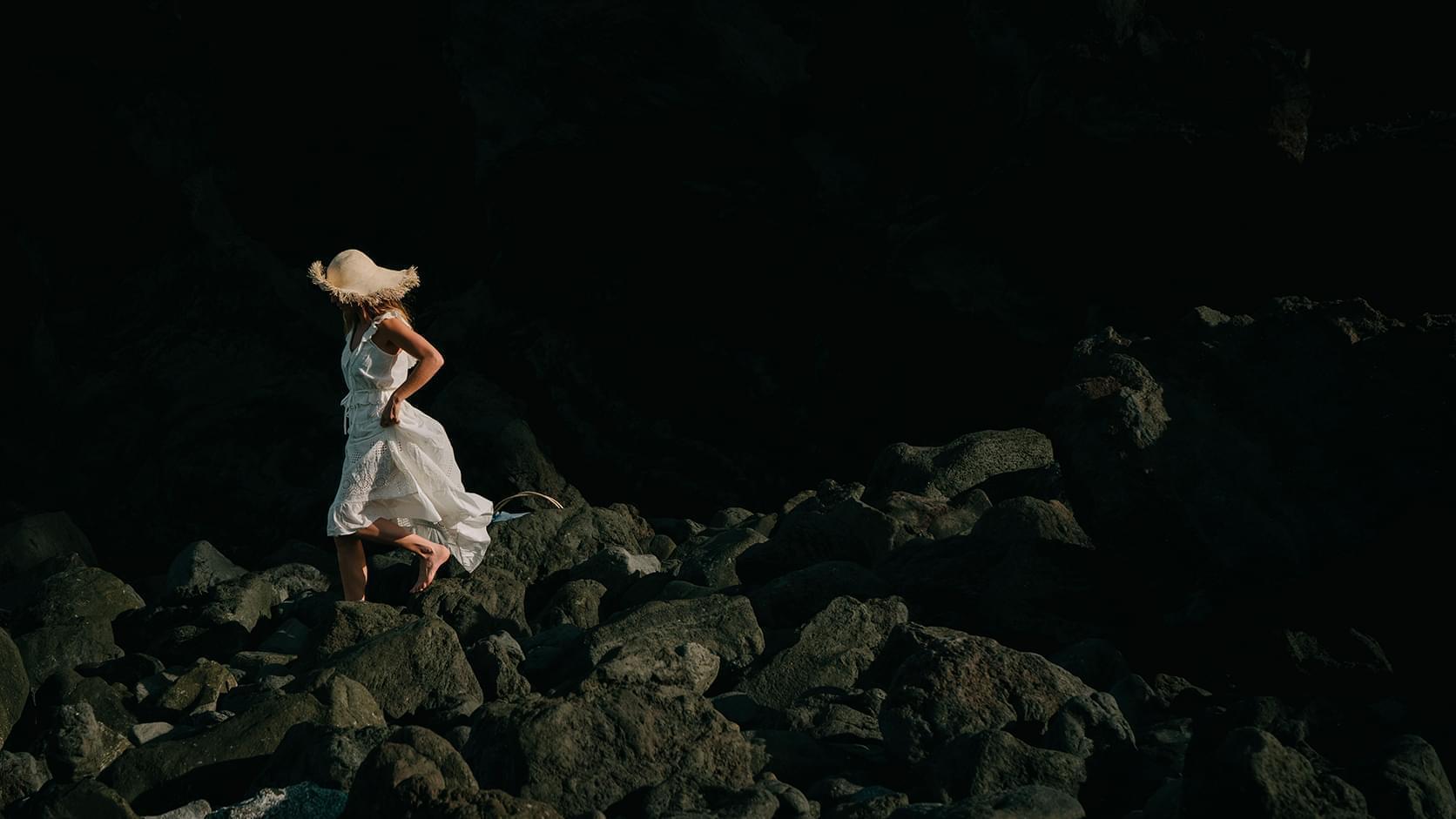 Alison Carroll Alison Carroll has built a life in her image: beautiful, sweet and free. For the lookbook of our collaboration with Marie-Sophie Lockhart (to be discovered here), she posed with her friend under the precise eye of her husband, the photographer Jay Carroll. Let's meet a woman of wise choices.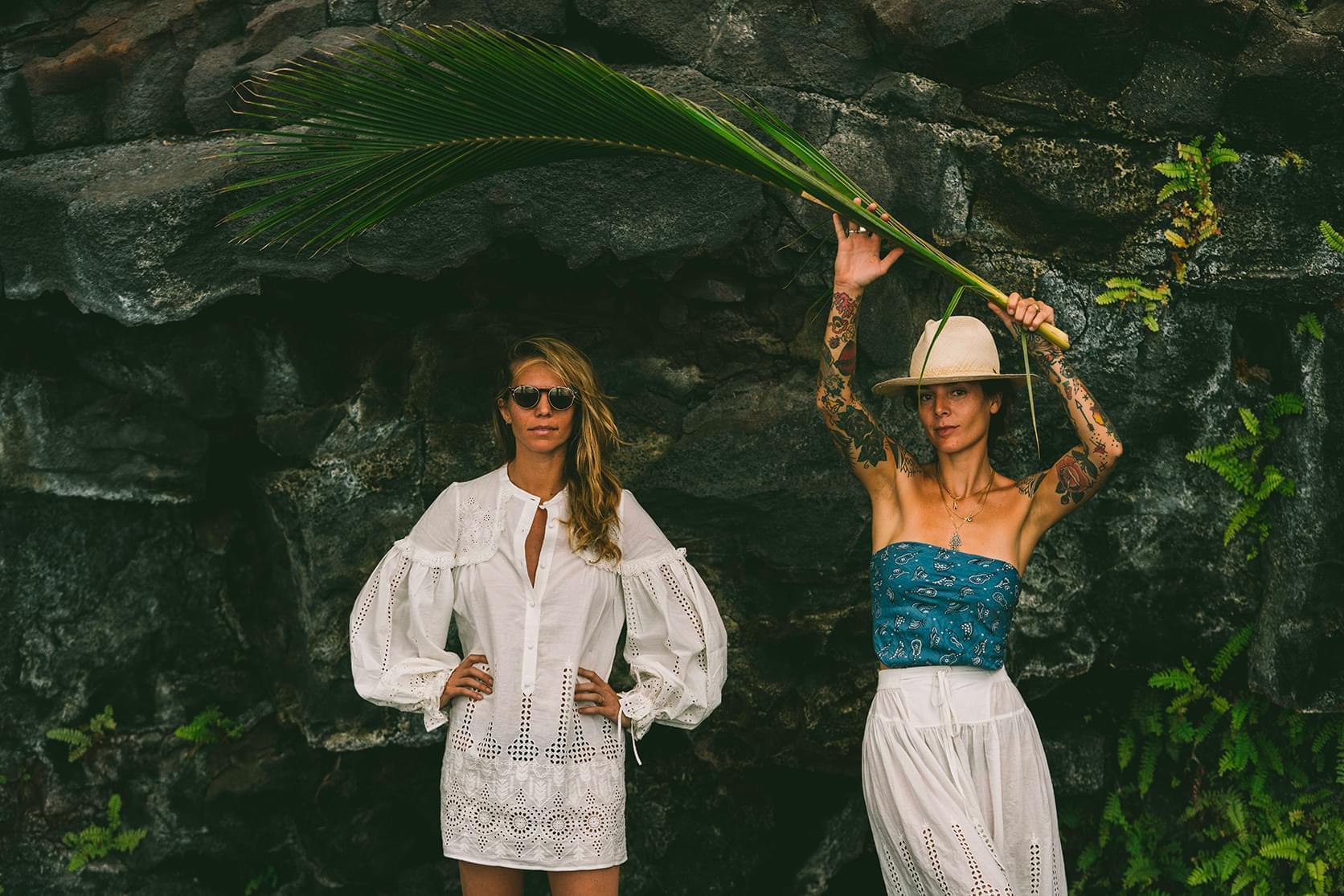 Who are you?
I'm Alison Carroll, co-founder of Wonder Valley (see links below). I live in the high desert of Joshua Tree, California with my husband, Jay. We run a business called Wonder Valley - producing extra virgin olive oil, olive oil skincare, and home goods which we sell out of our OIL SHOP, an old converted 1940's gas station. I also am a freelance food and travel writer, a (new) jumpsuit designer, and a partner of the newly renovated El Rey Court in Santa Fe.
Tell us about how you got to where you are now?
Oh man, that's a tough one. I'm just chasing happiness and passion. My background started with brief advertising agency career back in Philadelphia and a side catering business and food blog. That interest took me to Barcelona to apprentice in a great kitchen for a few months. From there, I moved to California to be with my now husband about 8 years ago and stumbled into the role of the Marketing Director for the California Olive Oil Council, a perfect balance of my marketing background and food passion. I fell head first into this niche world of domestive olive oil production and from there Wonder Valley was born. We work now with some of the best people in the industry to create our extraordinary extra virgin olive oil.
Why did you move to the desert ?
We decided to move full time to the desert after finding our home; a crumbling, boarded up house on the edge of the national park tucked amongst the boulders. It was an intentional choice to move to a rural place, to own land and build our home ourselves. The desert is a beautiful place with endless open space to create and dream big and low cost of living to take risks and put passion first. It's also an easy 2.5 hour drive to Los Angeles.
What do you like in living and working in Joshua Tree ?
I love that we get to design our own life out here… we built our house custom to how we like to live and with our own hands; there's an outdoor wood burning kitchen, a vintage trailer for a guest house, and our studio. We work for ourselves and have a lot of freedom in our schedule and taking on work that makes up happy and that we're passionate about rather than hustling to pay expensive city rent. There's a wonderful community out here and access to a national park in our back yard, it's amazing! It's also such a popular place that we always have a constant stream of visitors and friends coming through our shop or home and we travel during the hottest months of the year. It is above all the most peaceful place I have ever been.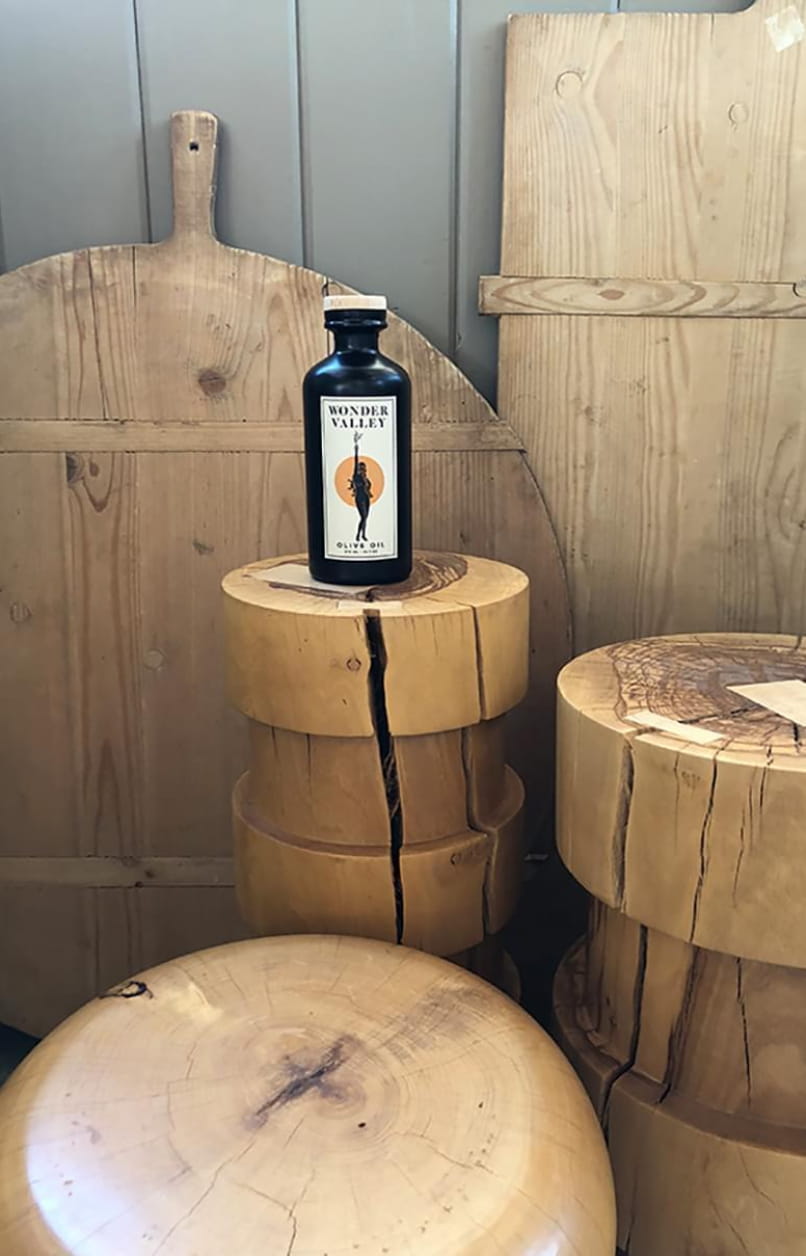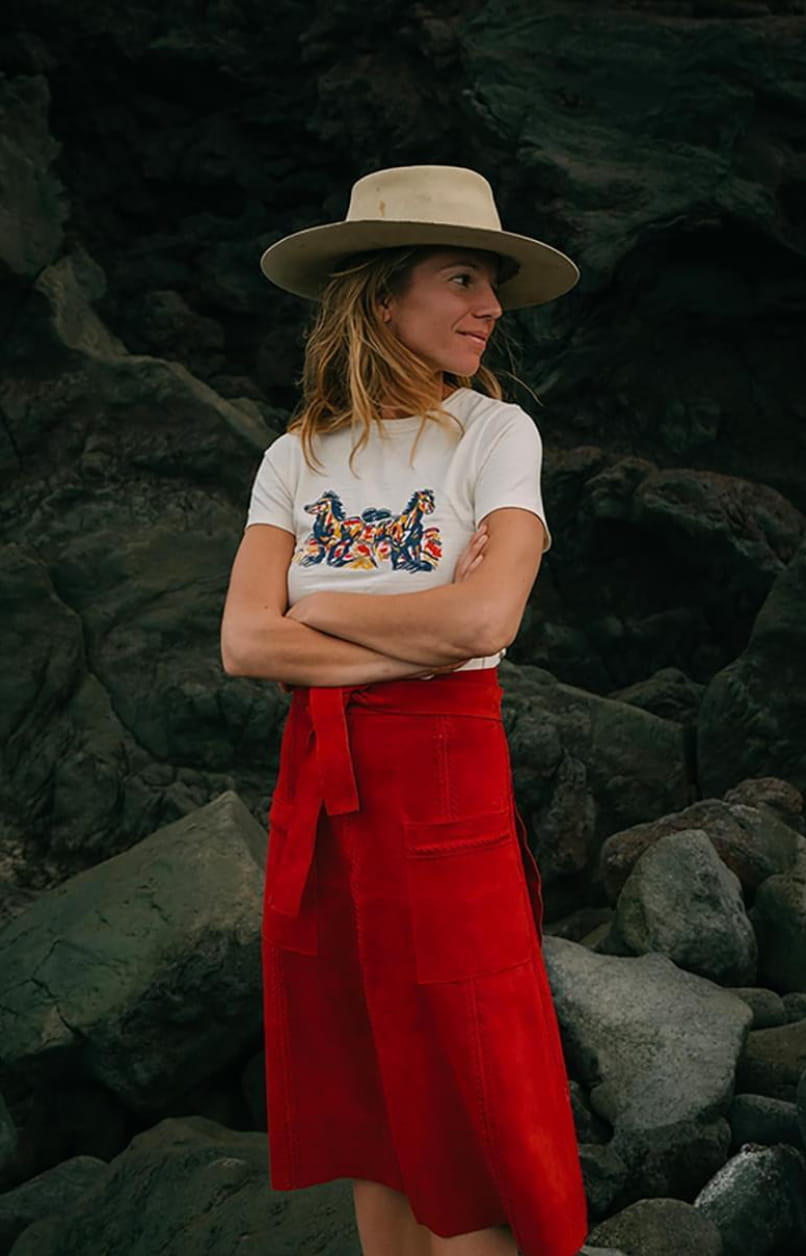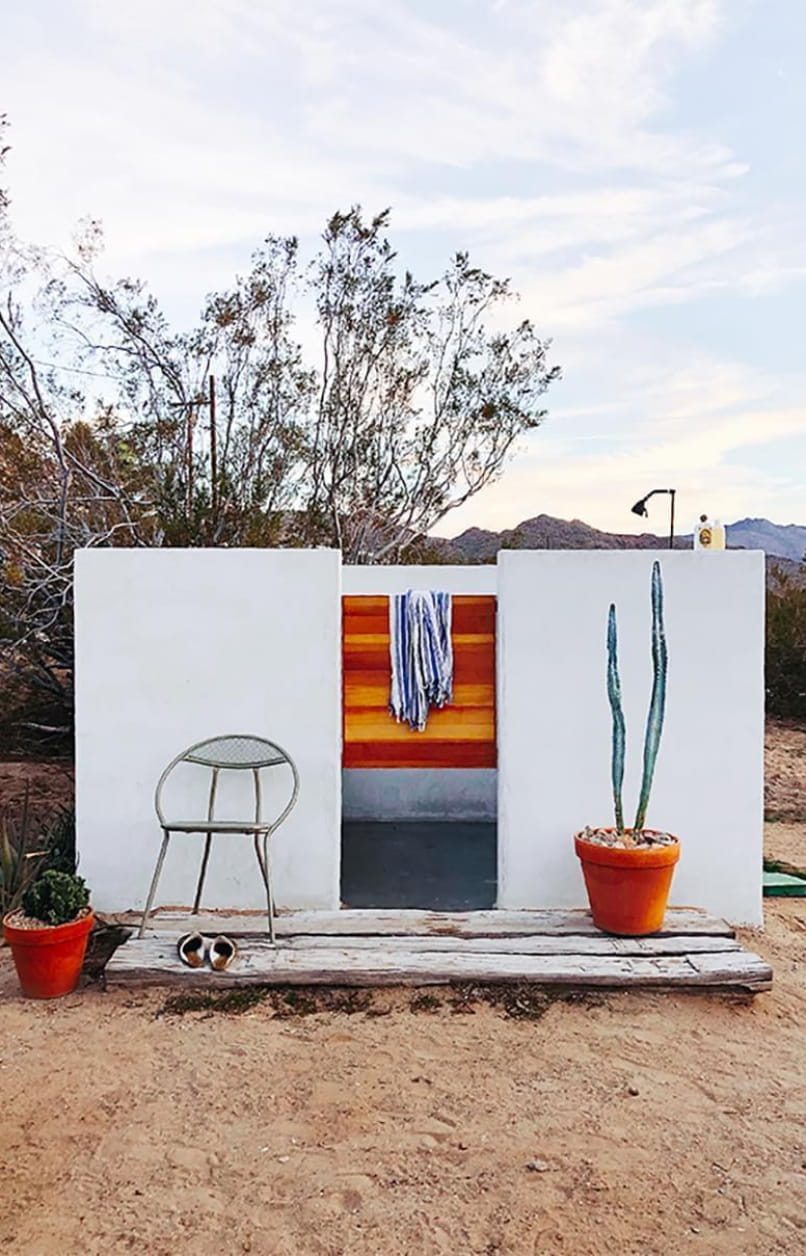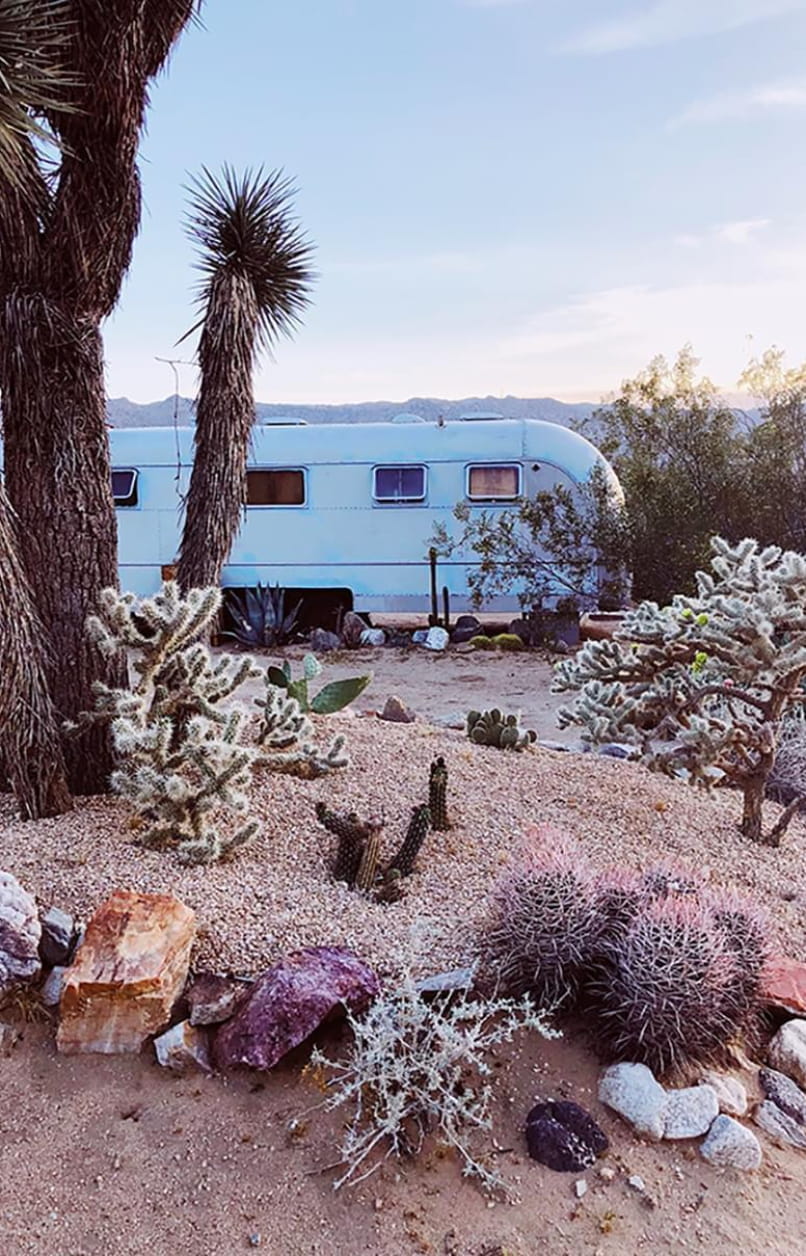 What's your typical day like?
Wake up with some self care; I'll dry brush and apply Wonder Valley face and body oil. Do some stretches, take my vitamins, meditate in the yard. Maybe go to the gym if I wake up early enough. I'll make some tea and head to my studio on our property and dive into work - part of it is creative design work for Wonder Valley or other design projects and part of it is the nitty gritty work of running a small business… shipping, bookkeeping, staying on top of vendors, invoicing etc. Or I'll be in town running the shop for a few hours. In the evening, we'll take a hike into the park on a secret trail behind our house with our dog Lefty and come home and cook a nice supper. We built the dreamiest outdoor bathhouse, a really simple structure with a shower and a clawfoot tub. I love to take a shower as the sun's setting and listen to all the quails cooing and watch the light fade around the mountains, it's the best time of day. We like to screen movies on our projector and I like to read in the evenings and hopefully not spend too much time on a computer.
How did you met Marie-Sophie Lockhart ?
My husband met Marie while she was a bartender in NYC when admiring her tattoos. We've been good friends since, she is an inspiration - not just her incredible sense of style and creativity, but her adventurous spirit, her open-ness, and her ability to find inspiration in so many places and turn it into something so uniquely her.
How did you discovered Sessùn?
Through Marie :)
What does this collaboration between Sessùn and Marie-Sophie inspire in you ?
It was an incredible experience traveling to Marie's new home on the Big Island of Hawaii! Last summer, Marie and Chris joined us on our annual vacation to an island in Maine and I remember her telling me about this exciting new collection she was working on with Sessùn. It was wonderful to be able to wear the pieces she designed and have her share the references and inspirations for the collection. The pieces had the quality and detail of unique, one of a kind vintage clothing while being a little tomboy and feminine at the same time; I love it!
What is your mantra ?
BE HERE NOW