Last month we met Jennifer Hart-Smith, a very-talented pastry chef. She kindly agreed to answer a few questions and tell us more about herself and her link with Sessùn.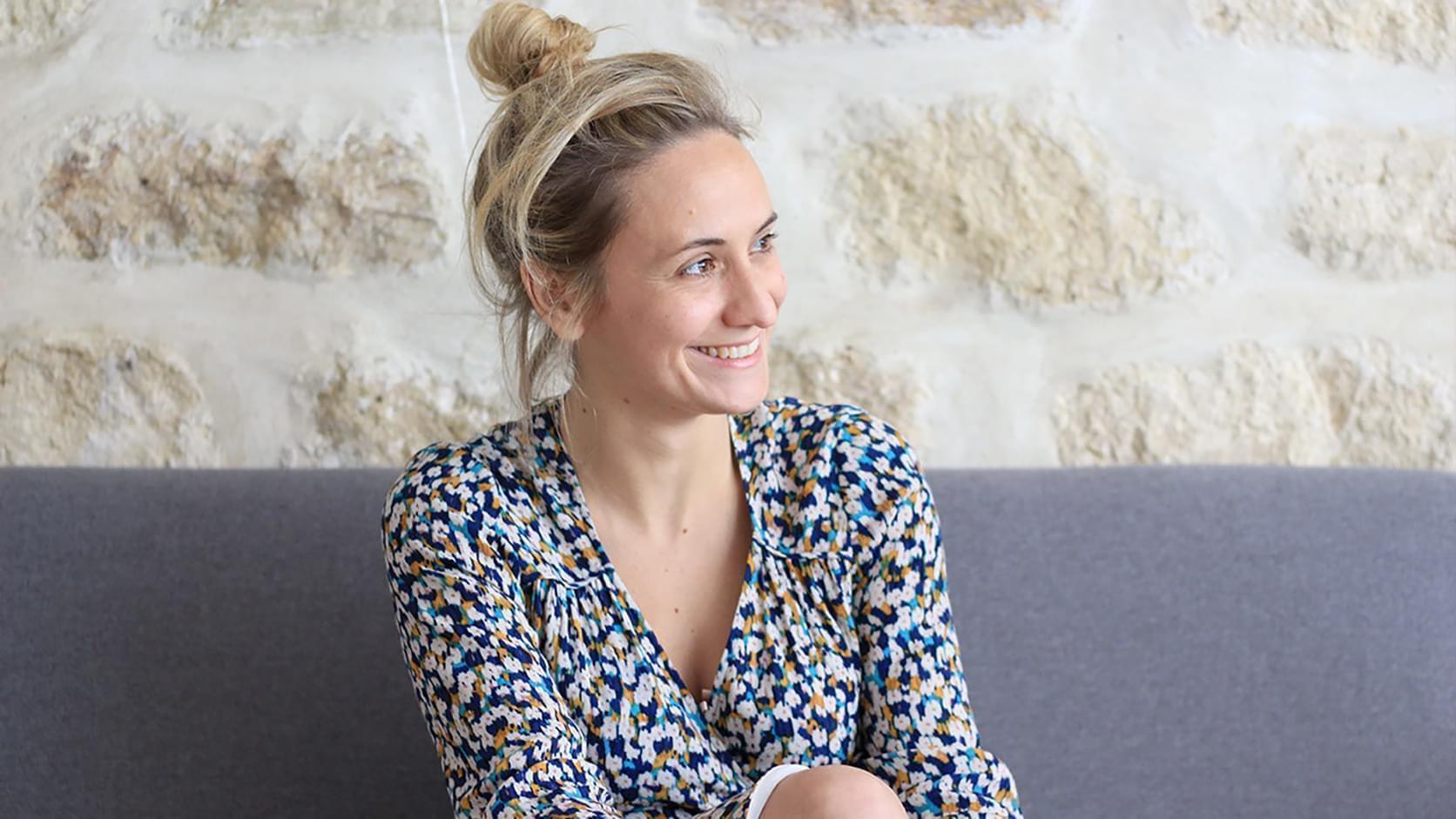 Who are you ?
My name is Jennifer Hart-Smith, I'm half French, half Australian. I'm a pastry chef and a recently qualified naturopathic practitioner. I live in Paris. I have a 4-year-old koala and a 2-year-old wombat !
Tell us about how you got to where you are now ?
I worked for 5 years as a web and graphic designer mainly for Deezer. I became a keen pastry-maker during my first pregnancy. I needed to reconnect with natural ingredients. Sitting in front of a computer all day was getting me down. It was around that time that I launched my brand Tookies, which brings together my pastry-making and design skills to make biscuits with typographic designs. Once I graduated from my diploma in pastry making, I did a series of apprenticeships in various hotels and patisseries. During this period, I also made personalized biscuits for brands I admired, including Sessùn. Two years ago, I wanted to start making cakes and biscuits with all natural ingredients and which were closer to and more respectful of nature and more along the lines of what I like eating myself. So, I started to incorporate edible wild flowers and herbs, super foods and seasonal ingredients into my recipes. I like to use unrefined ingredients made by people I know. After discovering a whole new world of different types of flour, I wrote a book on alternative flours and grains, and I did a course in holistic naturotherapy which I have recently finished, to gain an understanding of the whole picture.
Tell us about your work.
I wanted to make pastries and biscuits I like to eat... With less sugar, and using alternative and wholegrain flours. Traditionally, pastry-making isn't healthy. It's all about pleasure. But to my mind it shouldn't be detrimental to your health. If one adds a little common sense to the mix, pastry-making comes into its own. It should be a treat, shared with the people we love, on special occasions. A delicious cake defines a moment and gives it a flavour that nourishes the soul. It can taste of summer, sunny days, the arrival of ripe red berries. Imagining how pastry-making and naturotherapy can work together and complement one another is a fascinating creative challenge. Sensitivity, seasonality and purity are all terms that resonate with me, and are transposed into my cooking.
What is your typical day like ?
The first thing I do when I wake up is try and make sense of my dreams. At night, I process a lot of thoughts. A lot goes on. No two days are the same, Monday: taking a brief from a client, Tuesday: in the kitchen /workshop for another, Wednesday: creating a new recipe for a client. Thursday: orders and deliveries. Friday: photo shoot, more orders and deliveries. However, I rarely manage to switch off at weekends. That's the next step. To enjoy my family life to the full. And turn off my phone. On weekday evenings, I spend time with my children. We may read together, I give them massages and practise Chinese pressure points, working on the meridians on their backs. They love it, they always ask for more, it's our special time.
The taste or smell that brings back memories ?
Homemade almond or macadamia nut milk with bitter almond made by Epices Shira. And in autumn, my friend Linda @hinalys' pumpkin brioche, which is as lovely as she is.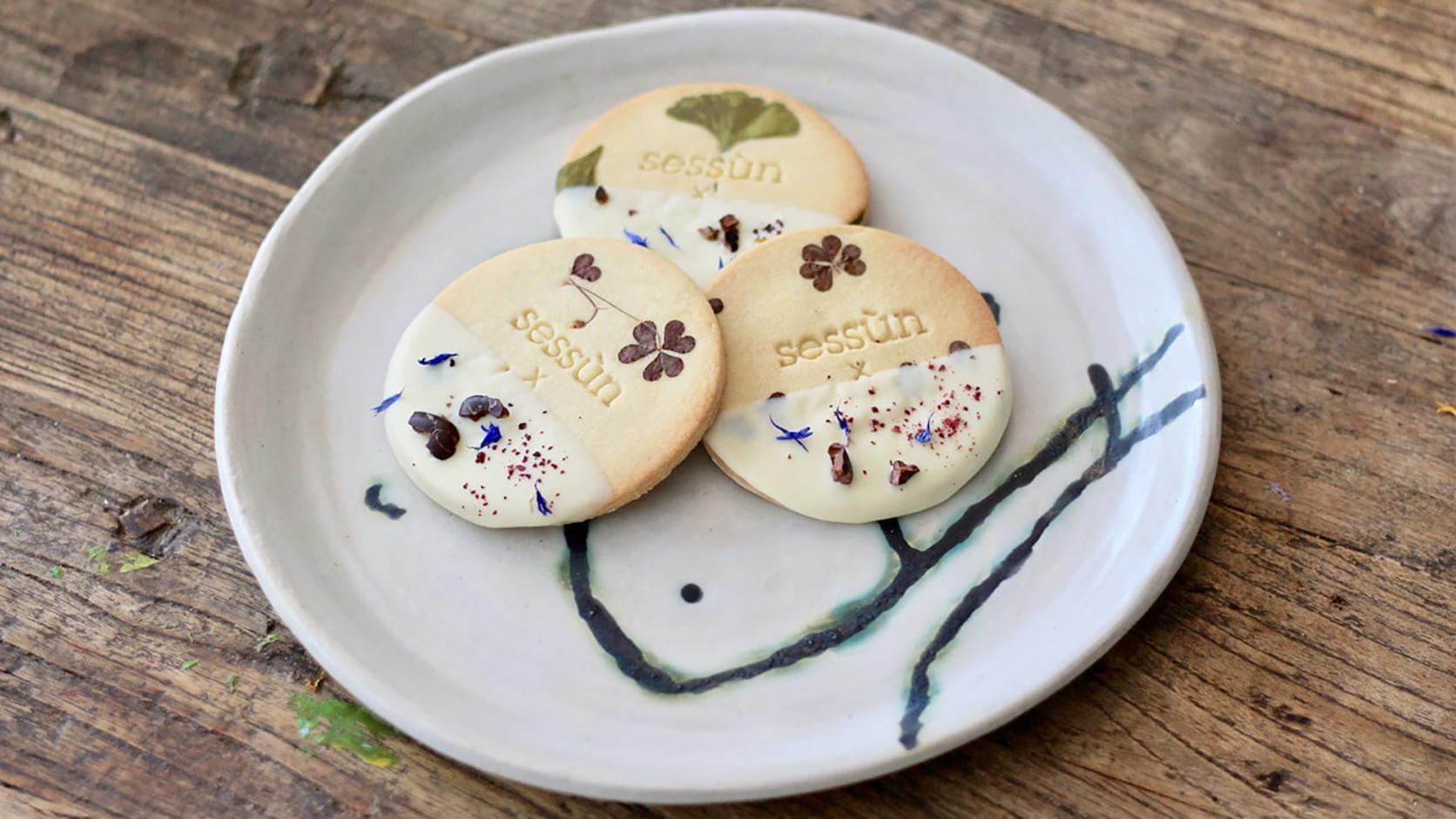 A food or dish you'd love to try ?
One of my best friends in Australia lives and works in an Aboriginal community near Darwin. She knows my passion for native plants and often sends me photos and packets of seeds (that never grow here) of edible wild plants and fruit. So many things I've never heard of before, and I dream of discovering next time I visit her. Quandong for example, desert peaches, bush tomatoes, snow bernes. That'll be on my next trip.
A meal is not complete without...?
Dukkah (an Egyptian mix of nuts and spices), Umeboshi vinegar, raw seaweed salad, raw seasonal vegetables. And rice, I'm passionate about good rice.
Your most amazing trip - where, when and why ?
The ones to come, away from big cities. I feel this need to escape more and more. Except I would love to go to Japan. I went there when my youngest child was in a baby sling - he was barely 3 months old. I felt at home there, so did he, even in the cities.
How did you come across Sessùn ?
I think the first thing I bought was a pair of flared jeans, which I still have. I wear them with heels, which is unusual for me. I like the detailing, and the prints in Sessùn clothes. It's a brand that reinvents itself and takes risks without losing its DNA.
Your affinities with Sessùn :
I like to make sweet little biscuits that match the brand.
What does Sessùn mean to you ?
Simple lines, well cut fabrics, textures, unique patterns.This winter I loved wearing my thick, cream corduroy trousers. There are always pretty colours which flatter every skin tone.This summer, the dresses are among the sexiest, especially the cross-over ones.
If Sessùn was a pastry ?
A white chocolate dome with lots of little surprises inside. Or a sweet edible garden flavoured with orange blossom, petit grain, and citrus notes.
A superpower you would like to have ?
Without question, it would be teleportation. For me, my children and my biscuits. When everything gets too much – hop! – I'd like to be transported away to the North Pole for 10 minutes to cool down before returning.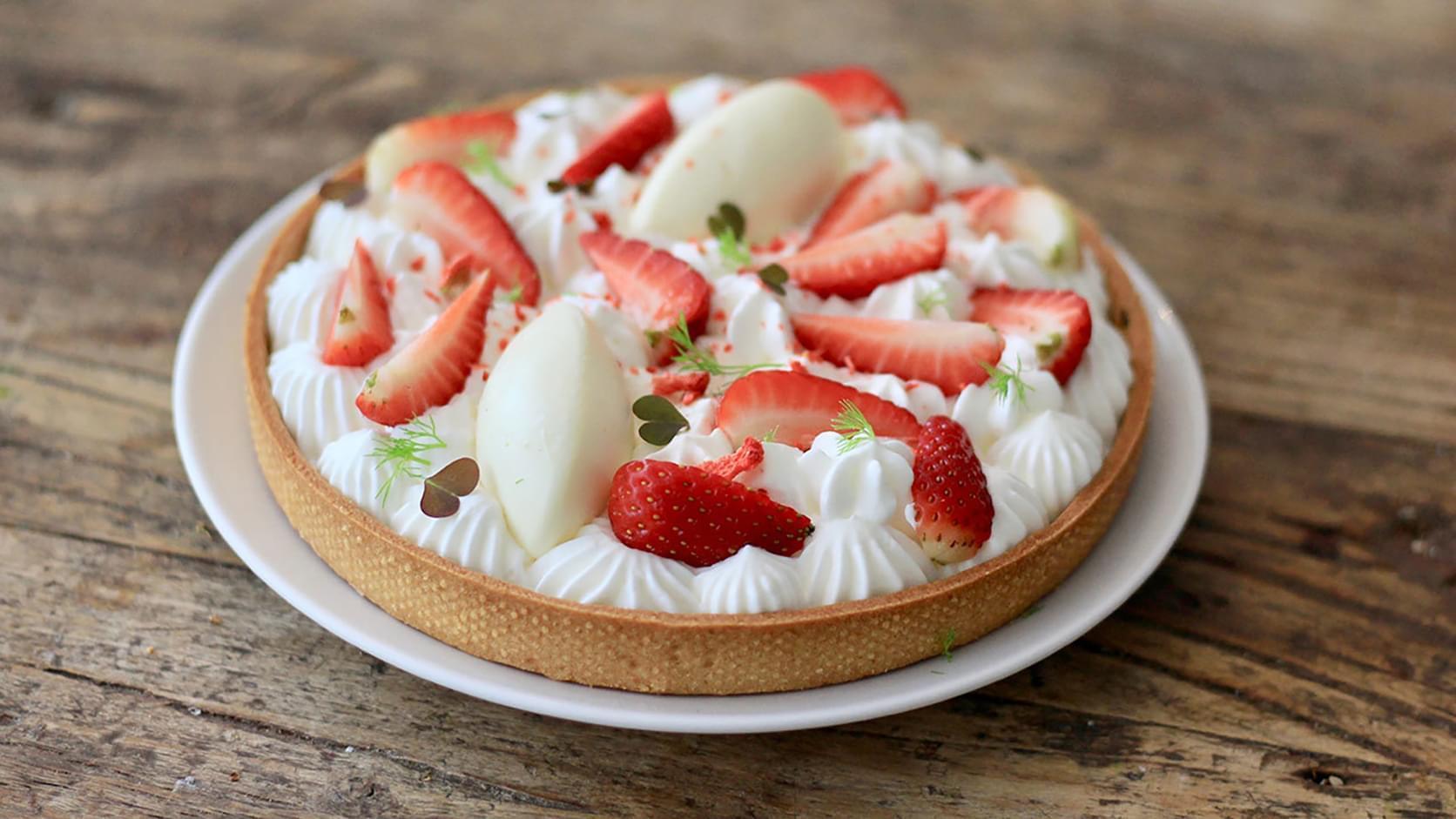 Strawberry pie with oranges blossom and common fennel sprouts
It is a dessert to be prepared the day before and to be served the same day. A few minutes before the tasting.
Crust (the day before)
130g of organic butter
130g of blond cane sugar
86g of almond powder
100g of organic semi-soft rice flour
186g of organic T65 wheat flour
1 pinch of salt
1 tablespoon of water
2 teaspoons of fennel seeds
1 organic egg
(the day before) Mix the cane sugar with the blender until it has a powdery texture.
Using the beater leaf, cream the sugar with the butter, and the fennel seeds until a smooth mixture is obtained.
Add almond powder, semi-soft rice flour, wheat flour and salt.
Finish with the egg and lengthen with a tablespoon of water if necessary.
Pre-roll the dough on a floured sheet and set aside in a cool place for at least 2 hours.
Finish rolling out the dough with a roller and push the pie into a mold.
Bake at 180 degrees for 40 minutes (until a nice golden colour is obtained).
Let it cool down. 

Ganache with almond cream and orange blossom
500g of organic almond cream
250g of white chocolate (there are vegan versions)
2 tablespoons orange blossom water
Boil the almond cream and pour over the white chocolate. Once the mixture is well blended, film on contact and set aside in a cool place.

Assembly/Mounting the next day :
Add 2 tablespoons of orange blossom water to the cold ganache, then beat it with a mixer (the bowl must be very cold).
Poach the cream whipped up on the previous day's baked pie shell.
Sprinkle with strawberries, preferably organic and (which taste good).
Decorate with wild fennel shoots (common fennel).
It is ready !